DAYTONA BEACH, FL – The 2018 season may have just wrapped up, but American Flat Track is already out with a provisional schedule for 2019 that includes a new event in New England during Laconia Motorcycle Week.
The season will launch at Daytona International Speedway with the Daytona TT on March 14 and conclude in the fall with the Meadowlands Mile at the MetLife Sports Complex in East Rutherford, NJ. A total of 20 events on 18 dates are planned, including a Laconia Short Track race on June 15 at a location to be named in New Hampshire.
Returning to the schedule after a one-year absence is a half-mile event at Perris Auto Speedway in Perris, CA.
"AFT is coming off the back of a record-breaking season and we have planned the 2019 schedule to push things to the next level," said Michael Lock, CEO of American Flat Track. "We are delighted to be restoring the series to Southern California and taking American Flat Track to New England next summer, two traditional hotbeds of professional motorcycle racing."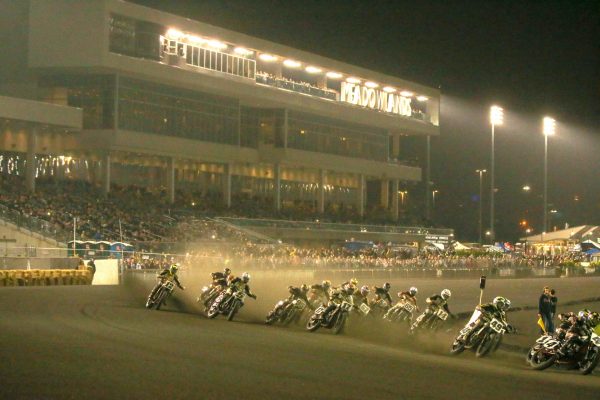 The 2019 schedule features a nicely balanced number of events, with six Miles, five Half-Miles, four Short Tracks and five TTs. AFT Singles run a TT and Short Track before each of the two Springfield Mile events, which is why 20 total events are listed.
The 2018 season ended with more than 100,000 tickets sold. NBCSN telecasts of AFT reached nearly 2.4 million viewers, while FansChoice.tv streaming had nearly a half-million unique viewers.
A total of 43 racers competed during the 2018 season with Jared Mees finishing first overall with 10 wins in 17 races on an Indian Scout FTR750. Henry Wiles, also riding an Indian Scout FTR750, finished second overall with one win, two second place and three third place finishes. Briar Bauman, who also was on Indian Scout FTR750, finished third with one win.
Jay Maloney, racing on an Indian Scout FTR750 for Indian Motorcycle of Springfield in Massachusetts, came in 17th place.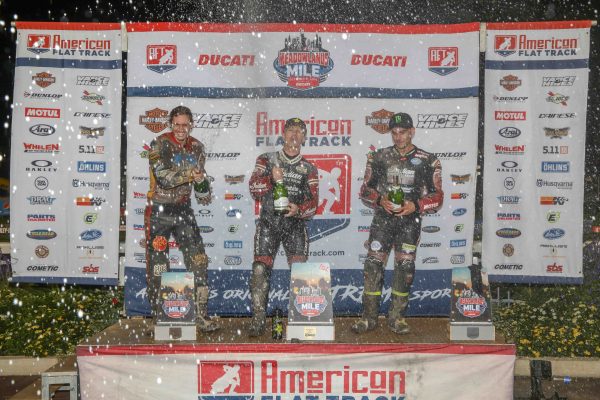 Here's AFT's provisional schedule for 2019:
1. March 14: Daytona TT – Daytona International Speedway, Daytona Beach, FL
2. March 23: Atlanta Short Track – Dixie Speedway, Woodstock, GA
3. April 20: Texas Half-Mile – Texas Motor Speedway, Fort Worth, TX
4. April 27: Wild Horse TT – Wild Horse Pass Motorsports Park, Chandler, AZ
5. May 11: Perris Half-Mile – Perris Auto Speedway, Perris, CA
6. May 18: Sacramento Mile – Cal Expo, Sacramento, CA
7. May 26: Springfield Mile I – Illinois State Fairgrounds, Springfield, IL
(AFT Singles Springfield TT same weekend)
8. June 1: Red Mile – Red Mile, Lexington, KY
9. June 15: Laconia Short Track – TBA, New Hampshire
10. June 29: Lima Half-Mile – Allen County Fairgrounds, Lima, OH
11. July 6: New York Short Track – Weedsport Speedway, Weedsport, NY
12. August 4: Buffalo Chip TT – Buffalo Chip, Sturgis, SD
13. August 6: Black Hills Half-Mile – Black Hills Speedway, Rapid City, SD
14. August 17: Peoria TT – Peoria Motorcycle Club, Peoria, IL
15. September 1: Springfield Mile II – Illinois State Fairgrounds, Springfield, IL
(AFT Singles Springfield Short Track same weekend)
16. September 7: Williams Grove Half-Mile – Williams Grove Speedway, Mechanicsburg, PA
17. September 21: Minnesota Mile – Canterbury Park, Shakopee, MN
18. TBA: Meadowlands Mile – Meadowlands Racing & Entertainment, East Rutherford, NJ
– By Bud Wilkinson
(Photos courtesy of American Flat Track)