CHESTER, VT – If you've ever had the pleasure of driving a good go-cart on a curvy track, you know the feeling. You'd swear you were traveling at close to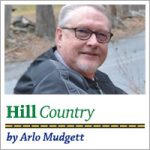 180 miles per hour when in reality you might be pegging the speedo at 30. This is what a friend of mine called a low-velocity, high-speed vehicle. You get all the sensation of going super fast in a low-speed rig. Have you ever ridden a motorcycle with those qualities? I've only ridden one like that, and it was my very first bike.
I spent the summer of 1969 pumping gas and doing maintenance at my Aunt Ruth's diner/gas station in Ludlow, VT. It netted me a grand total of $200 to piss away on anything legal that I wanted. I scoured the classifieds looking for a motorcycle until I came across a Bridgestone 175 street bike in Hanover, NH.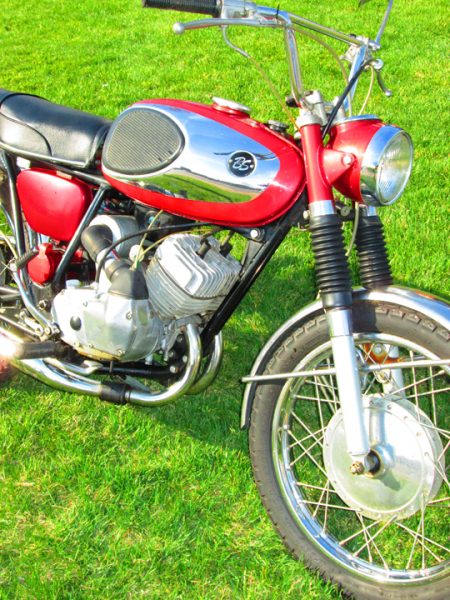 Yes, it was made by the tire company, but Bridgestone's days making motorcycles were very short-lived because Honda, Yamaha, and Suzuki told them if they continued to make motorcycles, they would buy their tires elsewhere. The owner of this particular gem was a recent Dartmouth College grad who lived in Sachem Village, the school's designated housing area for married students.
I've never forgotten David Vincent, the owner. In fact, I still have that 46-year-old title. After looking the bike over, I handed over my hard earned cash and my father and I loaded it into a VW microbus that his company owned. The painful process of learning to ride began that evening.
We lived across the street from my high school, so I rode my new acquisition on the ball field and around the school grounds. This went on for several days until the superintendent and the new principal stopped me. The principal proceeded to rest his foot on the chromed front fender while telling me I could not ride on school property. My response was to not so nicely request that he remove his loafer from my fender. Thus began a somewhat contentious relationship with one of the most stereotypical dorky high school principals that ever lived, but that's a story for another time.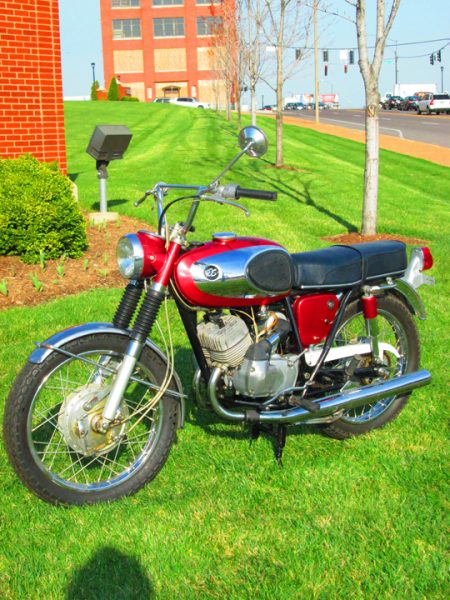 When I was sufficiently able to ride the Bridgestone without dumping it and breaking another clutch handle (they were made of brittle aluminum), my father and I went to the Motor Vehicle office in White River Junction to take the motorcycle endorsement test. We both passed the written test. I nailed the riding test out in the parking lot, knocking over no traffic cones. My dad hit about half of the traffic cones in an embarrassing demonstration of coming to a riding test unprepared. Having been a Vermont State Trooper and one of the first Motor Vehicle Inspectors in the state, his examiner buddies gave him the pass. Our deal was to share the motorcycle as well as the family car, and it actually worked out quite amicably.
As my experience on the Bridgestone grew, so did my boldness out on the road. Something about that rotary valve, oil-injected vertical twin just made me want to twist that throttle for all I was worth. I would push it until I scared myself, yet with each new ride that limit kept increasing. While it wasn't crazy fast, it sure felt like it.
When I learned how to remove the baffles in the twin exhaust pipes, the glorious sound it emitted seemed to make it go even faster. I'm pretty sure that around our small town I was getting a reputation for being a very annoying kid. One tough guy in town with a souped up '65 Chevy Impala even put the word out that if he saw me on the road, he'd run me off it. OK, I suppose I really was beginning to get obnoxious.
One afternoon my folks decided to go shopping out of town. My father warned, "The bike stays in the barn, understand?" I nodded, all the while plotting my trajectory onto the open road. As soon as they left the driveway I was out in the barn removing the baffles. Within minutes I was using the village green as a racecourse, pipes blatting out that two-stroke melody.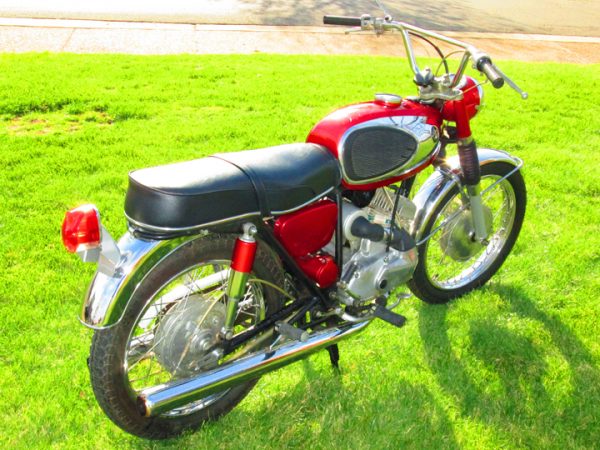 Circuit after circuit leaned over and scraping the pegs, I was oblivious to everything around me until I exited one corner and just as I brought the bike upright I was staring at my folks silver Ford Ranch Wagon gliding into town. My father was glaring at me and pointing towards the house. Evidently my mother had forgotten her purse. This time, I had to hand over the keys, and I got grounded for a time.
After my mother had grabbed her purse and slid into the passenger seat, I was back in the barn, sitting next to my little red and chrome rocket listening to the heat pinging the cooling fins and exhaust pipes. I had reamed the bejeesus out of that little bike and unburned hydrocarbons had left the chrome pipes greasy and hot. I felt as if I'd just won the Isle of Man TT, only to get tossed in jail for speeding. What an exhilarating experience. That Bridgestone was my only low-velocity high-speed motorcycle, but it was the first of many motorcycles that I've owned in my life-long love of riding.