By Bud Wilkinson
The brand and style of motorcycle that someone rides often makes a statement about that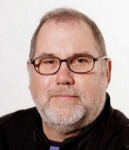 rider, projecting a real or desired self-image. The same can be said about companies and the models that the many manufacturers produce. In a 2009 article, "Motorcyclist" magazine recalled the late 1970s and observed "the pulse of Honda's streetbike lineup seemed alarmingly faint" at the time. The magazine noted that "Honda's magic lantern, it seemed, had gone dim" due to its stale stable of bikes.
Seeking to shake its conservative, trapped-in-the-past image, Honda responded with a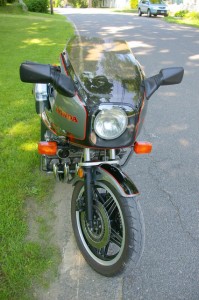 new 1979 model that "Motorcyclist" said "burst on to the scene like a supernova." A story in the February 1978 issue of the now-defunct "Cycle" magazine said Honda's goal was "to produce a cosmic haymaker of a motorcycle." That bike was the reputation-bolstering Honda CBX, a six-cylinder, 1047cc machine that mixed power and smoothness.
The CBX was only built for four years – 1979 through 1982 – but it still looks fresh. Tom Bordonaro of Winsted owns one and his motorcycle gets appreciative looks from riders wherever he goes. "When tell them the bike is 30 years old, they can't believe it. It looks newer than 31 years old," he said last week.
Bordonaro's CBX is a 1981 model, fully faired with matching hard saddlebags. For the first two years of its manufacture, the CBX was a "naked" bike, while the final two years saw it vie for attention in the "sport touring" category with the added wind protection and luggage space. Bordonaro bought his CBX used in 1998. "A buddy of mine had it. It was just lying around. I said I'll take a chance at it. That worked out pretty well," he said.
"When I got, it wasn't all there. Somebody had knocked it over, tipped it over and broke a few things," said Bordonaro. Some parts had been scavenged from it. He recalled that he had to locate new controls and gauges and redo the carburetors and brakes. "It was a pretty long project to put everything back together. From start to finish, it probably took me about three months. Even after I got all the parts, the toughest part was getting the carburetors right," he said.
The problem was that the pilot jets, which control the fuel and air mixture, were plugged. "I let them sit in cleaner for days and it wouldn't budge the stuff that was in those pilots," Bordonaro said. Mechanic friend Tom MacBurnie came to his rescue with a filed piece of stainless steel wire. "I used it like a punch almost," he said.
That wasn't the only challenge, though. "The fairing actually had a couple of cracks in it which I was able to repair. One of the bags got broken when the bike tipped over, so I had to have it repainted," Bordonaro said. The bike's gray paint scheme with red and black highlights looks elegant.
Bordonaro claims the bike only had seven miles on it when he bought, but with the gauges missing that's impossible to verify. "Under all the dirt you could see it had no wear on it. It was a low-mile bike," he said.
Fourteen years later, his CBX has 32,000 miles on the odometer. It has been to Americade
in Lake George, N.Y. and to Mount Washington in New Hampshire. "It really is a fun bike to ride. It's a real smooth, easy bike to ride," said the 64-year-old retired school teacher. "I try to get out and ride it once or twice a week. You don't see too many of them around. It's a conversation piece. A lot of people have never seen an inline six like that."
Bordonaro estimated that only about 40,000 CBXs were built during the bike's short life span. There's no way of knowing how many survive, but seeing one on the road isn't a common occurrence. "It's a pretty heavy bike. It weight about 635 pounds when it's dry. The one thing I would say, it's a little more top heavy. You don't sit in this bike, you sit on this bike. As far as smoothness, I don't think there's anything out there that as smooth. It's like butter. It just goes and goes."
The vintage CBX is Bordonaro's only motorcycle. "One's all you can ride at a time," he said. "I'll stick with the old stuff. I like the lines; like the way they look. I like to be able to still do some of the work."
(Originally published in "The Republican-American" on July 7, 2012)