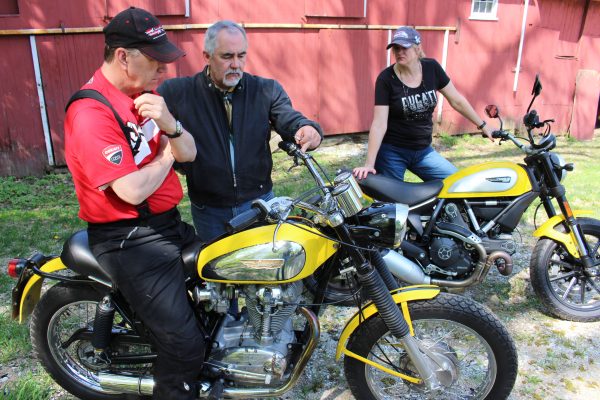 The line that Matthew Phillips used to describe Ducati's original scrambler model built back in the 1960s was a tad too colorful to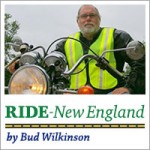 print verbatim in a newspaper, but not here. It was, he recalled, a bike that guys bought to get laid.
In fact, Ducati used that suggestive imagery in an advertising campaign at the time that was dubbed "Franco and Elvira." It showed a good-looking couple aboard a scrambler. According to lore (and fact), Franco and Elvira weren't models merely hired for a photo shoot, rather Ducati employees – he a test rider and she a receptionist.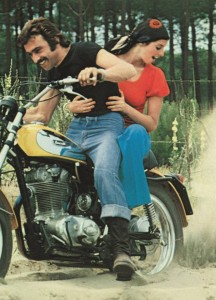 Phillips, who lives in Litchfield, CT knows a lot about the now-classic Ducati scrambler as he owns one. It's a bright yellow 1969 Ducati 450 SCR "Jupiter," which he bought out of Sturbridge, MA in 2001. He restored it two years ago and has been riding it ever since.
It was a few weeks ago that I ran into Phillips at Toymakers Café in Falls Village, CT and he asked if I'd ridden the new retro Scrambler from Ducati yet. I told him, no, but that I hoped to do so soon. It quickly dawned on me that it might be instructive if he rode the Scrambler and compared the new against the old.
With the help of New Haven Powersports, which brought a 2015 Scrambler to the café for a day of demo rides on May 10, Phillips got to ride what has been described as "contemporary reinterpretation" of its predecessor. The Scrambler comes in four variants – Icon, Urban Enduro, Classic, and Full Throttle.
Phillips rode the low-end model Icon, which has a base MSRP of $8,495. "I think it's possibly the smoothest Ducati I've ever driven. It's comparable to the BMW R Nine T in terms of smooth, comfortable power delivery," he said. "It seems a well-sorted motorcycle and an incredible value for the money." The other three Scrambler model have MSRPs of $9,995, which is still far less than the $14,995 price tag for the R Nine T.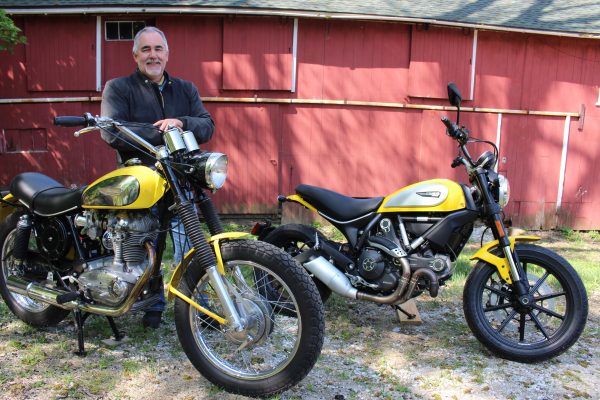 Matthew Phillips with his Ducati 450 SCR and the new Scrambler
While Phillips admitted to having "sworn off big modern bikes," he nonetheless took to the Scrambler, perhaps because it isn't that big. With an 803cc L-twin engine and weighing it at 410 pounds with a full tank of gas, the Scrambler is peppy, nimble and "very comfortable to ride almost immediately," Phillips reported.
Phillips' Ducati 450 SCR is a bit more rustic. "The kick starter is on the left side of the bike and this model is prone to kicking back quite strongly, so it's always a challenge in the best of circumstances," he said.
As obtained, Phillips' scrambler looked nothing like the sparkling specimen that he now rides. "The bike was complete except for the tank, and very tatty. The kick starter was broken off, meaning the bike hadn't been run in many years. It turned out the flywheel was damaged and that became one of the more difficult parts to renovate," Phillips said. "Most of the parts came from an organization in Italy that promotes and supports the preservation of these bikes. Amici Della Scrambler can supply replacements for all but the largest components like the frame and engine cases.
"The restoration was fairly straightforward after the crankshaft was rebuilt, entailing repainting the frame, re-chroming all the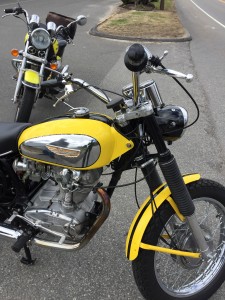 shiny bits and rebuilding the wheels. The engine was torn down completely, all bearings replaced, new piston, cylinder re-bore and a top end valve job. "It took about six months (working) weekends and evenings, start to finish, once I decided to 'get it done'. This is about half the time of most bike projects and was largely due to the parts availability from Amici Della Scrambler."
The finished Ducati 450 SCR is now "98% original," and Phillips said that there's "a simplicity, an elementalness to the bike" that is also conveyed in the Scrambler. "It's styled like a watch – something you look at when at ease," he said.
He did find some nits to pick with the Scrambler. "I thought the instruments were pretty crap," he said, with the "biggest disappointment" being the hard to see rev counter.
Being a vintage aficionado, Phillips also lamented the loss of the bike's original purpose – a "social bike" to pick up girls – in favor of modern performance. "They've compromised that by keeping it too much like a Monster," he said, referring to Ducati's small sport bike.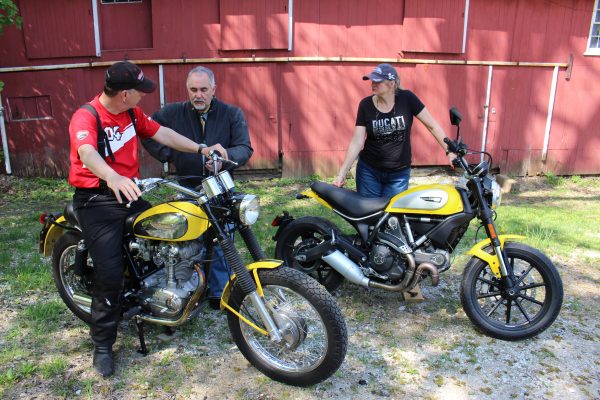 Matthew Phillips, center, with Chris Green and Jodi Green of New Haven Powersports
Franco and Elvira might disapprove as well. But Ducati has a hit on its hands with the Scrambler. The company's marketing the Scrambler as a stand-alone line with the Scrambler name (the "S" uppercase) front and center and the Ducati name sublimated, and may have more variants to come.
Seeing the original and the new version together was certainly a treat.
(Originally published in "The Republican-American" on May 23, 2015.)