SEATTLE – Punishment has finally been handed down eight months after King County sheriff's detective Richard Rowe was captured on video pointing a handgun at a motorcycle rider during a traffic confrontation.
At a news conference today, Sheriff Mitzi Johanknecht said Rowe has been suspended for five days without pay – not for pulling a gun, rather for lack of courtesy and unbecoming conduct.
In the Aug. 16 video, which was posted YouTube and has been viewed more than 480,000 times, the startled and terrified rider Alex Randall exclaims, "Oh shit, what are you doing to me?"
The detective responds, "What do you mean what am I doing? You've been fucking driving reckless. Give me your driver's license or I'll knock you off this bike."
In announcing the punishment, Johanknecht said, "I'm disappointed in Detective Rowe's behavior." In a disciplinary letter to Rowe, she wrote, "Your demeanor appeared angry and 'amped up,'  I believe your excessive use of profanity, your verbal and non-verbal communications were ineffective, discourteous, and not aligned with my expectations nor our department Core Values."
Johanknecht said she didn't impose the recommended discipline of 10 days suspension without pay because Rowe had undergone additional training, was apologetic and had time to reflect on the incident. The sheriff also said Rowe had experienced "extra stress" because of publicity the incident generated.
The "Seattle Times" reports, "Johanknecht defended Rowe's decision to pull out his firearm during the Aug. 16 incident in North King County, agreeing with the conclusion of the department's internal investigation.
"She said she believed the detective's account in which he said the motorcyclist reached toward his waistband, causing Rowe to believe he may have had a weapon. But she wrote in the letter that she and Rowe agreed he improperly raised his gun horizontally, instead of keeping it in what is called a low-ready position."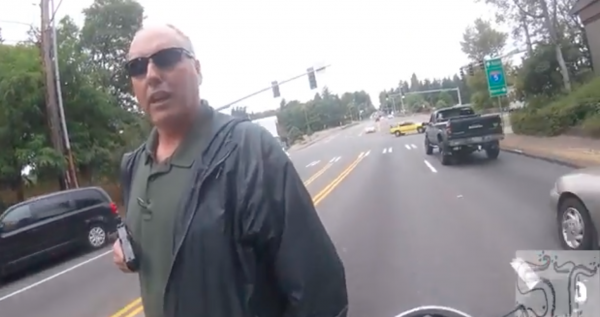 The newspaper further reported, "Johanknecht also said she was swayed by the full video taken from Randall's GoPro, which showed that the interaction between Rowe and Randall ended with a handshake and the fact that Randall admitted to prosecutors that he had been speeding before the encounter with Rowe. During his initial interviews, Randall had not told internal investigators with the Sheriff's Office that he'd exceeded the posted speed limit.
" 'Put yourself in my position,' said Randall after the news conference. 'My first interaction with somebody from the King County Sheriff's Office was a guy pointing a gun at me in a really unreasonable way and threatening me and scaring me.' "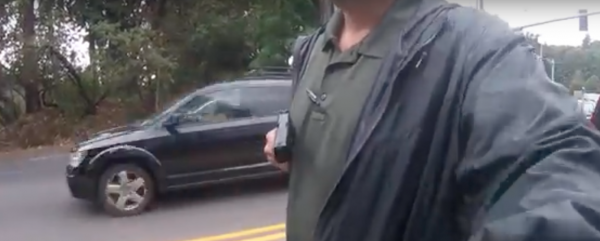 Since the incident, Rowe has been on paid administrative leave or on restricted administrative duties. He was reinstated to full duty today. Johanknecht took office in January.
The newspaper added, "Randall, who said his constitutional right to be free from unlawful search and seizure was violated, plans to file a federal civil-rights lawsuit against the Sheriff's Office."