FALLS VILLAGE, CT – If a motorcycle could talk, the single-cylinder race bike owned by Ed Bozzi of Naugatuck, CT would probably say that 15 years of retirement have been quite enjoyable. No hard running – just an annual oil change, a twice-a-year startup, an occasional track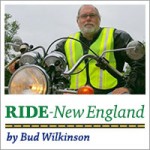 day, and periodic trips in a van to shows. Recently, an expert panel of judges deemed the 1966 Ducati 250 Diana the "Best Bike" in the Falls Village Car & Motorcycle Show.
Later learning the story behind the bike, the judges were even more satisfied in their unanimous choice. Not only had it spent 10 years on race tracks in New England between 1992 and 2002, the little Ducati had provided quality time for two friends before they prematurely said goodbye.
Bozzi first met Jim Rees of New Haven in 1972 when he stopped at an auto parts store that specialized in import parts. Bozzi was looking to fix his VW microbus. "Jim was the counterman at the Checkered Flag," he recalled. "We were both Vietnam vets and we hit it off from the get-go."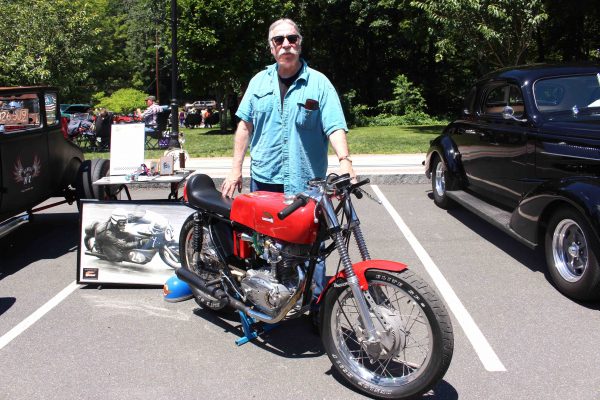 They soon learned that they also had a shared passion for motorcycles, became good friends and even shared an apartment. Marriage eventually took them their separate ways, but Rees contacted Bozzi in 1990 with an idea. "We were both motorcyclists and we were both racing fans. Jim had always been around the racing scene. Jim approached me and said he wanted to put together a racing team," Bozzi said.
The search began for a vintage model. "I always had a fondness for small Italian motorcycles. When this bike presented itself, we both instantly knew that that was the one we wanted. We found it in Danbury. It was in the back of a garage in three cardboard boxes."
The Ducati had belonged to a serviceman who had died in Vietnam and was being sold by his brother. "When he found that we were vets and what the nature of the program was going to be, he was very supportive. He sold it to us for a nominal fee," Bozzi said.
They put the bike in the rear of a pickup and brought it back to their workshop. "That's when the fun began. The first thing we did was assess the condition of it. We had to take everything apart. Some things we had to improve. Some things we left alone."
A different carburetor was added and a different exhaust. The rims were replaced with alloy wheels. Ducati made racing kits for the model and those elements got added. "There were many components that were beyond being saved and needed to be replaced. We sandblasted the frame and didn't find any cracks in it. The forks were fine. We rebuilt the forks," he said.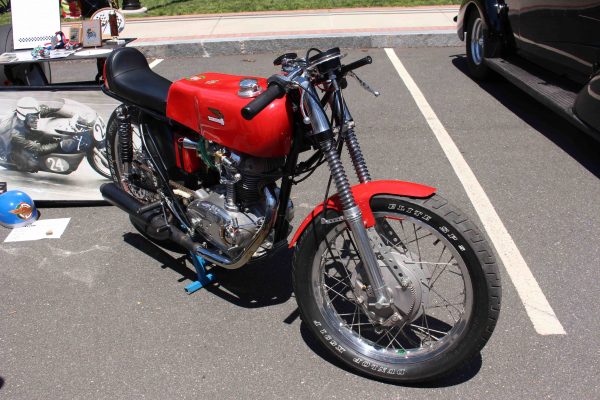 Bozzi and Rees were working on a deadline. Rees had been diagnosed with terminal cancer. The restoration didn't get completed, and the bike didn't make it to the track, before Rees died. "He knew he wasn't well," said Bozzi, who didn't let their dream die as well. Two months later, on June 13, 1992, he was on the grid for a race at New Hampshire Motor Speedway in Loudon, N.H. and worried about being the "slow new guy." A diary he kept at the time recalls what he was feeling:
"On the starting line, I was filled with one thought – I hope I don't screw up and knock someone down or do something dumb and throw my beautiful Ducati down the track. Well, I had one hell of a good time, lots of fun. I didn't throw the bike away or piss anyone off. I came in seventh on a real high. My first race was behind me. I am a racer. JR, this was for you."
The "JR" referred to his late friend, Jim Rees. Bozzi called losing Rees "the biggest heartbreak of the whole project." Fortunately, another racer, Byron Baisden, stepped up and urged him forward. "I had lost heart. I didn't want to deal with it anymore when I lost my friend," he said.
Bozzi's best finishes were fifth places in New Hampshire in the U.S. Vintage Grand Prix in 1998 and in the Belknap Cup Race in 2000. He retired in 2002 at age 53 due to failing eyesight. "My eyes just got so bad I was afraid I'd hurt somebody or hurt myself," he said.
The Ducati hasn't been on a track in four or five years. "I've been bringing it to different shows. Just enjoy the ownership of it," he said.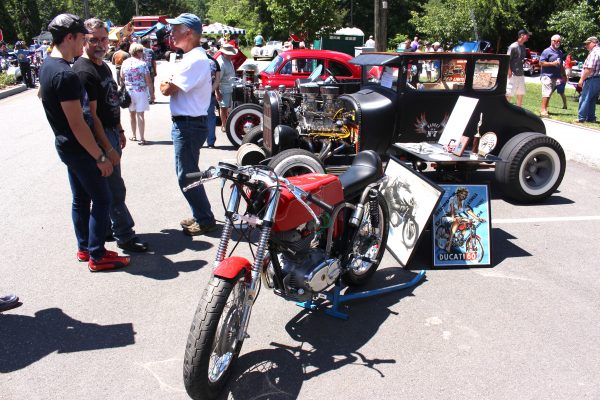 Bozzi said the Ducati 250 Diana is always well received at shows, as it was in Falls Village. "People are impressed by the degree of craftsmanship. The level of craftsmanship is apparent," he said.
And, yes, it could be raced again. "It would take very little to get it going," Bozzi said, so perhaps the final chapter in the Ducati's story has yet to be written.
(Originally published in the "Republican-American" on July 15, 2017.)