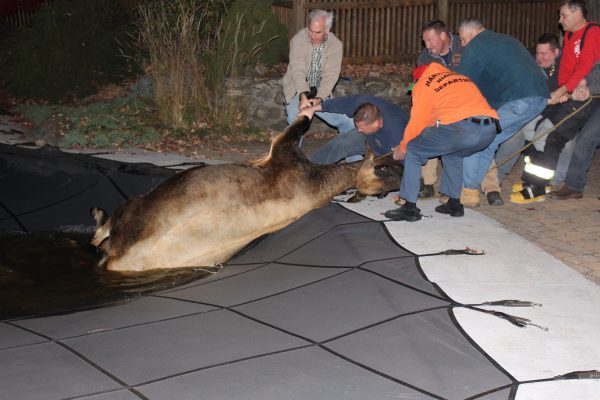 HARWINTON, CT – Charlotte the jersey cow who wandered into a swimming pool here on Sunday evening and had to be rescued by volunteer firefighters may be the most talked about cow in the country today. News of her unexpected plunge into the deep end of an in-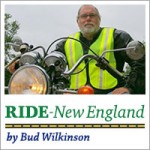 ground pool in this rural town has made headlines on numerous websites – with pilfered pictures used without permission helping to tell the story and draw eyes to the websites of unethical/unthinking news organizations. That may be a bit of an overstatement, but I should have seen it coming…
First, some background: As many local residents know, I write a motorcycle column, a weekly car feature and a Broadway feature for the "Republican-American" newspaper in Waterbury, CT and frequently report news stories as well. I also host the motorcycle website RIDE-CT & RIDE-NewEngland. In my free time, I'm a member of the Harwinton Volunteer Fire Department, serving in the Harwinton Fire Police.
Occasionally, the news and volunteer roles overlap. It's the rare call to the fire department that is either so newsworthy or so unusual that it warrants snapping some pictures and writing a story. When it does, though, it's a win-win-win situation (and I'm always mindful to keep the potentially conflicting roles separate). The newspaper gets a scoop, the fire department gets a little exposure, and I get a few bucks for writing it up and sending along some pics.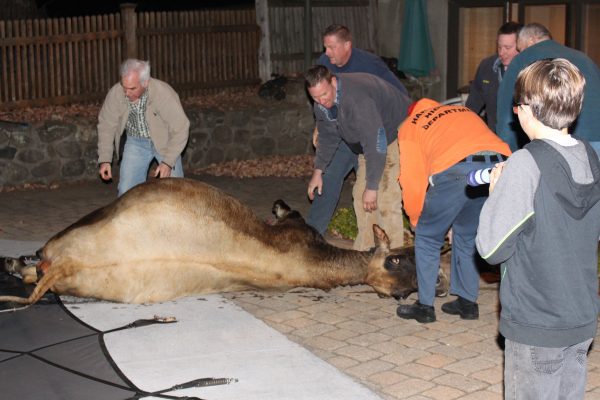 Yesterday's call from Litchfield County Dispatch came at 6:02 p.m. as an "animal rescue," a cow had wandered into a swimming pool. I grabbed both my DSLR and my fire police gear. Traffic was already being handled by other fire police members when I drove up to the scene so I proceeded poolside to snap some photos of the water-logged bovine. Firefighters were working to get her out of the pool. At that point, I figured the pics would be used on the Harwinton VFD's website (which I oversee) and Facebook page.
However, not long after I got home and began looking at the pictures on my laptop to see what I'd captured in the darkness, a call from the firehouse tipped me that the rival "Register-Citizen" newspaper was working on a story about the rescue. I quickly alerted the "Rep-Am" and then called Chief Bill Buys Jr. and swimming pool owner Mike Magill, who was boarding Charlotte for a friend, for comments.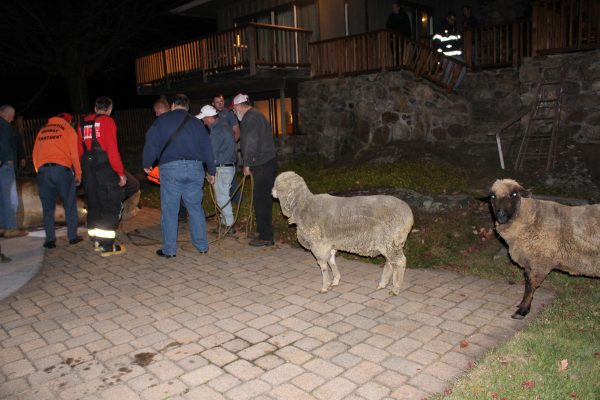 It didn't take long to write a story and send two pictures to the newspaper, which appeared in the Litchfield County section this morning. Having reserved the best shots for the "Rep-Am," I posted different pictures on the Harwinton VFD's website, also emailing them to fire department member Martin Rinko to post on our Facebook page. Because the pictures were taken in my capacity as a reporter, Rinko posted them as being "…courtesy of Bud Wilkinson."
The pictures were provided solely for the non-profit VFD's use (hence the "courtesy of" label); not as a courtesy to countless commercial news organizations. I make my living by writing and shooting pictures. Would I – anyone who does the same – automatically or without having been asked give the product away for free?
This morning – at 6:49 a.m. to be exact – I received a Message via Facebook from Thea Di Giammerino, digital editor at NBC Connecticut. She inquired if the rescue pictures from the fire department's page could be used "on all platforms" and promised a courtesy credit. Given the fact that NBC Connecticut was professional and ethical, and mindful it would mean exposure for the fire department, I instantly said yes, and she was good to her word.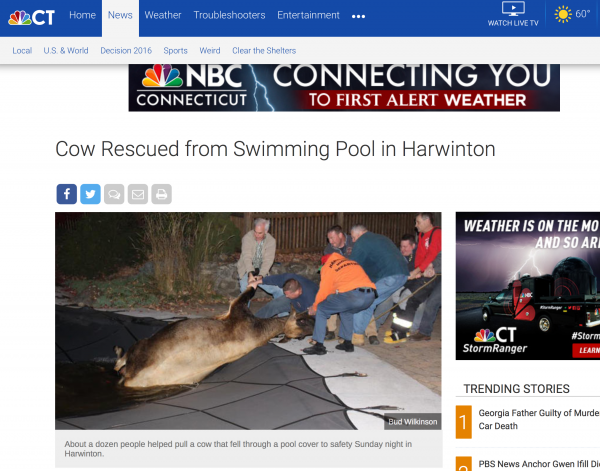 It wasn't until later in the day that I got curious as to whether the story of Charlotte's adventure had spread. It had. The Associated Press picked up the story and distributed it nationally, noting that pictures could be seen on the Harwinton VFD's Facebook page. That's where numerous news organizations stole them from and used them without authorization and/or compensation (as the below screen saves show). A call to the AP in Hartford confirmed that the wire service had only sent out a story, not any pictures, meaning the pictures had definitely been purloined.
Fox 61 used them without calling to ask permission.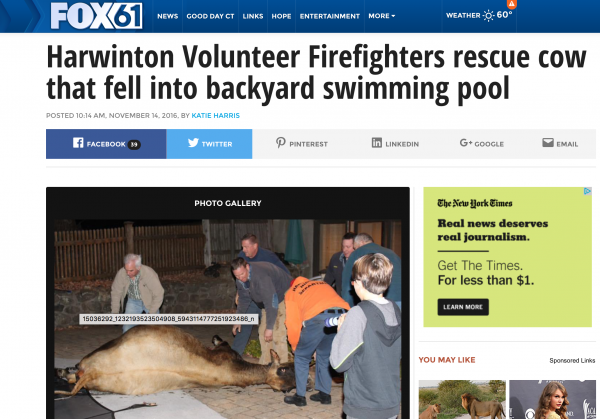 Channel 3's Eyewitness News used them without bothering to check.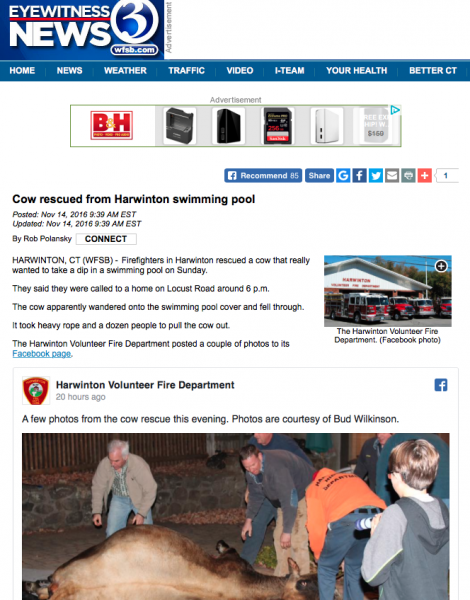 So did other newspapers, including the "Hartford Courant" and "Connecticut Post" in Bridgeport. Why call when you can snatch them? Why call when you might be asked to compensate the shooter?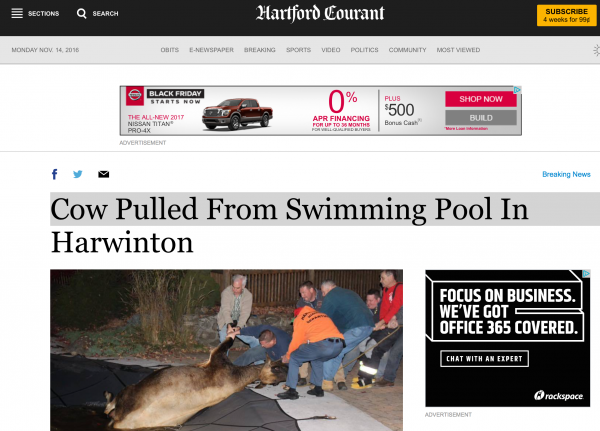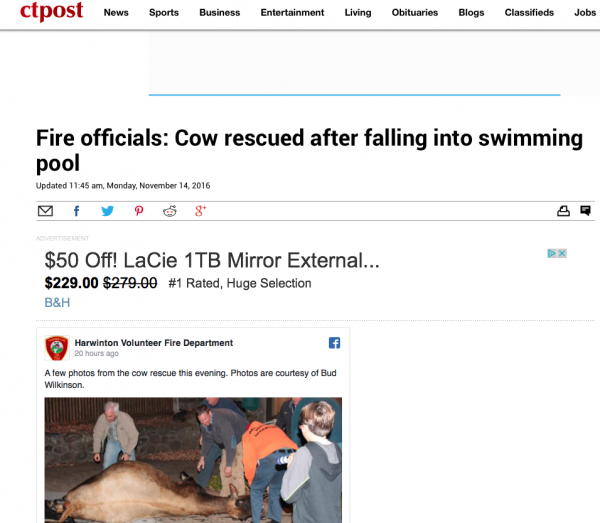 The thievery wasn't limited to inside Connecticut. The "Beaumont Enterprise" in Texas and the "Huron Daily Tribune" in Michigan grabbed the photos and posted them. So did many others, I'm sure.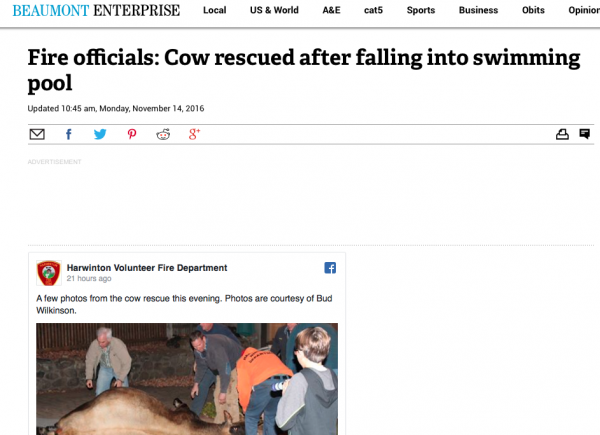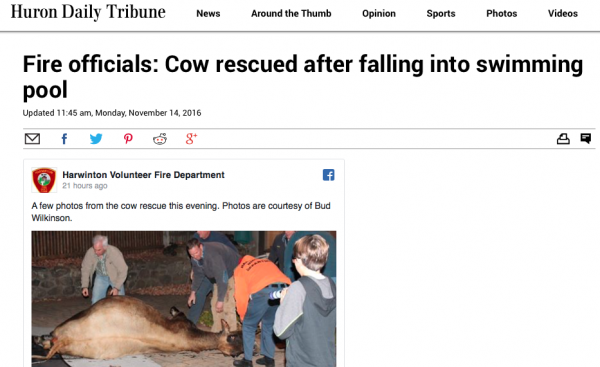 A few news organizations did show proper ethics and didn't just assume that because they were on a Facebook page they were fair game. The "Boston Globe's" Boston.com website used the AP story but didn't run a picture, while News 8 used a stock picture of cows grazing.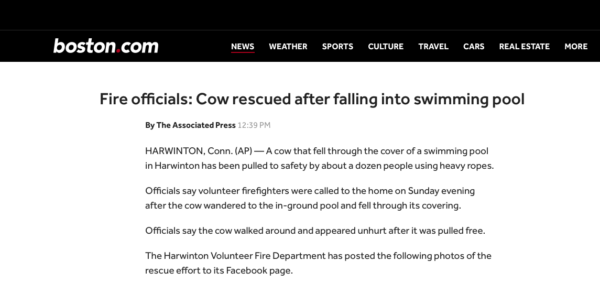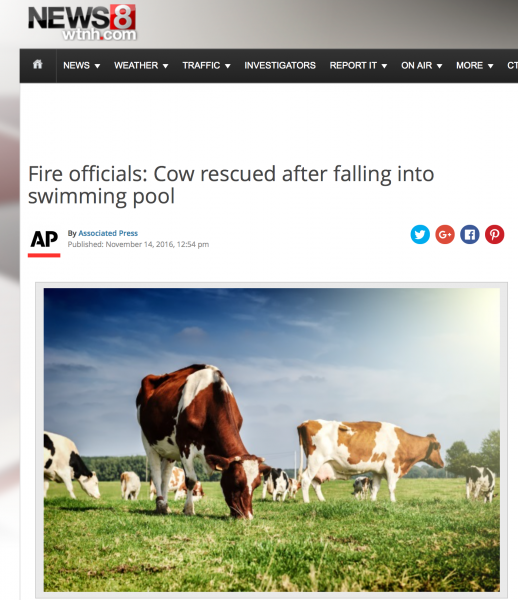 News 8's Scott Powell eventually emailed at 5:25 p.m. today asking permission to use the photos, only the second newsperson to do so, and permission was again granted – gratis. NECN in Boston became the third news organization to inquire about permission when it messaged shortly before 8 p.m. and was given the OK as well.
I spent a part of the late afternoon sending facetious "To whom do I send the bill?" emails to as many of the offending news organizations as possible. Do I really want payment? Not really. What I would like is for news organizations to step back and assess their practices, procedures and ethics. Is it ethical to simply snatch a picture from a Facebook page or website without consideration as to its origin or copyright?
In some cases, yes, it is – provided there is a pre-existing relationship. When I write about motorcycles and need a picture of a particular model motorcycle, I sometimes search a manufacturer's consumer site as well as press site for the best art, knowing that all pictures are basically there for publicity purposes. However, for the Broadway feature in the "Rep-Am," I've been given log-ins and passwords by the PR agencies granting me access to show photos from protected websites that the public and non-accredited news organizations cannot access.
Most times it's not ethical to grab a pic and post it; not without getting permission first from the photographer. Just because it appears inside a screen save isn't an excuse. (Yes, I gave myself permission to do the above screen saves that included my pictures.) Getting permission to use any photo found in a Google search is standard operating procedure for RIDE-CT & RIDE-NewEngland.
Is it fair to the "Rep-Am," which is paying for the pictures, when competitors like the "Hartford Courant" and the "Connecticut Post" resort to thievery to have similar photos. No, it isn't. And it certainly ticks me off that the newspaper that cuts me checks should be hurt by the ethical lapses of others. Kudos to NBC Connecticut, News 8 and NECN for being professional.
Charlotte is no doubt chewing her cud tonight. I'm still stewing. Perhaps I need to jump in the pool myself to cool off.