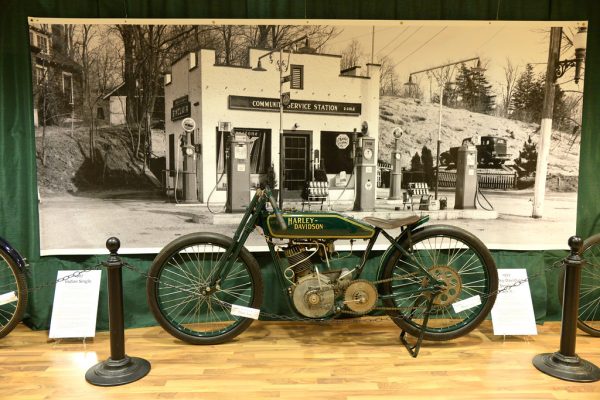 STONY BROOK, NY – Fans of vintage motorcycles will find a visit to the "Motorcycles and the Open Road" exhibition at the Ward Melville Heritage Organization here to be a worthwhile way to spend an hour or two. And you can't beat the $5 admission for providing a fun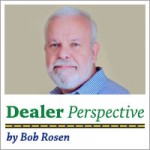 glimpse into the recent and far-distant history of motorcycling.
The organization's 8,800-square foot building is tucked into the back of the first planned shopping center built in the United States. Since 1941, numerous historical exhibits and community activities have been held there. Unless you have specific directions, you'd never just stumble on to the place.
This is the third year that the motorcycle exhibition has been staged. There are about 40 motorcycles on display, with the oldest being a 1904 Rambler with camel back gas tank.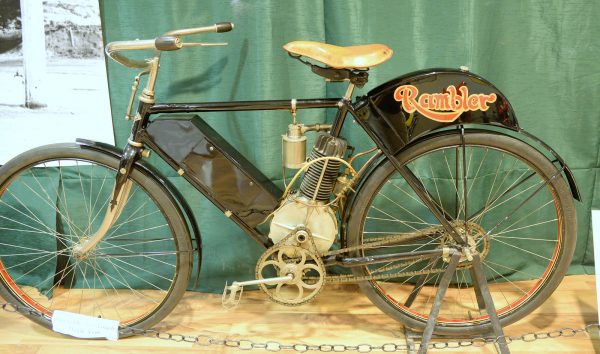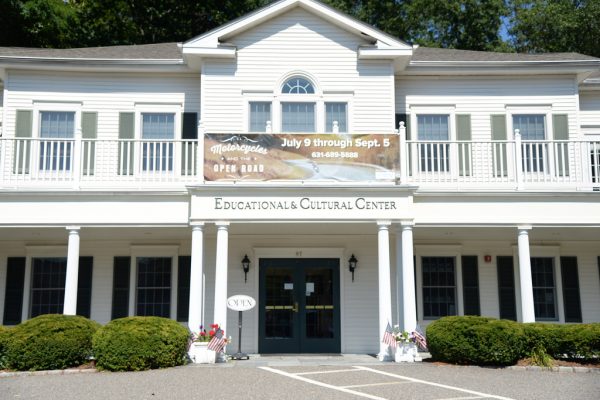 In an effort to show more bikes, last year's charming old-timey shop recreation is no longer on display. Instead, we have a few more bikes to admire.
For such a small show, the range of bikes presented is pretty impressive. They're all in very good to outstanding condition – no rat bikes to be seen. Brands represented cover a wide spectrum. As you would expect, there are a number of very nice Harleys, including a few exceptional examples of the customizer's art.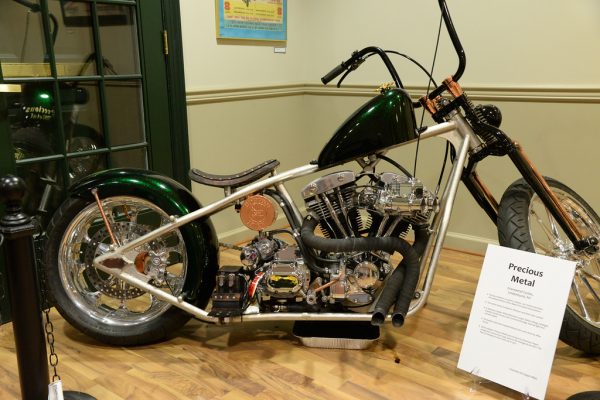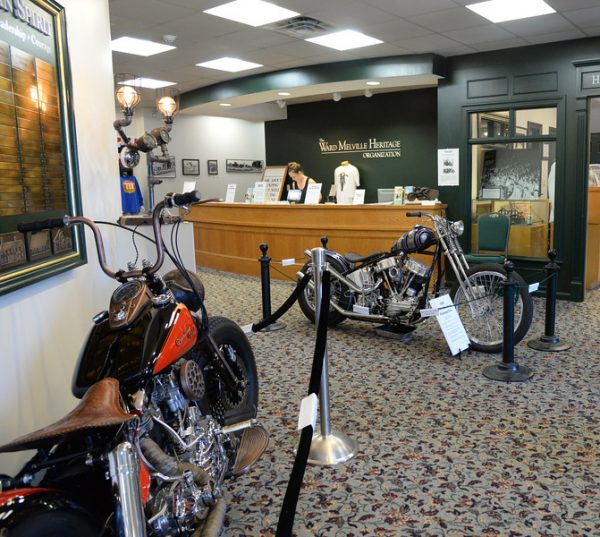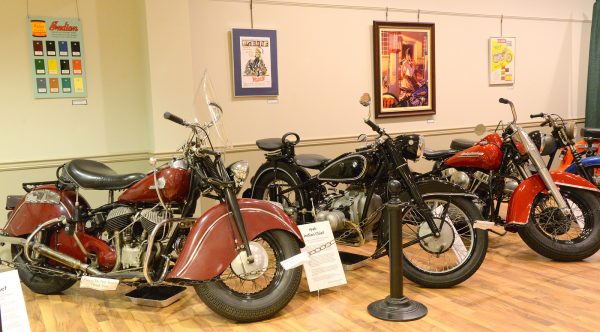 A few fine Indians – including a lovely 1924 Ace Four – round out the American V-twin representation.
Fans of European bikes will find examples from the continent to be somewhat limited. Only two BMW's – an R65 and a beautiful 1950 R51/2 from nearby Northport – are on display. The Italians on offer include a lovely Moto Guzzi Eldorado, a couple of Ducatis, a rarely seen Bimota DB3 Mantra (not one of Italy's better styling exercises!) and a cool 1977 six-cylinder Benelli Sei.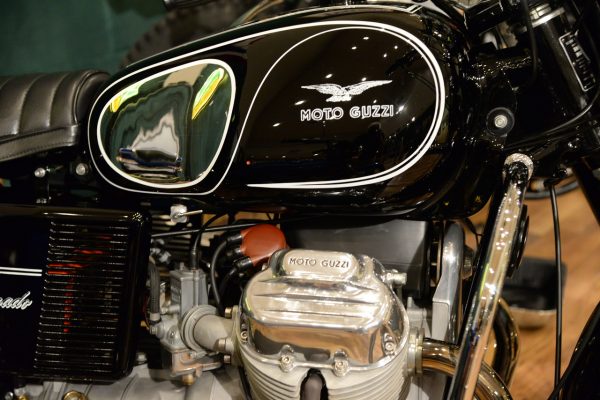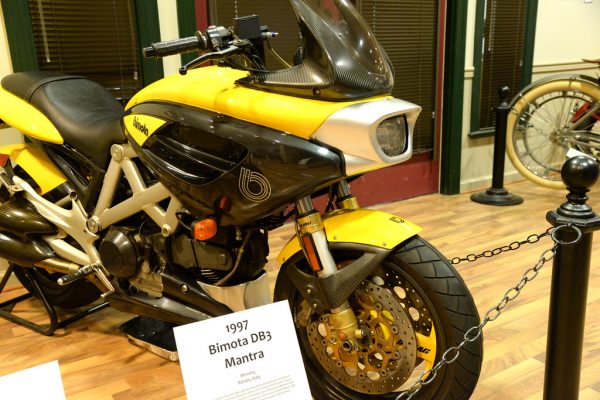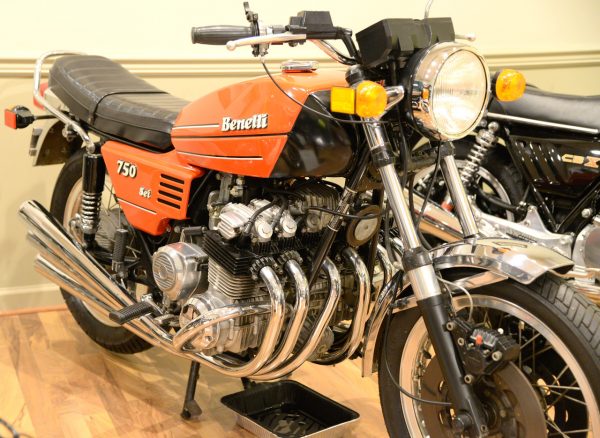 The most famous of all six-cylinder motorcycles, Honda's CBX, is on hand in the form of a pristine 1970 model. There's a pretty big grouping of other Japanese iron including a personal favorite – a 1976 Suzuki GT750 "Water Buffalo." This is the same model that carried me on many adventures, including trips to Nova Scotia, the Blue Ridge Parkway and other great riding destinations.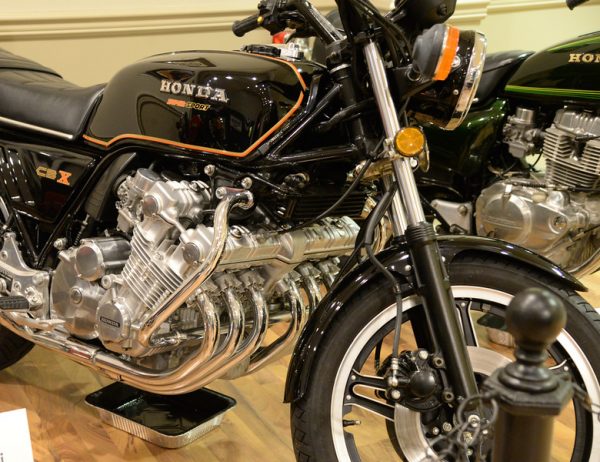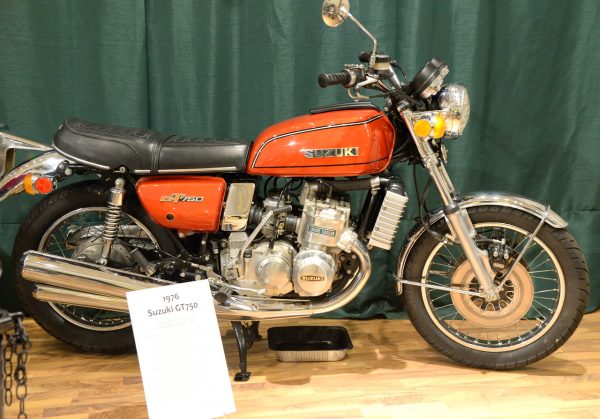 The Brits are on hand in the form of a Triumph Bonneville and two Norton's – a Commando 850 Roadster and a Commando Fastback 750.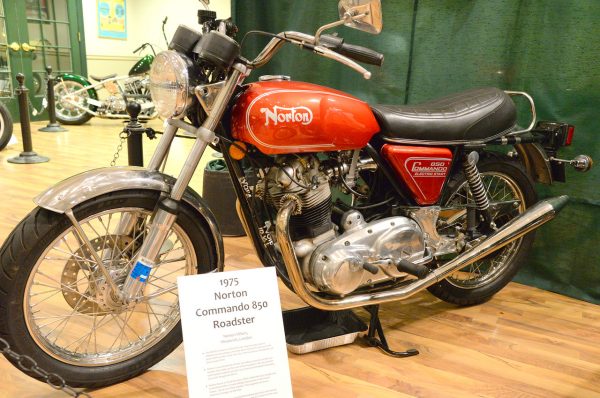 Perhaps the jewel of the show is a 1911 Harley-Davidson 7A Single. Looking like it just rolled in from a nearby showroom, the Mecum Auctions tag was still hanging from the bike indicating that it was for sale with a previous high bid of $55,000.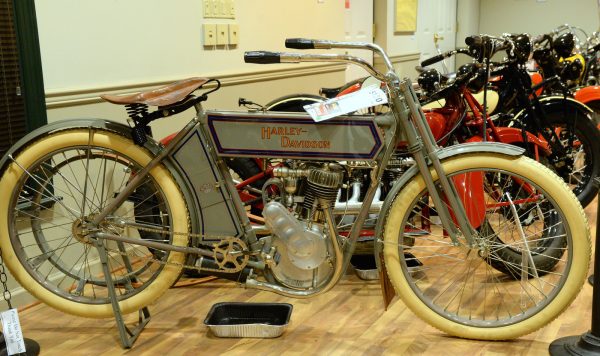 Additional eye candy is provided by the many pieces of period art that are hung throughout the show.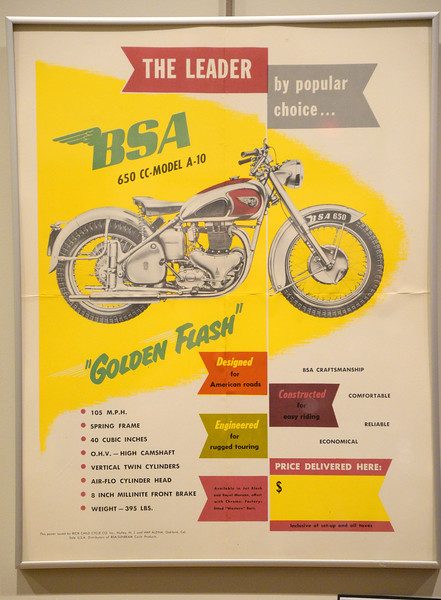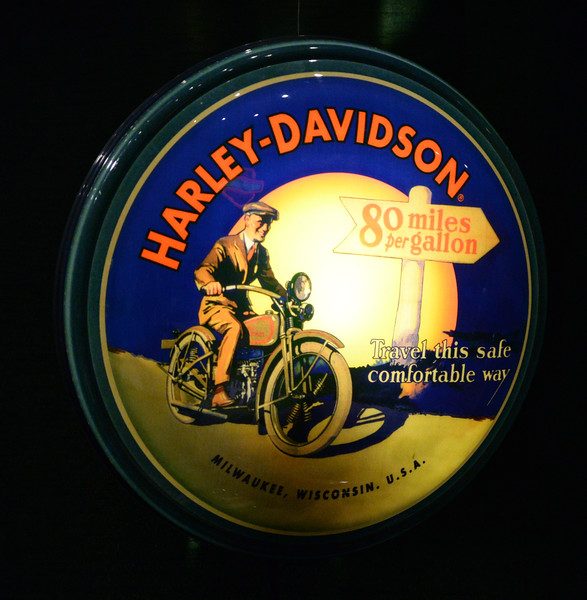 Here is a link to a virtual tour of the show. Better still, ride on over and see this small but satisfying exhibit in person. The exhibition runs through September 5th. Show details can be found here.