Update: The light bulb finally went on and I learned to properly tuck the laces down inside the boot. Having worn them now for nearly 18 months, I've found them to be comfortable and durable, so the rating gets revised upwards by one star.
—–
Ever put your feet down when coming to a stop to find one of them slips – not because of sand or oil, rather because the worn sole is as slick as a Popsicle? That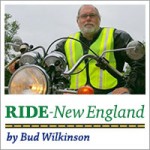 was happening to me back in the summer. After several years, my Sidi boots had reached the end of their shelf life.
Being a cheapskate, and having a $40 or so credit at Doc's Motorcycle Parts in Waterbury, I went in and bought some new boots from the U.K. company Weise, which has its U.S. headquarters also in Waterbury. I figured that not only could I get new boots with a little less out of the wallet, I could also
support two local operations by not shopping online.
After trying several models of boots, and not finding a "Lock" model that would fit properly,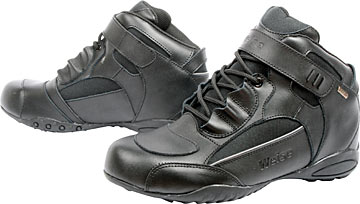 I went with the "Urban" model. I brought them home, then went back to wearing the Sidis because they were broken in and comfortable, and were held in place by two Velcro straps rather than laces and a single Velcro strap.
Eventually, though, I shifted to the Weise boots and have been wearing them for a couple of months now. Just as there is no such thing as a perfect motorcycle, I'm convinced that there's no such thing as a perfect motorcycle boot. They all have some shortcoming, whether it be comfort, protection or style (although why anyone would by a boot that didn't appeal to them visually is beyond me).
First the bad about the Urban boot – beginning with the laces. They're so long that you could string them between two trees, drape a white sheet over them and watch a movie. To ensure that don't go flapping in the breeze and come untied, it's necessary to fold them repeatedly and then tuck them under a leather strap with a Velcro tab
Which brings me to the strap. It's too narrow to adequately secure the laces and the tab itself is too small. I've looked down on several occasions when riding to see that the strap has come loose and is flapping, and the laces are indeed blowing all around. Not safe.
On the positive side, the Urban boots are affordable (suggested retail price is $109.99) and very, very comfortable. Did I mention that they're comfortable? And that trumps the shortcomings. There's nothing worse when riding than getting to your destination and having to walk around in a pair of boots that hurt your feet.
Quality-wise, the Weise boots seem fine and the styling is nice – not too clunky and not too racy. Overall, I'm pleased with them. A couple of design tweaks, such as shorter laces and a little meatier Velcro tab for the strap, and they'd get a better assessment. They get the rating that they do, though, because it's disconcerting having to look down and check your feet periodically every time you ride.
Rating (out of four stars): * * *