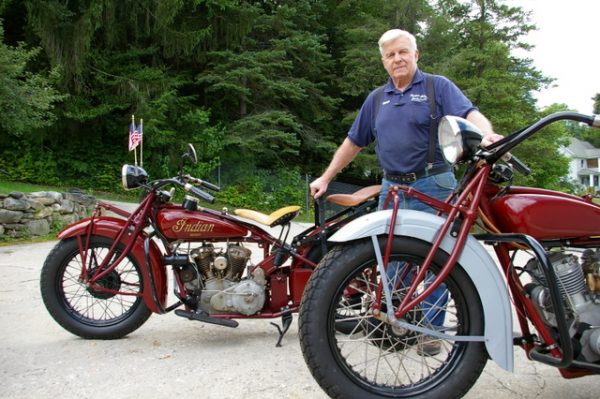 TORRINGTON, CT – Like almost anyone who has ever ridden, George Yarocki never forgot his first motorcycle – a 1928 Indian 101 Scout.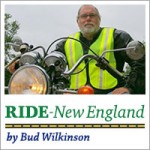 The year was 1941 and he was a 14-year-old sophomore at Torrington High School. "I rode my bicycle by the Indian dealer every day going to and from school," he recalled during a 2008 interview, noting that the roar of the motorcycles and the scent of exhaust fumes beckoned him from his late grammar school years into high school.
Their lure proved so irresistible that he eventually introduced himself to the dealership's owner and ended up with a non-paying job washing parts. A short time later, Yarocki noticed the dealer adding a headlight, tail lights and street fenders to his personal race bike, learned that it was being converted for street use, and would be sold for $90.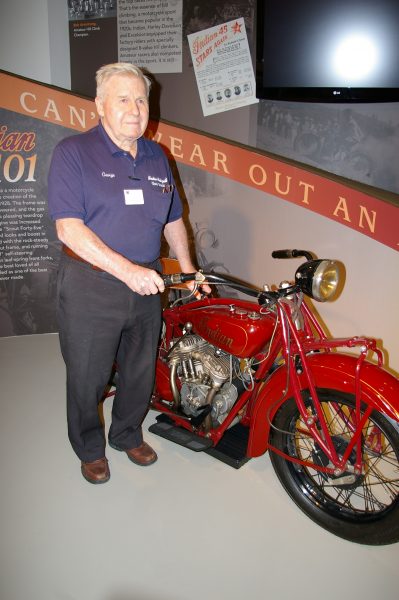 "I had $26 to my name at that point," said the then-80-year-old Yarocki. "I asked my dad if I could borrow the difference." Predictably, the answer was no, but his father did agree to help him haul hardwood slabs from a lumber mill in East Hartland, CT so he could split and sell them for firewood. "Sometime in the spring, I had my $90."
The bike that he desired – the 1928 Indian 101 Scout – was still available and Yarocki went to the dealership to buy it, only to be told after handing over his cash that he couldn't take it home until one of his parents signed the bill of sale. "The next day, I pushed it home on the sidewalk."
So began Yarocki's life-long love affair with legendary Indian motorcycles, a life that ended Wednesday evening when he passed away in his sleep at "Fort Yarocki" at age 88.
Indians were manufactured in Springfield, Mass. for 52 years from 1901 through 1953. Yarocki's love affair with them lasted 74 years and took him from being a mere Indian enthusiast to status as perhaps the world's leading Indian restoration expert, with a global following.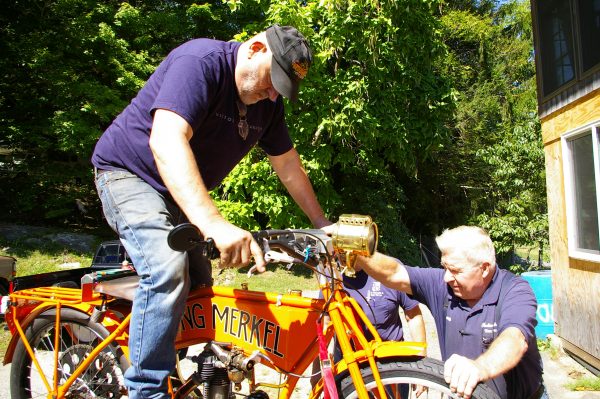 During a 2008 tour of his operation, fondly dubbed Fort Yarocki, it was impossible not to be amazed by his knowledge. He instantly recounted brand minutia, such as the fact that wheels on 1916 and 1917 Indians had 36 spokes while those made in 1918 and later had 40 spokes.
Indian owners from Connecticut to as far away as South Africa came to Torrington and relied on Yarocki to put their now-classic machines back into tip-top condition. The morning that RIDE-CT & RIDE-NewEngland visited what was once the Torrington Creamery on Riverside Avenue, Yarocki received a call from an Indian owner in London looking for a rare part. He had it and immediately shipped it out.
About the same time, Stamford-based "American Iron" magazine publisher Buzz Kanter came in to claim his 1931 Indian 101 Scout that had been in for work to make it more roadworthy. Unlike most Indians owners who sought out Yarocki's expertise, Kanter wasn't able to be on hand during the fix-up process.
"The way I work is unique. I work with the owner," explained Yarocki. "Ninety-five percent of the work is done with the owner present. It gives the owner insight into his motorcycle he wouldn't have if he wasn't there throughout the entire process."
To make such a collaborative effort possible, Yarocki built a small apartment – a bedroom with kitchenette – inside the warren-like facility for his guests to use. "I don't have 'customers.' I have 'owners.' It's two enthusiasts working on a motorcycle," he said.
Coordinating schedules was challenging. "Working one day a week, it takes 13 months to complete a bike. That's a huge investment of an owner's time. It's no longer just an acquisition. It's a part of you."
Upon learning of Yarocki's death, Kanter proclaimed, "He was the godfather of the 101 Scout." The 101 Scout was Yarocki's favorite Indian model and was only built between 1928 and 1931. "He had a romance and a passion for motorcycles. He was unusual in that he wouldn't hoard information. He would share it," Kanter said.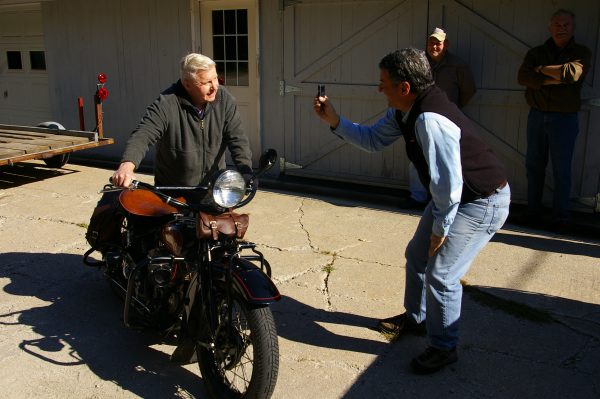 It took a bit of time for Yarocki's initial interest in Indians to turn into a passion. Perhaps that was because of his mother, who voiced her concerns upon his purchase of that first bike. "I couldn't ride it very much because my mom laid down the law," he said, recalling that she only allowed him to ride the bike on the sidewalk and on a neighbor's property.
Yarocki finally registered the Scout when he turned 16, but unexpectedly determined it to be unsuitable for his street-riding needs. "It ran erratically. I rode it for a few weeks and sold it for a Harley," he said.
He would own two Harleys and a 1938 Indian Chief before acquiring another 1928 Indian 101 Scout in the fall of 1944, which he and friend Warner Squires took on a memorable trip the following spring. Riding two-up, they covered 4,005 miles to Florida and back.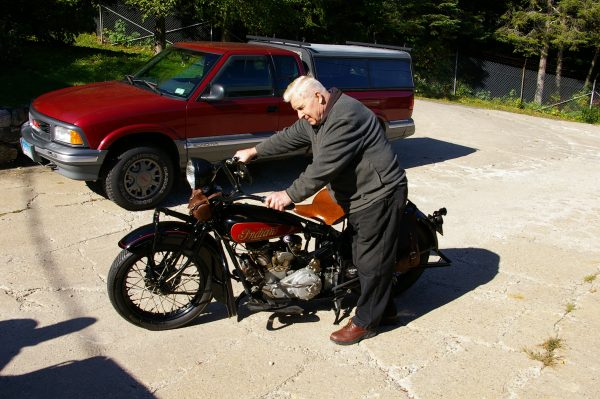 In Kentucky, while on the way home, one cylinder failed. They coaxed the bike along on one lung and rolled into an Indian dealership in Louisville in search of parts. However, being wartime when parts were scarce, the dealer refused to sell them what they needed outright. "He wanted to fix the bike, but he wanted a lot of money," Yarocki said.
Ignoring the dealer's warning that they'd never make it, the duo hit the road to Cincinnati where they found another Indian dealer who was willing to sell them parts, but he wouldn't allow them to do the repairs on-site. So, they found an alley. "We did it with just the tools we had in the saddlebags," he said.
The trip lasted 23 days. They departed with $600 between them and arrived back in Torrington with $6. "That was our rite of passage you might say," said Yarocki.
In December 1945, Yarocki entered the U.S. Army. During an extended posting at Camp Hood in Texas in 1946, Yarocki had his parents crate his other bike, a 1941 Harley-Davidson, and ship it to him. He was the only man among 10,000 GIs who had a bike, which resulted in him being singled out when a tank driver instructor was needed within 48 hours at Fort Knox in Kentucky. He was ordered to ride his motorcycle to the assignment.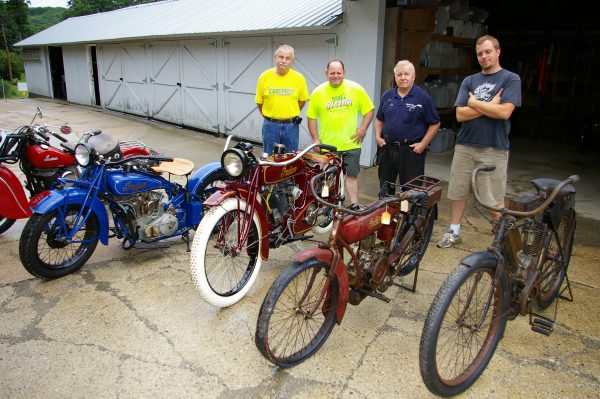 More than 50 years later, in 2012, Yarocki had another big motorcycling adventure. He served as crew chief for Jeff Alperin's entry in the Cannonball Run of vintage motorcycles from Newburgh, N.Y. to San Francisco. Alperin had bought a 1929 101 Scout from Yarocki in 2001, dubbing it The Beast. "It looked like a rust bucket," he recalled from his home in Lake Worth, Fla. It was that bike that Yarocki and protege and friend Tim Raindle bird-dogged from coast to coast.
"He was a phenomenal, life-long teacher," said Raindle, who absorbed Yarocki's know-how for nine years. "He had dozens of apprentices dating back to 1950s in the welding, fabrication, machine shop trades. If he had been building boats in Maine, I would have been in Maine," said Raindle.
In 1948, Yarocki sold the Scout as well as the Harley and began building a business, Torrington Metal Products. "For 22 years, I never sat on a motorcycle," he said. Then, in 1971, he had the chance to buy back the Scout that had taken him on his pre-war tour. He paid $600 for the bike that he had sold two decades earlier for $100.
"It was all in boxes. Some of the parts were missing," he said. Yarocki reassembled he bike and rode it, but eventually parted it out. But reacquiring the bike helped turn up the pilot light on his interest in Indians. He began collecting Indian literature, everything from brochures to repair manuals, and started a sideline selling copies to Indian owners in need of technical help.
In 1980, he published his first catalogue containing all of the literature he had compiled, followed by two more editions. Over the years, he sold 1.5 million pages of info and went through five copiers.
During this time, he also began acquiring Indian parts, moving "little by little" into restoration and repair. "I always wanted to build motorcycles as my retirement project," he said. Between 1972 and 1992, Yarocki stockpiled enough parts to build 28 Indian 101 Scouts. When he sold his manufacturing business in 2000, his retirement plan was fully realized. By 2008, he had re-built 14 examples of 101 Scouts.
The finished product doesn't come cheap. At that time, a "rider" capable of road use cost $12,000-$16,000 while a pristine show bike cost as much as $32,000. "That's just cost. There's no profit in there," Yarocki said, reporting that he only charged $30 an hour for his work to defray plant costs. "It has never been a business. It has always been a hobby."
It was a hobby that made him known and respected. "George was a major influence on the Indian community and was for many, many years," said Guy McLain, director of history at the Springfield Museums in Massachusetts.
Included in the Springfield Museums' extensive collection of original Indians is a 1929 101 Scout that Yarocki owned, restored and provided the museums. During Indian Day in 2014, the museums honored Yarocki for his contributions in preserving the history of the Indian brand.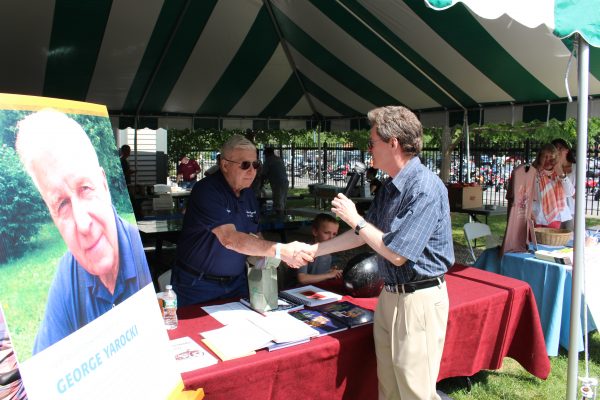 Silent today excepting for the constant ringing of the phone from friends and customers offering condolences, Yarocki's 4,000-square-foot operation occupies two buildings. One building has a welding shop – complete with frame fabricating apparatus and a bead-blasting machine – on the ground floor and a machine shop in the second floor. The main building has his office, the guest quarters, parts storage and an assembly room.
The walls in many of the rooms remain covered with photos, newspaper clippings and other pictures of Indians. "There's something about an Indian that's romantic," said Yarocki, whose "hobby" took him around the world, including to South Africa in 2001 to accompany one his "owners" on The Nedbank DJ Motorcycle Run from Durban to Johannesburg.
Steve Serafini, owner of the Fab-U-This fabricating business in Torrington that Yarocki often used, called Yarocki "by far the smartest man I ever knew. He knew more about Indian motorcycles than the people at Indian ever did."
Born in Torrington on July 2, 1927, Yarocki was the son of Teofel "Tony" Yarocki and Mildred Bronson Yarocki. His father emigrated to the U.S. in 1909 at age 13 from Ukraine. A straw suitcase that he carried with him to this country is on display at the Torrington History Museum.
Yarocki's handiwork is also evident in a display at the museum remembering the Hendey Machine Co. (not to be confused with Indian manufacturer Hendee). "We tapped him in the 1990s to design a machine shop for us," said Mark McEachern, executive director of the Torrington Historical Society. With volunteer help and working over the course of a year, the machine shop was created at Fort Yarocki, disassembled and then reassembled at the museum. "We have a fully functional machine shop with Hendey machines thanks to George Yarocki," he said.
McEachern also recalled that Torrington Metal Products had a high profile in Torrington. "In the early years of existence, they manufactured television antennas and the roof brackets needed to support them. At one time, these brackets could be seen on roofs all over Torrington," he said.
Alperin said the vintage Indian owners that Yarocki has left behind will be in good hands – their own – because of the knowledge he imparted. "I know how the motorcycle runs. I know the parts inside and out," he said, adding that much of Yarocki's knowledge has been transferred to Raindle. "We lost George but he gave us Tim in the process," he said.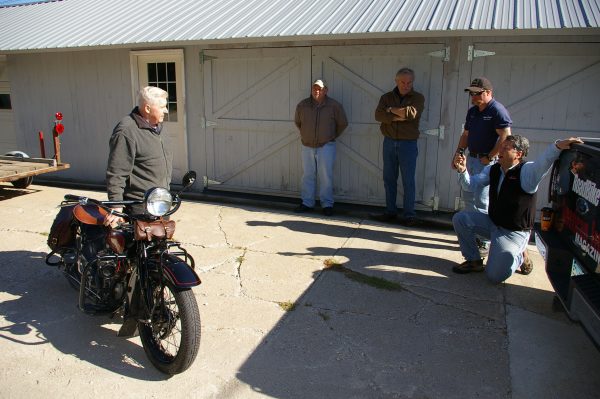 Another 101 Scout owner who Yarocki counseled is former Cornwall, CT resident Will Paley, who nows live in North Carolina. Upon learning of Yarocki's death, Paley said, "I thought he was a force of nature, but I seriously underestimated him."
Yarocki is survived by wife, Millie, and son, Kevin. A private funeral service is being planned for next week. A memorial service will be held at a later date.
Having known thousands of motorcycle owners and riders over the years, Yarocki arrived at one conclusion during his life: "Motorcyclists are unique people – very likeable," he said.
And he certainly fit that description, too.