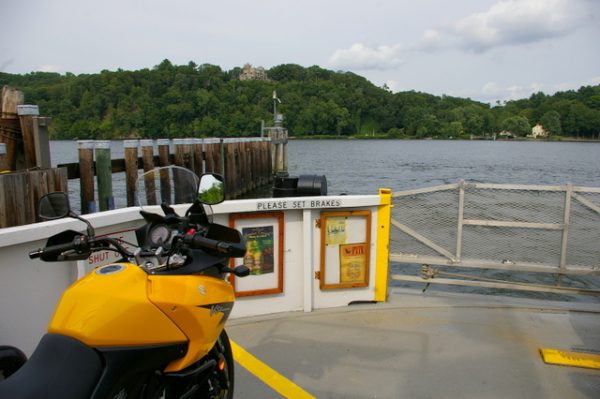 By Bud Wilkinson
Route 154 is a winding state road that runs along the west side of the Connecticut River from Old Saybrook through Esssex and Deep River and north to Haddam and Higganum. "This is a nice cruising road," said Janet Gessner, whose husband, Tim, rides a 2000 Harley-Davidson Sportster. Together, they own the Deep River Toy Company and from where, inside the converted house at 202 Main Street, they can often hear the sound of motorcycle exhausts on the wind.
What was RIDE-CT doing inside their specialty toy store on a weekday afternoon? A combination of an itch to put some miles on a just-acquired 2008 Suzuki V-Strom 650, a desire to sample the food at the Whistle Stop Café just up the road, and curiosity about the roads in the area prompted the spontaneous road trip.
A fast ride down Route 9 from Middletown to Essex and some backtracking on Route 154 had me ready for lunch – until I noticed the toy store and doubled back. Its inviting appearance of blue (lower) and white (upper) clapboards and reddish-pink Adirondack chairs out front suggested something magical.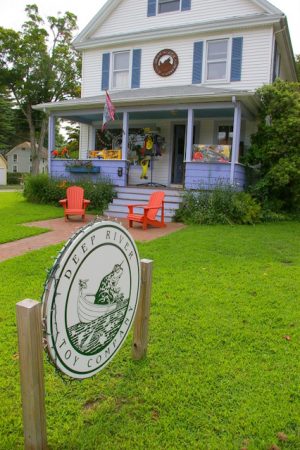 The inside of the store is so colorful and so packed with toys that it resembles a movie set or Santa's workshop in early December. Gessner said the store stocks "definitely things you can't find elsewhere. If you've been looking for it, we carry it." The store even has old favorites, such as Silly Putty, pogo sticks, hula hoops and jump ropes. "We carry a lot of 'Made in America,' a lot of things that don't need batteries," she said.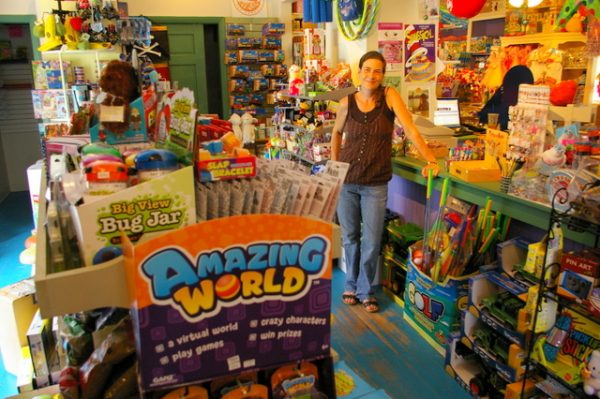 While Silly Putty stills comes in a plastic egg container, the maker of an alternative, Crazy Aaron's Thinking Putty, uses a metal tin. Gessner demonstrated how the magnetic putty that can devour a small magnet that comes with the putty.
After a few minutes of browsing, the road beckoned. Unfortunately, by the time I rolled up to the Whistle Stop Café, it was closed for the day. It's only open for breakfast and lunch and I was too late. The chairs on the small outdoor patio and had been turned atop the tables. On a previous ride by, though, motorcycles were parked in front, so the place is motorcycle-friendly.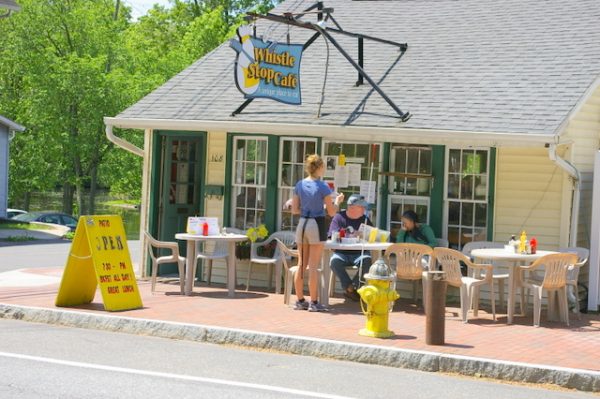 Heading north again on Route 154 on what was a warm, sunny day, I soon came upon a sign touting the Chester-Hadlyme Ferry. So much for the game plan of staying on the west side of the Connecticut River. I made a right on to Ferry Road/Route 148 and rolled up behind an S.U.V. already parked at gate in front of the ramp. The ferry was mid-river, heading east.
Within seconds, the S.U.V.'s owner, Art Dufresne, and I got to chatting motorcycles, with Dufresne telling of adventures riding in Costa Rica. The bike talk continued as the ferry transported us across the river, so I never got to admire Gillette Castle, which looks down on the river, or clock how long the ferry ride actually takes. It's certainly much quicker than Dover to Calais. The cost for car or motorcycle is only $3, making it a bargain.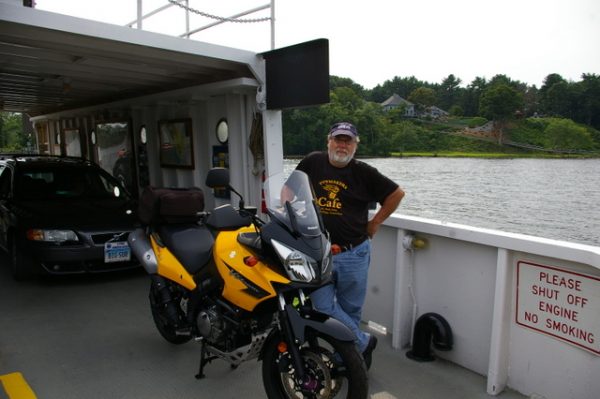 Upon disembarking, it was a short ride east on Route 148 to a general store in Hadlyme to grab and guzzle a couple of sport drinks. It wasn't until after that I noticed a handwritten sign posted outside that stated the store does not have a public rest room. Prior to leaving, I glanced over at a car that was parked next to my bike. The driver was chatting in an animated fashion on a car phone. Remember car phones? The kind with a cord attached? Hadn't seen one in … decades.
Heading northwest on Route 82 out of Hadlyme, I wound up back in East Haddam, rode by the always impressive Goodspeed Opera House, over the bridge and back across the Connecticut River and reconnected with Route 154. While there were several spots I would have liked to have reconnoitered as I sped north through Haddam and Higganum, I was by now due in Middletown to meet a friend.
Aside from not getting a morsel of lunch, the ride was exceedingly fun, filled with rolling and twisting roads. This Route 154 ride is close enough to be easily accessible but far enough away to make it seem like an adventure.  Next time I'll go earlier and make sure the Whistle Stop Café is open.