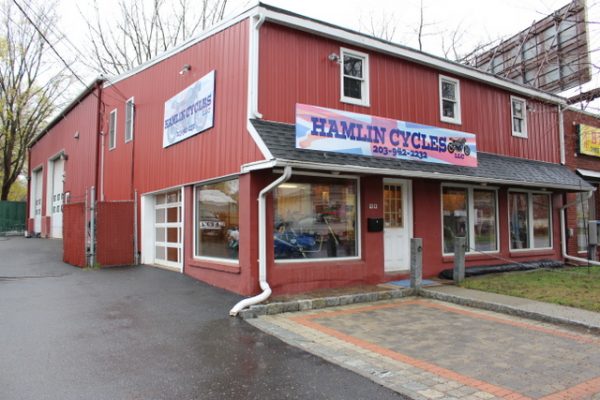 The showroom is filled not with new Triumph models, but with the scent of fresh carpeting. The floor of the service department glistens from the newly-applied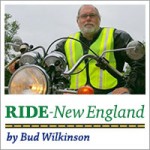 sealant that still hasn't cured in one area. A sign on the exterior of Hamlin Cycles in Bethel, CT has a Union Jack as the background and proclaims what's to come. All is in readiness for what owner Jim Hamlin expects to be an opening on Saturday, albeit without any new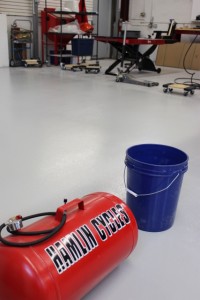 Triumph models – yet.
Work on the dealership at 44 Grassy Plain St. (Route 53) was progressing this morning. Hamlin reported that the building inspector and fire marshal had just departed and a certificate of occupancy is expected Thursday. Approval of a Triumph franchise is still in the works, though. "We'll probably be open for a month before we have the Triumph stuff," said Hamlin, who formerly worked for Branchville Motors, the defunct Triumph-Moto Guzzi store in Ridgefield, CT.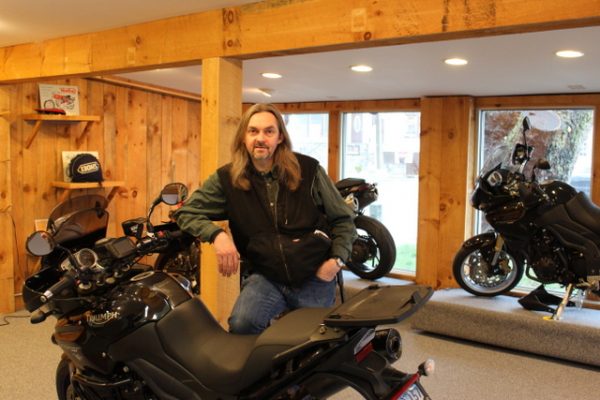 Hamlin had hoped to have Hamlin Cycles open in the building that previously housed a power equipment business by March 1. That proved to be an impossible challenge because of the necessary zoning approval. "The town was very cooperative. It's just the way the laws are structured," he said. The process took from November through the end of February, after which time work on the 5,700-square-foot building could begin. "We didn't want to spend a fortune on the building until we were approved by zoning," Hamlin said.
That work is nearly completed. In front is the showroom, currently filled with some of Hamlin's personal bikes. He owns a 2012 Moto Guzzi Norge, a customized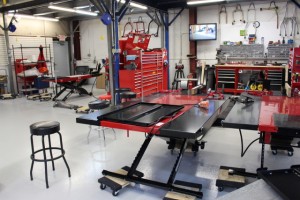 2012 Triumph Thruxton, a 2010 Triumph Tiger 1050 and a 2009 Triumph Sprint ST. Behind the showroom and up a few steps is the counter for transacting business, with the 1,500-square-foot service area with four lifts in the rear. Above the service area is a "hayloft" that will serve as "auxiliary showroom" during the riding season and be used for bike storage in winter. Also on the second floor is a large room for the sale of gear and accessories.
Hamlin said he'll begin with four employees and add two or three more once he gets Triumph. His goal is to also add Moto Guzzi. "My customers want us to have it," he said.
Editor's note: Hamlin Cycles opened as planned.