CHESTER, VT – Where do you keep your stuff? Where do you keep those toys when you are not using them?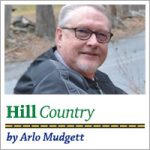 Right now I have four motorcycles, three are relatively new. They're gleaming and happy sitting in my non-climate controlled garage. The fourth is a project that is sitting in a steel building with a crushed stone floor. In this part of the country, it is rather expensive to have large storage areas that are heated during the cold months. So what do you do?
My first motorcycle was a chrome and candy apple red Bridgestone 175. It was a small two-stroke, oil-injected terror that I used to thoroughly scare myself on a regular basis. At the time, my folks had a horse barn that was attached to the house and I stored it on the wide plank boards inside it during the warm months. In winter, I found a way to get the bike down the bulkhead stairs and into the stone and concrete cellar of the 1840's house.
There was a massive oil-fired furnace down there that was so old and loose that more heat escaped in the basement than what was fan driven upstairs, or so it seemed. The little Bridgestone loved it down there and I spent many an hour lovingly polishing and cleaning it during the annual downtime. Getting it out of there and up the bulkhead steps was quite a chore, but the cellar was the ideal storage space.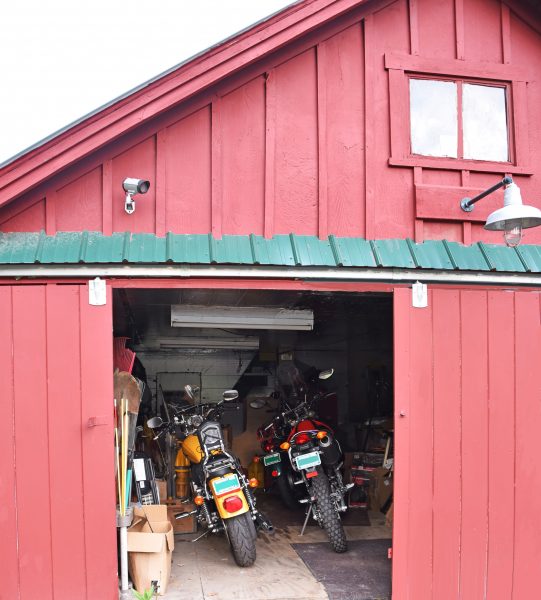 A few years later I had a new Jawa 350 motorcycle that I kept in an open garage adjacent to my apartment. By then my parents had torn down the barn and I was not interested in the huge pain of hauling this heavier bike up and down the bulkhead stairs. The second year that I had it I got a job on Cape Cod and decided not to use the bike down there due to the insane summer traffic. I wrapped it in plastic and stored it on my parent's front porch back in Vermont. The next year when I retrieved the bike I was devastated by all the light surface rust on its chrome parts. It took a lot of cleaning to get it back to some semblance of its former self. I vowed never again.
One of the more convenient storage situations I ever had was our first home with a walk out basement and garage. My 1100 Yamaha Virago fared very nicely in that environment, but it was not to last. We turned the garage into a very comfortable family room and built a custom garage 30 feet from the house. I designed it with a wide access door beside the main door just so I could get my BMW R 100 RT in and out. It was unheated space and I'll never forget the first spring when I went out and started the Beemer for the first time since December. It ran sort of rough during the warm up, then suddenly it picked up, and that was when the little mouse that was living in the air intake leaped onto the then hot cylinder head and made a hasty exit. That was when I learned to put a small can of moth balls under the bike to keep mice away.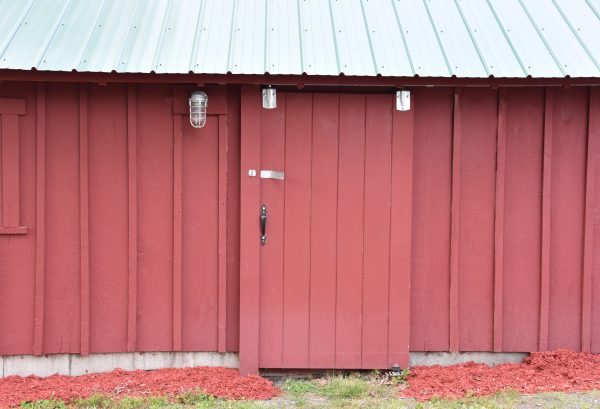 When I moved into the hillside home where I now live I had a garage with a very broken up concrete floor, uninsulated, unheated, and one electrical outlet in the whole place. I had figured out that I could ride my Harley into the access door on the side so when I used it next it would be facing the large garage doors so I could simply ride it out with no back pedaling. This arrangement served me well for quite a few years until I had major work done on the old garage. The side access door was rebuilt and is now just a bit too narrow for the handlebars to fit through. However, the busted up concrete floor was replaced with a wood floor that I think is far better for the bike to rest on than cold hard cement. While work was being done I stored my Triumph Bonneville in my enclosed trailer. Except for the fact that I did not set up a battery tender, the transport trailer kept the bike snug and mouse free.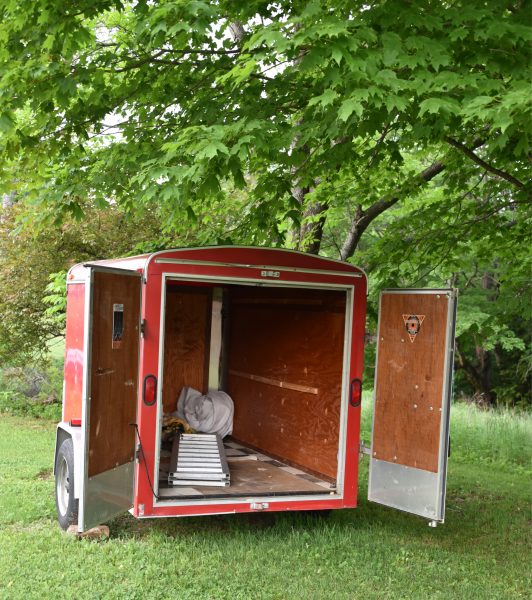 Good motorcycle storage space is always at a premium around here, so come fall I will be storing at least two of the bikes back in the transport trailer for the winter. I'm thinking about wiring it for 120 with a couple of outlets and an older incandescent light bulb to keep it relatively moisture free. I'll be able to run an extension cord to the trailer with two male ends – plug it into a receptacle on the outside of the trailer to power the wiring on the inside. I'll let you know how that works out. If you have a heated garage to store your bikes, I am very envious, but for a lot of us out here, making do with what we've got is how it's done.