STURBRIDGE, MA – It felt more like mid-summer than early fall, but that didn't stop Italian motorcycle lovers from gathering today at the 34th annual IMOC meet at the Hamilton Rod & Gun Club. The initials stand for Italian Motorcycle Owners Club. Models from Ducati and Moto Guzzi book-ended the show ground and the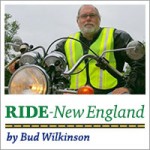 parking lot got packed with all other brands.
"The weather this year is spectacular and it's brought out, as a result, some really incredible machines," said event co-chair Steve Rossi.
"It's amazing, There's a saying, 'You'll see anything and everything at the IMOC rally' and once again it's proven true. Stuff just comes out of the woodwork. It's amazing."
John Hatch of Trumbull, CT rode up on a 1987 Cagiva Elefant that he just acquired three weeks ago from a friend. "I've always lusted after these. I've never owned an Italian bike before, so I figured I'd start out with a 30-year-old, clapped-out Italian," he said.
Riding the 650cc on-road, off-road machine through Hartford on I-84 wasn't as dramatic as it could have been. "Not too bad.  I wouldn't want to do it at rush hour, but Sunday morning is OK," said Hatch, who found his situation more problematic once in Massachusetts. He got off of I-84 one exit too soon, stopped to see if he could assist a stranded rider, and ran out of gas.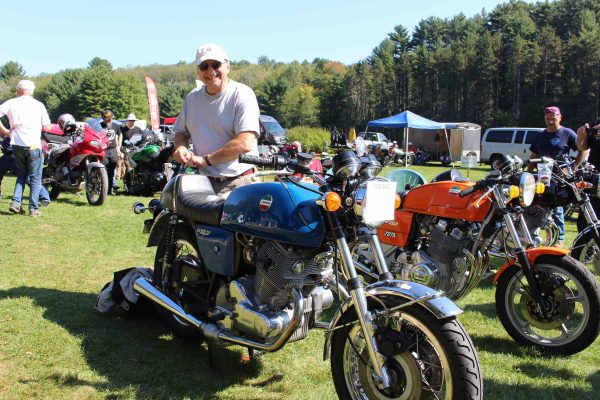 Marty D'Apolito of Leominster, MA brought a 1974 Laverda 750 SF2 that he's had for two years. A friend originally got the bike in 1980. "It sat in a shed from 1994 until 2015. It's a low mileage bike. It has about 6,000 original miles on it," he said, adding "I'm thinking of selling it because there's another bike I have my eye on. I only have room for four bikes in my garage."
David Cassady of Middleboro, MA could be seen kick starting his Montgomery Ward Riverside 250, made by Benelli. "It's a great bike. Very low geared, so it's great on the hills; not a great thing for high speed on the turnpike," he said.
The bikes of Hatch, D'Apolito and Cassady get shown off in the above video. Here are some more pictures from a sunny and hot day at IMOC: