It's Friday morning and I'm just wondering…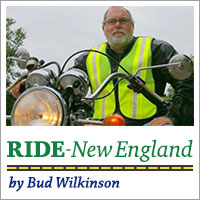 …how long the riding season will last? The forecast for the weekend looks promising temperature-wise, but after Monday it's supposed to get cold again. I normally put the bikes into winter storage the first week of December and remove them from mothballs the first week of March. Will this winter be a normal one? Should  just say the heck with it and stow them now?
…if the tires on my Suzuki V-Strom 650 will hold up until the season does come to an end.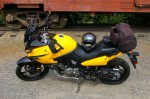 When the oil got changed a month or so ago, it looked like there was sufficient tread for 1,000-1,500 more miles. I've ridden about 400 miles since then. The problem is that the Honda CB750 needs new rubber, too.
…whether sales of Sportster models might be cannibalized by Harley-Davidson's introduction of the Street 500 and Street 750 models. The new bikes are more entry-level.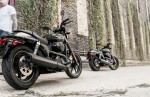 Once riders get experience and confidence, isn't it likely they'll bypass the Sportsters when trading up to something bigger?
…if Harley's announcement that Street models sold in the U.S. will be produced at its Kansas City plant means more than simply assembled from parts imported from its operation in India?
It's Friday morning and I'm wondering…
…what impact the shift of the Progressive International Motorcycle Show in New York to December (13-15th) from its traditional dates in mid-January will have on attendance. Will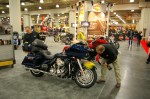 riders combine gawking at new motorcycles with a little Christmas shopping in the city?
…whether this year's IMS can ever be more memorable than last year's show. After partaking of the press unveilings and after roaming the floor for a couple of hours, we retired to the Irish pub Tir Na Nog  and drank far too much Jameson Black Barrel whiskey.
…what idiots on motorcycles will do in 2014 to hurt the overall image of riders? Will the attack on an SUV driver in New York by a group of sport bike riders earlier this year – one of them who unwisely had a helmet-cam – be topped? Hope not.
…what it will take to convince more motorcyclists to wear helmets? Having lost a close friend this year to an accident caused by an unobservant driver, it's a sore subject.
It's Friday morning and I'm wondering…
…will more dealerships in the state and region go under in 2014? The loss of Branchville Motors in Ridgefield and Willow's Motorsports in Cheshire this year was disheartening?
…will the manufacturers efforts to lure new riders by introducing numerous smaller bikes pay off? Or does an activity that can be as leisurely as riding have limited appeal in today's youth culture?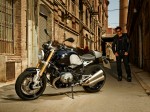 …what's the coolest new model for 2014? Maybe it's the BMW R Nine T?
…if someone handed me $20,000, what new bike would I buy?
It's Friday morning and I'm wondering…
…will the new Indians really be as popular as the initial buzz suggests?

…what would I say if I ever bumped into Arlo Guthrie out riding his Indian? I know I would NOT mention a certain song of his. He has to be tired of hearing references to it.
…what brands might I stumble across next year? Coming across bikes made by James, Gilera and even Sunbeam have been provided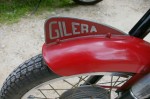 highlights in the past nine years of riding.
…what can I do to improve or at least keep my skills intact as I get older?
It's Friday morning and I'm wondering…
…if I've written enough to call this a column?