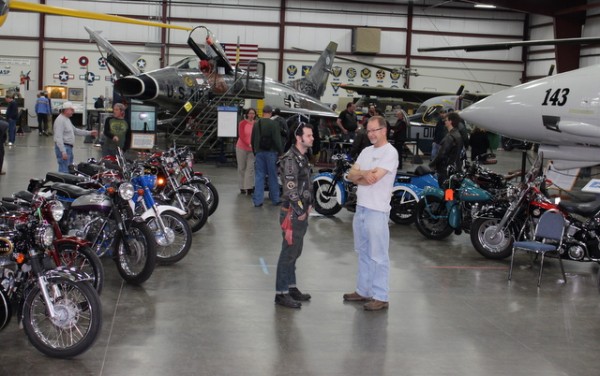 Motorcycle shows are always fun, but the New England Air Museum's inaugural indoor event today in Windsor Locks, CT was best summed up by Rick Price of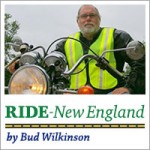 Chester, CT. "It's such a cool place to have it. There's certainly a lot of shiny aluminum around," said Price, who brought his unrestored 1952 Vincent Black Shadow (pictured below) to display, which the motorcycle cognoscenti in the crowd certainly appreciated.
"A lot of people have never seen one," said Price of the Vincent. Consequently, he spent much of the day next to the bike talking about its history and its iconic status in motorcycling history. While he acknowledged that it's "an ego trip" to own the Vincent, it's also a responsibility. "I understand I'm a custodian of the bike," he said.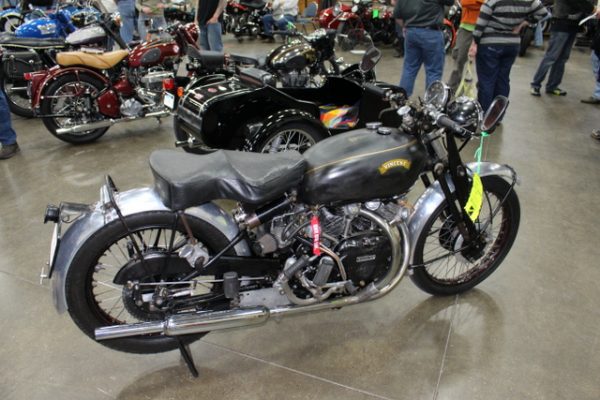 1952 Vincent Black Shadow
The show was sponsored by the Murdercycles Motorcycle Club, and more makes and models were represented than could be easily counted – old and new, American, European and Japanese. All were showcased around the prop planes, jets, helicopters and other flying machines in three hangars at the museum, which is on the back side of Bradley International Airport. "I didn't think it was going to be like this," said Murdercycles president David "Hollywood" Vertefeuille of the large turnout.
The oldest bike on display was a 1909 Shaw, owned by Buzz Kanter, publisher of the Stamford, CT-based magazines "American Iron" and "Motorcycle." He also brought a 1916 Excelsior. "It's a nice, eclectic mix of stuff," Kanter said of the show.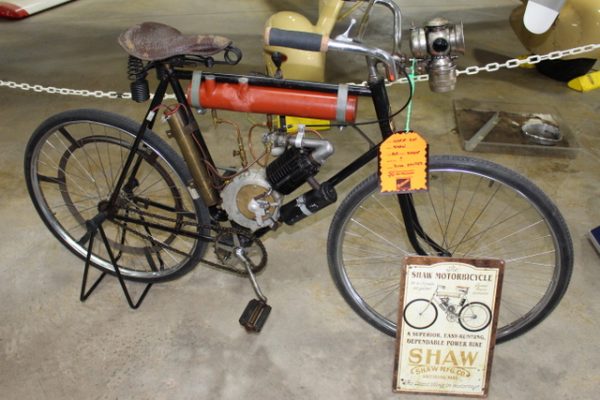 1909 Shaw motorcycle
The show certainly accomplished the goal of the museum. "The reason for doing this show was to bring in a new audience," explained Gina Maria Alimberti, director of visitor services for the museum. She estimated that 75 percent of the attendees had never been to the museum before. "I think it's exciting for people and it's a great photo opp for their bikes," she said.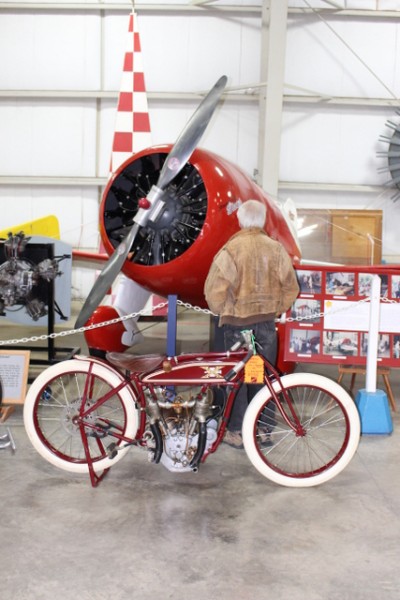 1916 Excelsior board track racer
Among the many standout entrees was a 1938 Harley-Davidson UH police model with sidecar. You could almost envision a uniformed officer riding it with a German shepherd sitting upright in the hack.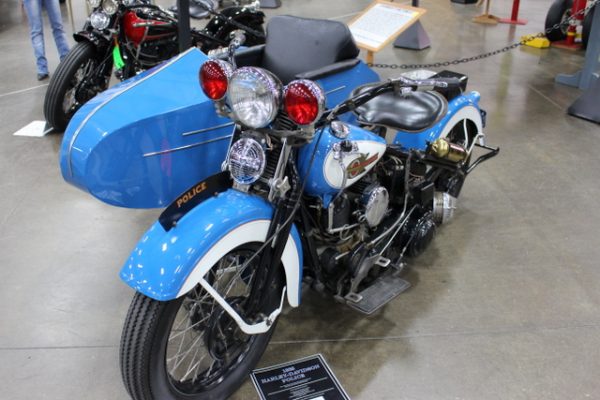 1938 Harley-Davidson UH police model
Another eye-catching vintage Harley-Davidson was a 1947 Knucklehead bobber.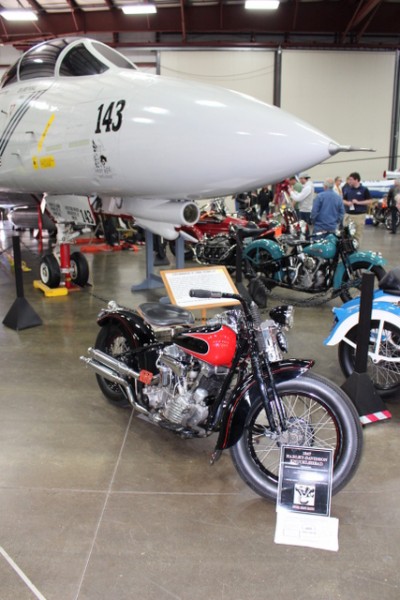 1947 Harley-Davidson Knucklehead
One section of the show was devoted to military machines, and included a 1943 Indian Model 741, derived from the 500cc Junior Scout model, and a 1940 Moto Guzzi ALCE.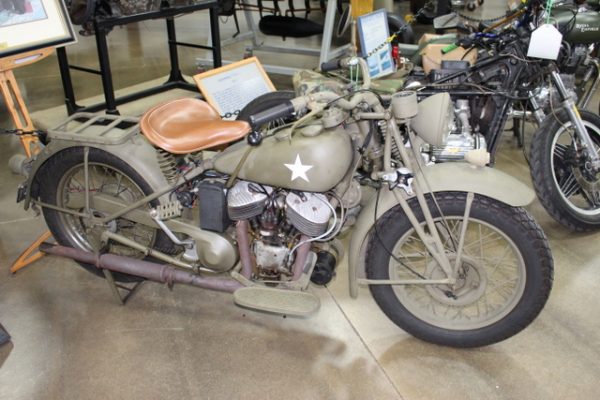 1943 Indian Model 741
Outside one of the hangers, Indian/EBR of Springfield, MA had a booth with new and vintage Indians and a new EBR 1190RX superbike on display. EBR is the new brand from Erik Buell, who formerly had the Buell brand, and the 1190RX has 185 horsepower. The dealership is offering demo rides – escorted demo rides.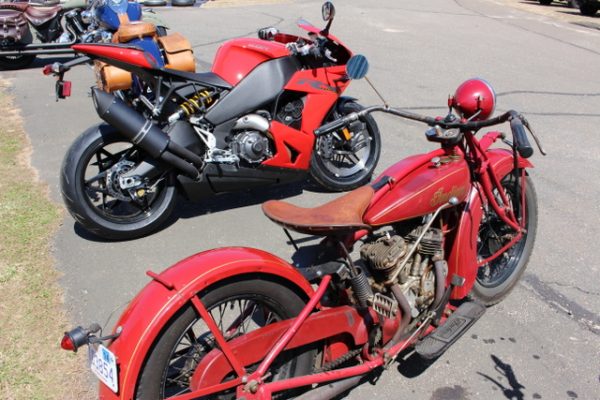 EBR 1190 RX, at rear, and a 1930 Indian 101 Scout
So successful was today's New England Air Museum Motorcycle Show that another one is already in the works for next year. "We're noting stuff," said Alimberti, regarding ways to improve the show next year. "Coffee, for one."