It was an overcast day in July 2007 that Woodrow "Pack" Landfair rode his 1995 Suzuki Intruder from Massachusetts into Connecticut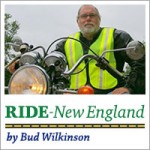 on what was a year-long quest to visit the 48 contiguous states. I met up with him, rode with him for a spell and wrote about him in my "RIDE-CT" column in "The Republican-American" newspaper.
At the time, he mused about writing a book about his adventures. Now, nearly seven years later, Landfair has written an autobiographical novel titled "Home of the Free." It's a work of fiction. The synopsis on the Harbinger Books website provides this description:
With no itinerary and no plan for return, a young man pawns his possessions, buys a used motorcycle and sets out to create a new life for himself on the roads of America.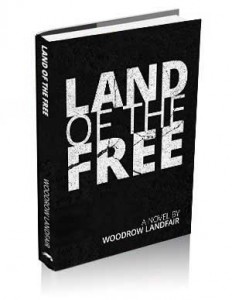 Weaving through all corners of the country for five years, the desperate protagonist struggles to survive, taking innumerable jobs in myriad towns, witnessing and experiencing countless lives, and finally joining the work crew of a traveling carnival where he discovers both a career and a stage name as an entertainer and media personality.
Poised for a debut in the national spotlight, the fantastically reinvented "hero of the American road" attempts to recall the candid truth behind his own heavily embellished, self-invented, larger-than-life persona. Desperate to re-discover his own identity, he flees the life he has created only to become a suspected con-man, a fugitive, and the target of a nationwide manhunt. With his days numbered and his pursuers closing in, the protagonist must face his identity or make his last escape.
"Land of the Free" will be available via Amazon beginning June 10. Below is the original column on Landfair and a picture of him as he arrived in Connecticut:
 (Originally published in "The Republican-American on July 28, 2007.)
It was a year ago that Woodrow Landfair set out from Austin, Texas on a motorcycle with "no route, no budget, no clue." He'd never ridden before, but he sold his car for six grand, pawned most of his possessions, took a three-day motorcycle-riding course, spent $2,800 for a 1995 Suzuki Intruder 800 with 10,000 miles on the odometer, and headed out on a quest to visit the 48 contiguous states.
Over the past 12 months, Landfair has traveled more than 20,000 miles. He's ridden off the road during a rainstorm in New Mexico, experienced a rear tire blowout during rush hour on a Los Angeles freeway, and run out of gas in Death Valley. When his seed money gave out last Halloween, he was forced to live in homeless shelters in New York City for three months.
The 24-year-old aspiring writer and 2006 graduate of the University of Texas, who earned a B.A. degree in creative writing and was backup catcher on the Longhorns' 2005 National Championship baseball team, has been living the dream of almost anyone who rides. No timetable, no responsibilities and no concerns, except maybe how to keep dry when the sky opens up.
Having an accident due to his inexperience was only a worry initially. "The first time, I had been waiting to crash for so long," he said, acknowledging that he too experienced the ennui that is common to every newbie who acquires a bike and learns the motorcycling prophecy that warns, "There are those who have 'gone down' and those who will."
Explaining that first mishap during the gully-washer outside of Roswell, N.M., he reported, "I let the wind blow me right into the ditch."
Asked what possessed him to embark on this odyssey with little more than a sleeping
bag, laptop computer, cell phone, digital camera, iPod and the clothes on his back, he replied, "I don't know what possesses people to go get a job."
Landfair's not adverse to work. In fact, among the jobs he's taken over the past year to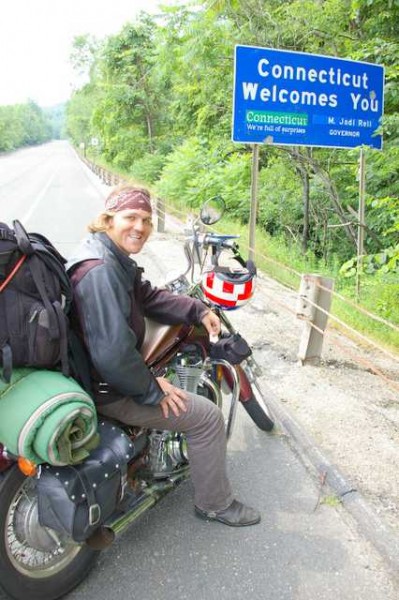 subsidize his trip include door-to-door salesman, bouncer and kitchen worker. He's even made money handing out election fliers. Along the way, he said that he's met criminals, drugs dealers and prostitutes as well as the well-heeled. What has impressed him most is the work ethic of illegal immigrants that he's met.
Talking with this optimistic wanderer, it's darned difficult not to be jealous. Spend part of a day riding with him, as RIDE-CT did a week ago, and you'll want to run away from home yourself just to get a sample of the freedom he's enjoying. His bike may be battered, its faded coppery gas tank dented and its exhaust pipes tarnished, and his pants may be a bit pock-marked, too, but Landfair seems unblemished by the experience. Enriched is more like it.
As a rider, Landfair said the most important thing that he's learned is "probably poise – to be cool in tight situations." That only comes with seat time.
What hasn't surprised Landfair is the generosity and welcoming nature of his fellow U.S. citizens. "I had high hopes for the way people would be," he said, and he hasn't been disappointed.
Landfair bears a resemblance to both the actor Russell Crowe and country singer/actor Billy Ray Cyrus. There's an affable gentleness about him, along with an innocent curiosity that causes him to question those he meets, especially about motorcycles and writing.
One of his goals is to turn the story of his trip into a book. He's been blogging along the way and preparing the tome of his adventures. He'll no doubt draw inspiration from the many better known writers that he admires: John Steinbeck, Mark Twain, F. Scott Fitzgerald and Jack Kerouac.
RIDE-CT met up with Landfair on Route 20 in Becket, Mass. and escorted him down Route 8 into Connecticut, the 44th state on his checklist, on his way to a speaking engagement in Rhode Island. His itinerary had him reaching Maine yesterday to complete his 48-state circuit, a feat he wasn't yet ready to contemplate.
"It's weird because I've been doing this for so long. For the first five, six, seven months, I didn't know if I'd be able to finish," he said.
Our visit, which included a lunch stop for burgers in Avon before directing him to I-84, was nearly finished. Standing next to our bikes, it was hard not to stare at the over-burdened Intruder, which was weighted down beyond its maximum carrying capacity with saddlebags, a backpack and other luggage.
What item was he carrying on the bike that might surprise me, I wondered. He replied that what might be surprising to me wouldn't be surprising to him before coming up with "jogging shoes. I run almost every day."
Whether riding or running, Landfair has certainly packed a lifetime's worth of memories into a year.