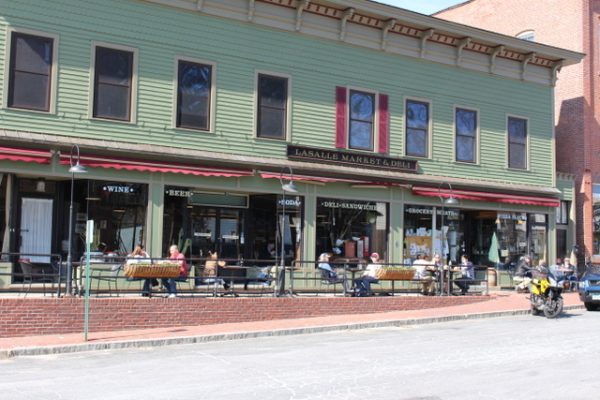 COLLINSVILLE, CT – The LaSalle Market and Deli in the village of Collinsville, CT is one of those places where if you're in the neighborhood, you just have to stop – whether for a cup of coffee and a breakfast sandwich just after sunrise, a "Mutt & Jeff" for lunch, or a late afternoon slice of pizza.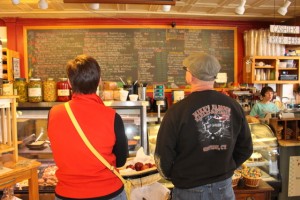 Located at 104 Main Street, the LaSalle Market is a motorcycle-friendly gathering spot that's a perfect place to launch a morning ride into rural Litchfield County or as a destination for lunch. It offers a bright, upbeat indoor dining area as well as outdoor tables from which you can watch the people who come searching for antiques at what was once the Collins Axe Factory or to kayak on or walk along the Farmington River.
The blackboard on the wall behind the deli case is crammed with menu items, which sometimes makes ordering a challenge. By the way, a "Mutt & Jeff" is a sandwich featuring hot roast beef with melted Swiss, cream cheese and thousand island dressing on toasted rye.
There are also wraps, quesadillas and freshly-made soup as well as tasty New York style pizza with toppings that include clams,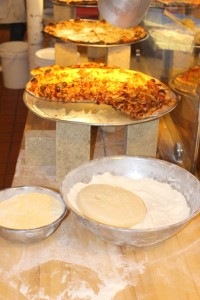 portabella mushrooms and sun dried tomatoes. Save room for dessert, too.
Be warned, though, it's first come, first served, and the line at the cash register can back up. On a sunny weekend day, the LaSalle Market tends to get packed, and rare is the time when there isn't a motorcycle parked out front. With so many small towns and New England having turned to rust, seeing the vitality of Collinsville and the pedestrians enjoying themselves is always a treat.
(Recommended by Bud Wilkinson)