VALCOURT, Quebec – Might a Can-Am motorcycle be on the horizon? BRP (Bombardier Recreational Products) builds snowmobiles, watercraft and the Can-Am Spyder three-wheelers and is now reportedly considering expanding into motorcycles.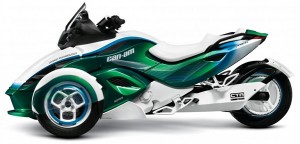 The "Montreal Gazette" quotes company spokesperson Sylvain Morissette as saying the company is evaluating the market, but did not say when a decision would be made. Can-Am bikes were previously sold in the 1970s.
BRP currently has more than 4,200 dealers and in 100 countries and has a suitable manufacturing facility in Mexico. The "Gazette" story is here.