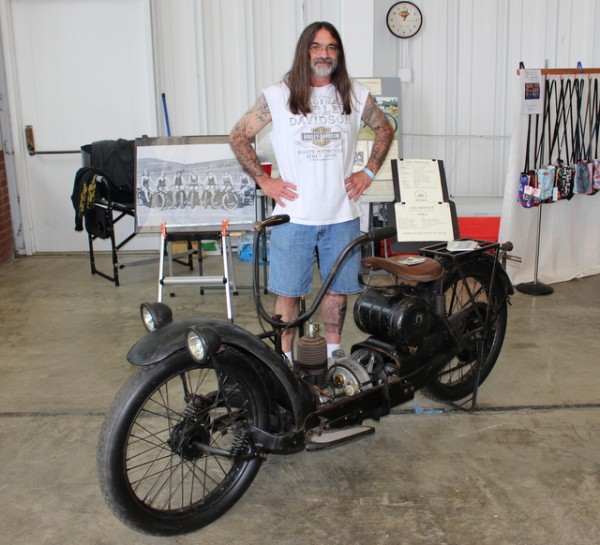 Do not ask David Perillo how much money he paid for his vintage motorcycle. He won't say because he thinks the question is rude. "It's kind of a personal thing, like income," he said when asked a few years ago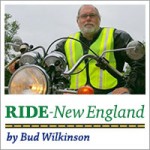 "I would never ask someone that."
Such a throwback attitude in today's tell-all world is refreshing and fitting because his more than 90-year-old Neracar motorcycle is a true example of a bygone riding era. It's a squat machine with bug-eye headlamps and a single cylinder that looks more an electrical component from Dr. Frankenstein's laboratory than an engine capable of propelling the motorcycle up to 35 miles per hour.
While the 1922 Neracar looks like it should come festooned with a sign that says "For Display Purposes Only," the 221cc, two-stroke motor kick starts easily and runs without a problem, although with center hub steering (as opposed to traditional forks) it does handle quite differently from most other motorcycles.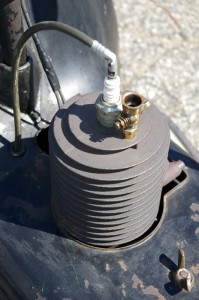 "The steering is very strange. It has a very, very odd feel to it. It doesn't turn as tight as a lot of motorcycles. It has a wider radius than most motorcycles," said
Perillo acquired it more than seven years ago from a collector in Nevada. Perillo's fascination with Neracars dates back to 1994 when he first saw one at a defunct Indian museum in Springfield, Mass.
"I fell in love with the body style, the mystique, the uniqueness," he said. Thus began a search for a Neracar for his very own, a search that lasted 13 years. "I found several that were either restored and over my head price-wise or basket cases that would be too difficult to find parts for and restore," he recalled.
Then, a year after posting a "Neracar wanted" message on an Internet motorcycle site (he doesn't remember which one), the collector in Nevada contacted him from out of the blue. "He sent some pictures. I knew it was what I was looking for. I bought it sight unseen," said Perillo.
Having had the Neracar shipped to his home in Killingworth, Perillo then set about to getting it running. "It hadn't run in seven or eight years. I took the motor and carburetor completely apart, looked it over and put it back together," he said. "Taking it apart wasn't a major thing. I'm pretty good mechanically."
Once reassembled, the Neracar started on the fifth kick. After acquiring it, Perillo has determined that his bike, which has a chassis number of 427, is the oldest, unrestored, original condition Neracar running in the world.
Most folks, though, have never heard of the Neracar, which was designed by Carl Neracher. Roughly 10,000 were produced in Syracuse, N.Y. in the 1920s, while another 6,500 were produced between 1921 and 1927 in Sheffield, England, where it was known as the "Ner-a-Car." Perillo estimates that there are only 20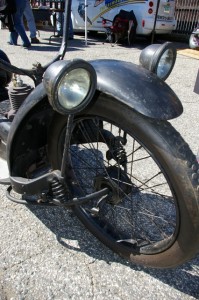 Neracars remaining in the U.S., while online sources suggest as few as 50 remain in England, making it a rarity on both sides of the Atlantic.
The 1922 model originally sold for $225. What a museum quality Neracar might be worth today is anyone's guess. "That's another question I get a lot and I don't know," said Perillo. Wherever Perillo takes his Neracar – RIDE-CT/RIDE-New England saw him at the recent Rhinebeck Grand National Meet in New York (top picture)  but originally met him back in 2009 at a 40th anniversary bash at Doc's Motorcycle Parts in Waterbury, CT – he draws a crowd.
"I hear it looks like a praying mantis or something I built. A lot of people are surprised that the displacement is as big as it is," he said.
While displaying the bike at Doc's, Perillo frequently started the bike for onlookers but later had a change of heart about firing it up. "I feel bad running the thing. I feel something's going to break. I've sworn off running it. It's so rare and so hard to get parts for," he explained.
Five years ago, Perillo said he's probably had it on the road for less than 20 miles, and only in his neighborhood. He did shoot a video of the "Last Neracar ride of the season" and posted it on YouTube. The clip is well worth checking out.
Don't look for Perillo to sell it – at any price. "I'll probably keep it for a while. I have intention of selling it," he said.
Here's that Youtube video: