By Bud Wilkinson
The arrival of spring not only means a return to riding, but also motorcycle meets and shows. There are at least three planned over the next few weeks and spread over the region. The most intriguing is…
– The New England Air Museum Motorcycle Show, a first-time event sponsored by the Murdercycles Motorcycle Club. It's set for 9 a.m. to 4 p.m. on Saturday, April 19 at the museum in Windsor Locks, CT. "We're trying to bring in new audiences. We do a car show every year," explains Gina Maria Alimberti, director of visitor services for the museum.
Bikes will get displayed in three hangars alongside restored military and civilian aircraft, so think "Photo opp!"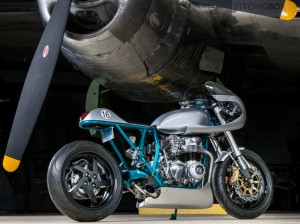 Trophies will be awarded in 13 categories, such as Best American (pre-WWII and post-WWII), Best British (pre-1960 and post-1960), Best Military and Oldest Running Motorcycle.

(Photo by Ron Agnello)
Registration is $10 and it's not too early to sign up. General admission is $12 for adults, $11 for seniors and $6.50 for kids 4-11.
Also upcoming are:
– Spring Motorcycle Swap Meet at Stafford Speedway – This rain or shine event is set for Sunday (March 30) from 7 a.m. to 4 p.m. in Stafford Springs, CT.  It's both a swap meet and antique/custom bike show. Admission is $10.
—
Harley-Davidson is partnering with Edelweiss Bike Travel to offer premium tours in Europe and Africa aboard Harleys under an arrangement announced yesterday. Details may be found here.
—
The headline on the Italian motorcycle website Moto.it doesn't need translating: "Fiat interessata a MV Agusta?" My Italian's non-existent but the accompanying story apparently says that Fiat is looking to either buy or invest in MV Agusta. Hey, Audi owns Ducati, right?
—
Jeans provide zero protection in a crash and road rash is the result. While I've worn Kevlar-lined Draggin' Jeans for years, there's now a tailoring service in Europe called Ruste Protection that will take any brand of jeans (or other pants) and add Kevlar. The price is $178.50.