KENT, CT – Iron Horse Customs has a bigger stable. The custom motorcycle builder and repair shop stages a grand opening today from 11 a.m. until 8 p.m. at its new 21 Bridge Street (Route 341) location, just west of the Route 7 intersection. The building is the former home of Southworth Dodge.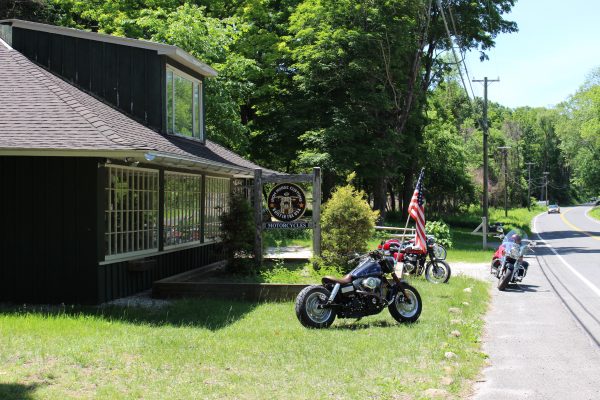 Former location of Iron Horse Customs on Route 7
Iron Horse Customs was launched by partners Guy Mauri and Rick Dolson in May 2014 in what was once a gas station more than a mile south of downtown on Route 7. Mauri purchased that building in 2000 to provide a headquarters for a contracting business. The motorcycle business was started to serve a need in the area. "We saw the bike traffic increasing every year and saw it as a market that was not being addressed yet in Kent," said Mauri.
The purpose of the move is to expand the business and increase foot traffic by taking advantage of a downtown location. "Kent has become a little bit of a motorcycle mecca on the weekend," said Dolson, who explained that while there are other specialized motorcycle shops in the area, there was "no shop that worked on all makes and models and customized all styles – café, bobbers, choppers, classic restorations."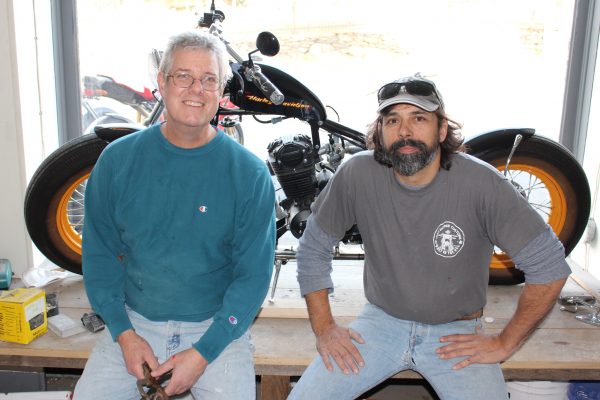 Rick Dolson, left. and Guy Mauri 
The new spot has 12,000 square feet, which will enable Iron Horse Customs to have sizable showroom with coffee bar, a six-bay service area/shop and a conference room. The stone building also has two apartments upstairs.
"We've got a lot more square footage, we've got the opportunity for retail," said Mauri. "We're going to expand our retail operation – accessories, parts and apparel." The plan also calls for expansion into classic car sales. "We're bringing in the cars right away," he said. How the business evolves will depend on sales. "We'll see what takes off," he said.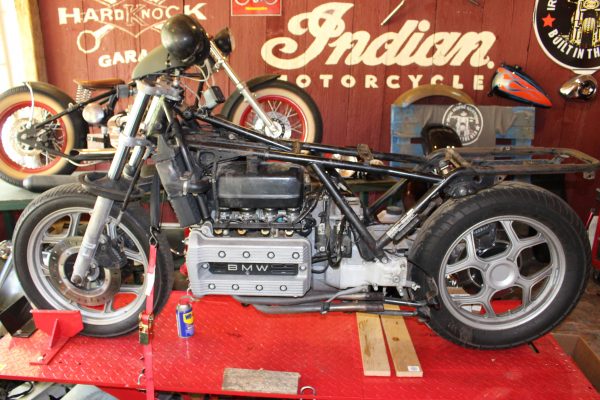 The new location has ample space to display both cars and motorcycles both inside and out front. Dolson said that Iron Horse Customs did about eight custom motorcycle builds in the past year. "It was pretty much part time and in the limited space we had," he said.
Iron Horse Customs closed up in its former location on Oct. 1. The resumption of operations will enable work to resume on building custom bikes, and the larger service area "will give us the ability to have more bikes in progress," Dolson added.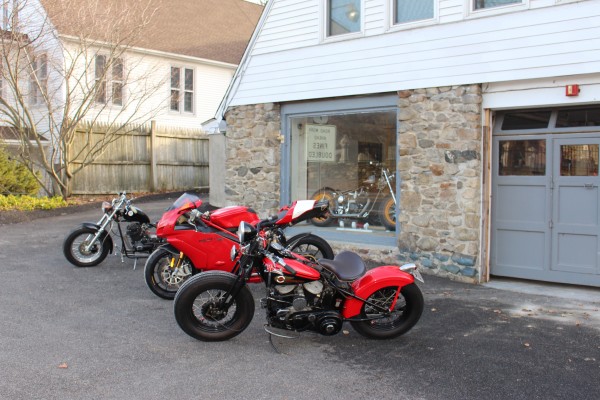 Iron Horse Customs has a four-year lease on the building and will now be open fulltime. Store hours will be 8 a.m. to 8 p.m. seven days a week, while service hours will be 8 a.m. to 6 p.m. Monday through Friday and 10 a.m. to 5 p.m. on Saturday.
Regular hours go into effect after today's grand opening. "Were inviting our friends and customers to come by and see out new location," Dolson said.
– Bud Wilkinson