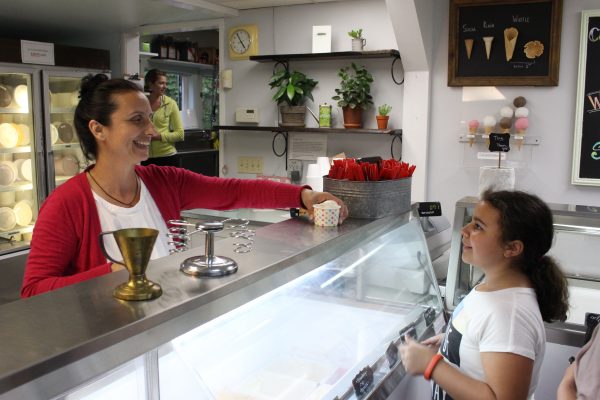 LITCHFIELD, CT – A facelift at Peaches 'N Cream, the ice cream shop near the Litchfield-Torrington town line on Route 202, means more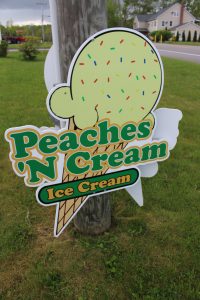 seating options for ice cream-loving motorcyclists to enjoy their cones, sundaes and handmade ice cream sandwiches. Its completion may also help end rumors that the shop has been sold again while quelling concurrent fears the ice cream's tastiness may be in jeopardy.
"We cannot compromise on that," said Peaches 'N Cream owner Katerina Karavasili of the super-premium ice cream that is made on the premises at 632 Torrington Road. Unlike most store-bought ice cream, Peaches 'N Cream's flavors have 16 percent butterfat.
"I did not changes the flavors. I did not change the recipes. Even the vendors, I kept the same ones," said Karavasili, who did purchase Peaches 'N Cream, but the transaction occurred a year ago.
Karavasili bought the ice cream parlor from Dave Redente, who opened it in 1982. Since then, she has remodeled the interior and expanded the offerings to include coffee, tea, homemade biscotti and cookies."Everything is homemade," she said.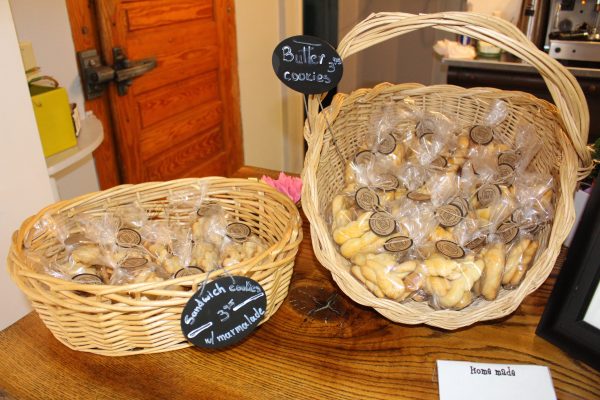 This spring, she tackled the outside to make it more customer friendly. "That's what I noticed last year. They'd sit outside and sit in their cars. It wasn't very functional outside," she said. A stone patio with picket fence is being added to the front. It will have tables and chairs. Another strip of stonework, a stone wall and picnic tables are being added in the rear alongside the adjacent parking lot.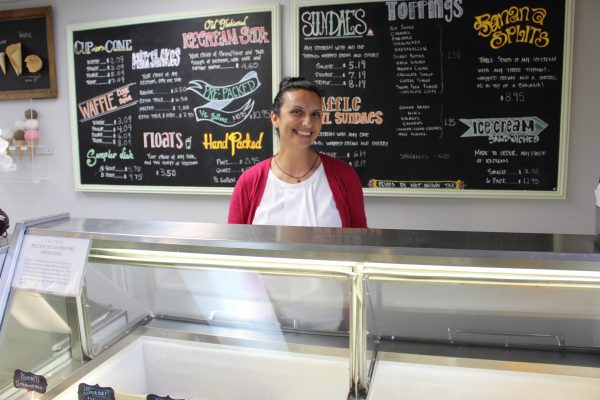 Karavasili, who hails from Nafpaktos, Greece, earned degrees in Greece and Italy and first came the U.S. in 2001 and lived in New York City. She worked as a restaurant server and eventually got into restaurant management. She ran Da Capo, which is across the street from Peaches 'N Cream, from 2010 to 2012. It was during that time that she met Redente, who started Peaches 'N Cream with family members.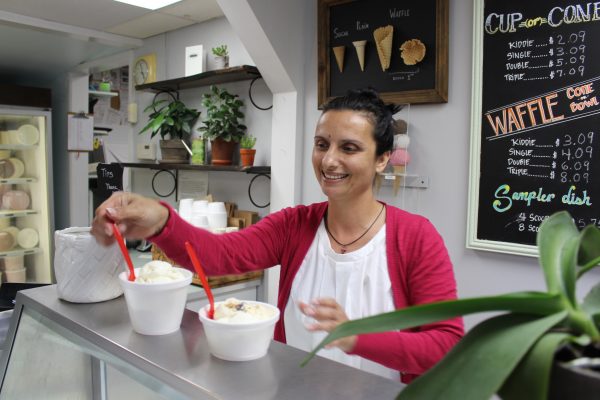 In 2014, she moved to Dubai but not before discussing the possible purchase of Peaches 'N Cream. Upon her return to retrieve some belongings, a deal was struck. "Before I went to Dubai, I found out that he wanted to sell. None of us were ready, but we were still talking. It was perfect timing," she said.
Preserving the quality that makes Peaches 'N Cream special – some 60 ice cream flavors, both year-round and seasonal – has been her goal. "I did not touch anything with the ice cream," Karavasili said, explaining that she has brought more organization and a "woman's touch" to the business.
The varieties of sugar-free ice cream and sorbet available at a given time have been increased and there has been an increased emphasis on take-home sales. "Now we sell a lot more half-gallons. I tell everybody it's a good deal," she said.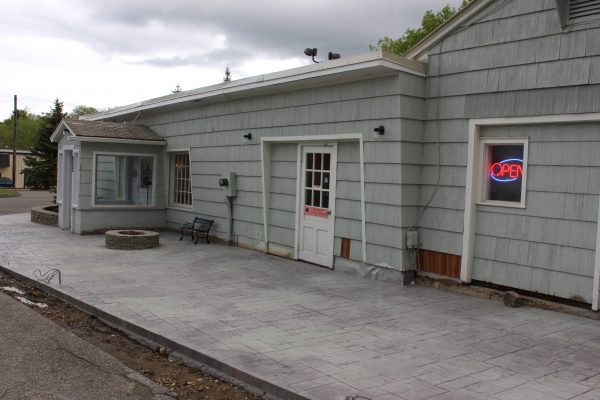 Karavasili said she expects the outside seating areas to be finished and a new sign installed by the road by the end of June.
One element that she has retained is a mini-table and chairs inside for youngsters. She recalled that some customers were worried when she bought Peaches "N Cream that the seating arrangement might disappear. "Everybody was worried that I was not going to have them anymore," she said. 'I have customers who used to sit on them as babies."