With a crowd of hundreds watching, Pope Francis' signed Harley-Davidson Dyna Super Glide sold for $328,169 at auction in Paris on Thursday. The bidding lasted six minutes and onlookers applauded when the gavel came down. A Harley jacket also sold for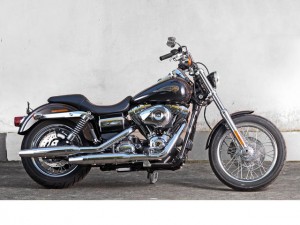 $78,135 as the part of Bonham's Les Grandes Marques du Monde sale.
The bike and jacket were donated to Pope Francis by Harley last June and were auctioned to benefit Caritas Roma's Don Luigi di Liegro hostel and a soup kitchen based at Rome's Termini railway station. The motorcycle went to a private buyer from Europe, who bid by phone, while the jacket was acquired by an overseas buyer.
Both the motorcycle and the jacket were signed by Pope Francis. Ben Walker, head of motorcycles for Bonhams, said, "I am thrilled at the result achieved and am very pleased for the charity. It has to be a world record for a twenty-first century Harley-Davidson and certainly for a Harley-Davidson leather jacket."
—
Just in from Harley-Davidson:
Harley-Davidson Motor Company will celebrate the beginning of the 2014 riding season at the 73rd Annual Daytona Bike Week in Daytona Beach, Fla., with an expanded display at Daytona International Speedway that brings all of the company's Bike Week activities into one convenient location.
"After several years with our displays split between Beach Street and Daytona International Speedway, we're consolidating into one action-packed display at the Speedway to make it easier for our fans to experience everything we have in one easy-to-access location," said Paul James, Harley-Davidson Director of Consumer Events. "And on Saturday, March 8, we'll be electrifying our display with an exciting special announcement at 1 p.m. that our fans will not want to miss."
—
Oil drippings:
– The process has only taken months, but Indian Motorcycle of Springfield (in Westfield MA) has finally been added to the dealers' page on the company's website.
– The Motorcyclepedia Museum in Newburgh, NY plans a swap meet on Sunday, April 6 from 10 a.m. to 4 p.m. Admission will be $11 for adults and $5 for children 12 and under.