We've all heard of "sticker shock." That's where something costs so much that the heart nearly stops beating upon discovery of the price, such as $495 for a single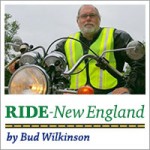 round of golf at Pebble Beach, cart not included. Less common but equally startling is "reverse sticker shock" where something costs so little that the price appears to be "too good to be true." That was my initial reaction to a motorcycle jacket sent to me in April for testing by Motorcycle House, an online retailer in Walnut, CA that sells riding apparel and helmets as well as tires, luggage and exhausts. 
The company's "house brand" is dubbed VikingCycle and there are 10 different jackets available aimed at everyone from cruiser riders to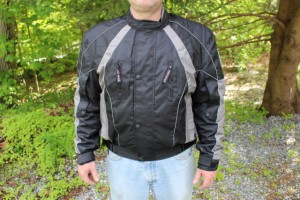 sport bike riders. The jacket that Motorcycle House sent my way was the "Thor" model, which at the time sold for $49.  Hence, the reverse sticker shock. How could any jacket so inexpensively priced offer any measure of quality or protection?
The model has since been renamed "Spear" and the price has been jacked to $59.95. That's still awfully low. Upon initial inspection, the jacket appeared to be stylish, well-crafted and extremely functional, with numerous pockets and air vents.
Having now worn it on some long and short rides, I can say that it's exceedingly comfortable, so featherweight in fact that it's hardly noticeable, while its liner provided adequate warmth on a chilly morning. A three-way front – zipper, snaps and Velcro – and topped by a Velcro tab at neck provide a secure fit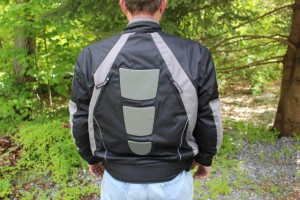 against intruding wind as do the Velcro tabs at the wrists.
Being a proponent of ATG-ATT (All The Gear, All The Time) who routinely gears up for every ride, I did feel a little naked wearing the VikingCycle jacket as the "100% Tri-Tex Fabric" isn't as substantial as the material found in other riding jackets in my closet, nor is the workmanship of the Made in Pakistan product as substantive as I'd like.
Getting the zipper to work was problematic and in trying to remove the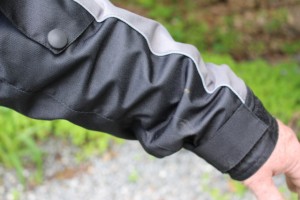 liner to inspect the CE-stamped armor in the elbows, one of the snaps meant to hold the liner at wrist ripped off. I'd apparently missed undoing one of the snaps and when I tugged at one of the liner's sleeves, the anchor snap tore free.
A neighbor who rides (and who modeled the jacket for the accompanying pictures) chided me for nit-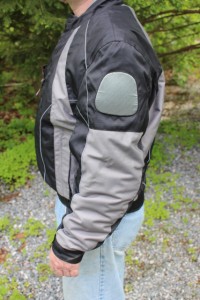 picking, his reasoning based solely on the price. He argued that you could buy one of the jackets, use it for one season and have gotten your money's worth out of it. There's no disputing that logic. In fact, the low-priced VikingCycle line does have an entry-level attractiveness.
The "Thor/Spear" model that I tested would be a perfect, affordable choice someone taking the MSF's Basic Rider Course (where jackets are required) to find out if they have the aptitude for riding. Would I trust it to any adequate protection in a freeway crash, certainly not. But a newbie shouldn't be riding at high speeds on a freeway, either.
And, as my neighbor pointed out, it would sure beat the heck out of a T-shirt.
Pluses: Style, comfort, price.
Minuses: Suspect protection.