HARWINTON, CT – For more than a dozen years, RIDE-CT has been providing motorcycle news for Connecticut, New England and beyond. Now, the brand expands into classic cars and automotive news with an advertising-supported, sibling website at classiccars.ride-ct.com and a YouTube channel "RIDE-CT – Classic Cars" dedicated to both car and motorcycle videos.
These additions have meant a slight reduction in content recently here on the motorcycle website during the startup because of the hours needed to launch them. The new entities are operating smoothly at present, which means equal attention may now be paid to all three outlets.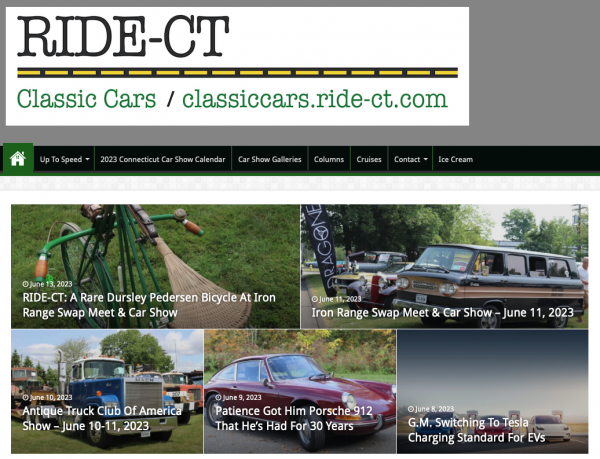 Like RIDE-CT, the classic cars website contains a statewide show calendar of more than 200 shows as well as profiles of owners and their vehicles with videos and news. It also has photo galleries from car shows and columns.
Additional editorial content is already being contemplated and negotiated, and may be announced soon.

The new YouTube channel features car and truck packages and other video stories that are come across. The latest is on a rare 1907 Dursley Pedersen bicycle from England that was spotted at the Iron Range Swap Meet & Car Show at Dragone Classic Motorcars in Orange, CT over the weekend.
Readers are encouraged to visit the YouTube channel and subscribe. It's free.
Additionally, RIDE-CT's Facebook page, which was mostly limited to motorcycle-related posts in the past, has expanded to also include classic cars and automotive news. Readers are also invited to follow it.
RIDE-CT hopes that everyone who visits will find the two websites and the YouTube channel to be useful, informative and entertaining!