By Bob Rosen
Since starting RKA Motorcycle Luggage in 1985, Kathy and Richard (center and right in the picture) have continuously expanded their offerings of well-made, American-built Cordura luggage to feature an exceptionally diverse collection of products.  Their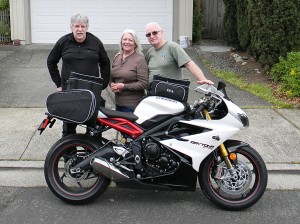 products application page lists just about every popular brand of motorcycle.
Those in need of highly-functional, quick-mount tank bags, saddlebags, rack bags and more will most likely find just the right product to fill the bill.  Fair prices and personal service are standard on the full range.
The company"s based in Windsor, CA, which is north of San Francisco. RKA Motorcycle Luggage plans to attend the Americade rally in Lake George, NY from June 2-7 as the Grand National Antique Motorcycle Club meet in Rhinebeck, NY on June 13 and 14.