Over the winter there was a bit of Internet discussion regarding a report published in August 2014 by the National Highway Safety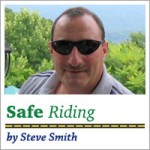 Traffic Administration (NHSTA) titled "Effective Strategies for Motorcycle Stops." NHSTA felt there was a need for a document to provide guidance to the law enforcement community on conducting safe motorcycle traffic stops. If you are having trouble sleeping, you can download the report and read it.
In summary, the report states that the number of motorcycles on the roadways has and continues to increase and that motorcycle traffic stops are a challenging situation for law enforcement officers. The primary reasons reported are the perception by many in law enforcement that motorcycle riders may be less likely to stop upon request and that motorcycles are more likely be involved in a high-speed pursuit.
According to the report, its purpose is to provide best practices for "safely and effectively conducting traffic stops of motorcyclists, effective officer safety strategies and techniques, as well as strategies and techniques for reducing high-speed pursuits involving motorcycles."
The guidelines state the intent is only to reduce the chance a pursuit, and not eliminate them, as well as to maximize the safety of the rider and law enforcement. There is some sound information provided in the report that about the best location to choose to stop a motorcycle to maintain a safe environment. This includes using a level road surface with adequate space for the vehicles and keeping the motorcyclist a safe distance from traffic.
Many in law enforcement feel there is reason for concern and heightened awareness and safety during all types of motor vehicle stops. Officers do not know what situation they are approaching during a routine traffic stop. Is the person armed? Will they run? You can imagine the possibilities they need to be prepared to deal with.
One law enforcement officer that Safe Riding spoke with provided a few suggestions to ease the tension the officer may be feeling during a motorcycle traffic stop:
Remain on the bike, put the sidestand down, and flip up the helmet visor. This can ease the officer's mind that there are no plans to run. Keep hands in view. Leave hands on the handgrips or handlebars. This shows there is nothing in them. Do not take out paperwork until instructed. The officer does not know what you are looking for. When asked, inform the officer that you need to retrieve your paperwork and where it is located.
What are your thoughts?