When the temperatures start to dip and there's a crispness in the air, it means that the riding season is about to start winding down. It also means loads of shows to attend as summer ends and fall begins.
There are at least six major shows and events across New England and eastern New York, including NYC, that are worth attending. Among the September events are:
Sept. 2-3 (Saturday and Sunday) – Owls Head Transportation Museum Vintage Motorcycle Festival in Owls Head, ME from 9 a.m. to 3 p.m. both days. Admission is $18 for adults. The museum will be showing off its early motorcycles, including a 1919 ABS Sopwith, a 1922 Royal Enfield and a 1931 Indian Four.
Sept. 3 (Sunday) – Lime Rock Park stages Historic Festival 35 with the Sunday in the Park Concours d'Elegance & Gathering of the Marques. Philip Richter has been tapped as Motorcycle Collector of the Year and his Turtle Garage will be displaying eight vintage motorcycles, including a 1937 BMW R6, a 1938 BMW R71 and a 1969 BMW R69S.
Sept. 9 (Saturday) – The ninth annual Brooklyn Invitational custom motorcycle show at the Root Studio in Brooklyn from 1 to 11 p.m.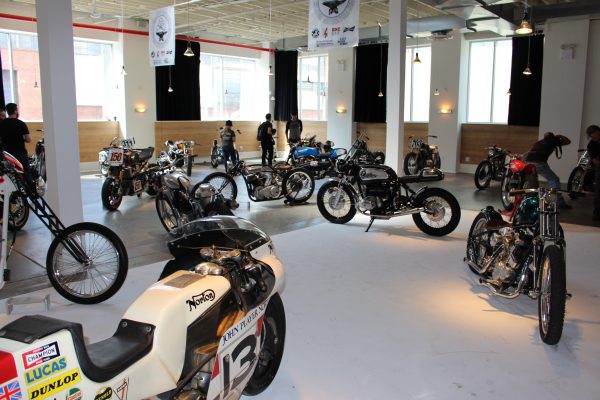 Sept. 10 (Sunday) – Rice-O-Rama is a vintage and custom Japanese motorcycle show at the Spencer Fairgrounds in Spencer, MA. Hours are from 8 a.m. to 5 p.m.
Sept. 10 (Sunday) – European Motorcycle Day at Larz Anderson Auto Museum in Brookline, MA. 9 a.m. to 2 p,m.
Sept. 13-17 (Wednesday – Sunday) – Catskill Mountain Thunder Motorcycle Rally in East Durham, NY.
Sept. 17 (Sunday) – Doc's Customer Appreciation Day and Custom Bike Show at Doc's Motorcycle Parts in Waterbury, CT from 10 a.m. to 4 p.m.
Sept. 20-23 – The fifth annual international Motorcycle Film Festival at the Wythe Hotel screening room in Brooklyn, NY.
Sept. 24 (Sunday) – It's the 34th annual Italian Motorcycle Owners Club or IMOC rally (pictured at top) at the Hamilton Rod & Gun Club in Sturbridge, MA. It runs from 10 a.m. to 3 p.m. Admission is $10 per person or $15 for rider and passenger. This year's featured brand is Parilla.
With all of the September events, finding something to do or a place to ride is easy.