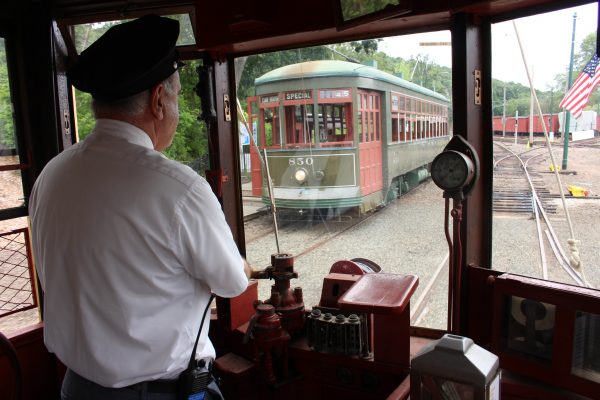 EAST HAVEN, CT – Times change and so do the hazards faced by motorcycle riders. A big worry for us these days are inattentive drivers who text. While I haven't inquired of any old-time riders, I'm guessing that decades ago trolley cars and the tracks embedded in the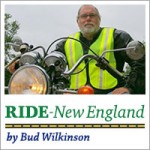 roadway were equally worrisome obstacles for motorcyclists in cities.
What prompted this speculation was a 69-year-old, unblemished copy of The Driver's Manual published by the state Department of Motor Vehicles that a friend recently handed me. It's filled with advisories and warnings, such as "At some times and in some places even 10 miles an hour may be too fast" to drive.
On page 7, the 1947 manual instructs "A motor vehicle must stop at least ten feet behind a trolley car which is stopping to take on or let off passengers, and must not go until all passengers are out of danger."
Trolley cars? They disappeared in Connecticut well before my birth 63 years ago, but the reference in the manual to them prompted me to seek more info and to visit the Shore Line Trolley Museum here earlier this month.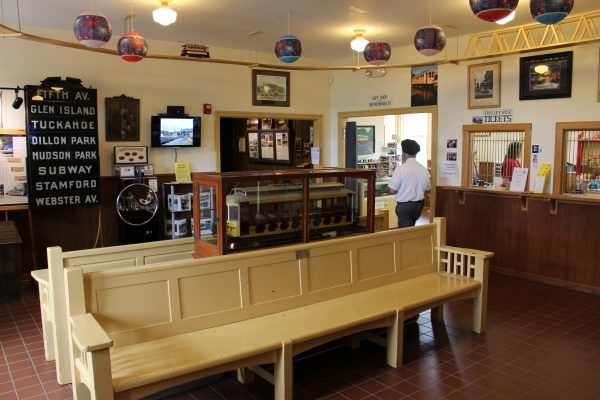 I arrived to find an antique trolley car parked outside of Sprague Station, the welcome center that features indoor history exhibits. Museum director John Proto was making his way inside to the waiting room to invite visitors join him on a ride down a one and one-half-mile track.
Proto has only been director since June, but he's been a volunteer since 2003 and a member since 1991. His first visit to the museum was as a five-year-old in 1966 when his dad took him to see the many trolleys. "I have a passion for them. I love this place," he said.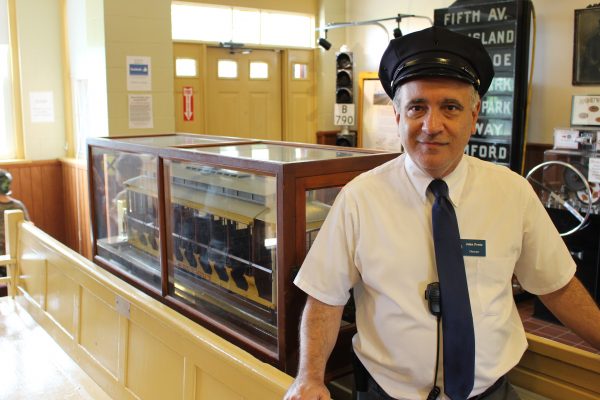 Proto was dressed in uniform to accent his roles as conductor, motorman and tour guide. After punching everyone's tickets ($10 for adults, $8 for seniors and $6 for children), he took a spot at the controls and began the ride, which includes a return stop at the mid-point complex where the museum's streetcars are stored.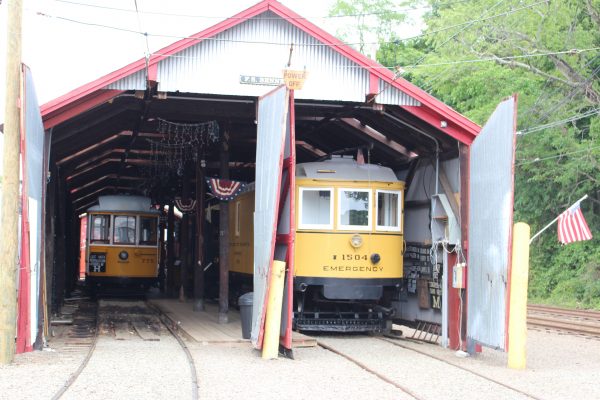 The Shore Line Trolley Museum has a total of about 100 vintage trolley cars. About 30 are operational, including a snow plow streetcar. Seven are used for passenger service. "We try and rotate the cars so one single car doesn't get too much mileage on it," Proto explained.
The museum is situated on an estuary of Long Island Sound, and took beatings from Hurricane Irene in 2011 and Hurricane Sandy in 2012, which reduced the operating fleet to a mere three cars. It has its own mechanics to keep the trolleys running and to restore cars that need work. "Our mechanics a lot of time have to be creative. The blueprints don't exist any more. Sometimes it's trial and error," he said. "We have more cars operating now than we ever have."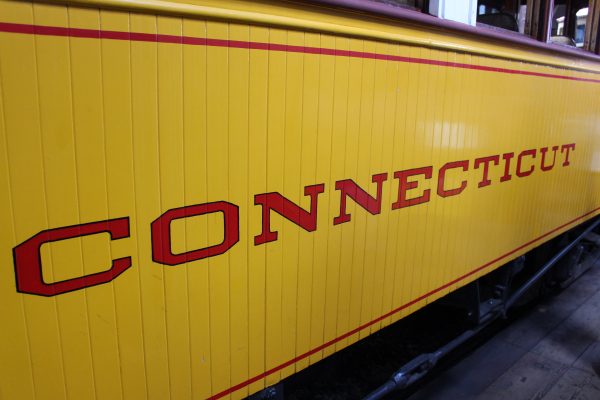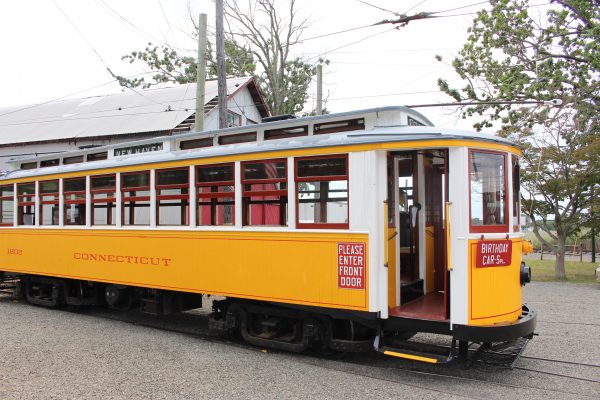 Streetcars in the museum's fleet go back as far as 1888 for electric. The earliest car, a horse-drawn model not on display, dates back to 1860. The bright yellow, open-style Car 401 was owned by the Connecticut Company and once rolled in New Haven taking football fans to the Yale Bowl. Weighing 14 tons and have a speed of 25 miles per hour, the museum acquired it in 1948. Football at the Yale Bowl used to be a big deal in the 1920s, 1930s and 1940s. "They used to line about 30 of them up and down Chapel Street," Proto said.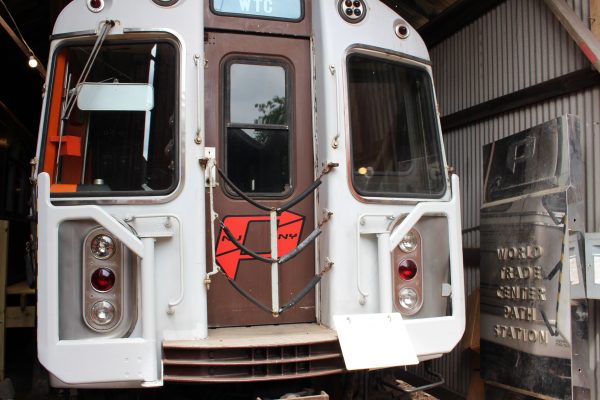 A more recent acquisition on display (arriving in August 2015) is PATH subway Car 745 from New York, which was pulled from the sub-basements at the World Trade Center site following the Sept. 11, 2001 attacks.
During the ride, Proto frequently engaged the younger passengers, and even had them assist him in lowering one trolley pole atop the car and raising another at the opposite end to a reverse the streetcar's direction. In conversation, he spoke of the role of streetcars in our history. "This is how the suburbs came to be. People didn't have to live in the city anymore," he said, adding that trolleys were once so prevalent that it was possible to go from Maine to Pennsylvania by trolley car, a trip that took seven days and required 50 transfers.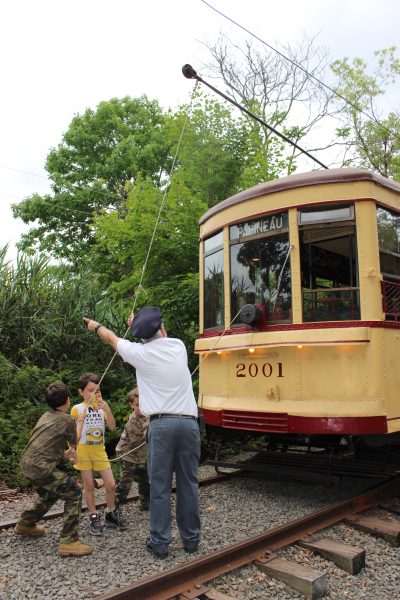 Trolley cars disappeared in Connecticut in the 1940s. Service ended in Hartford in 1941 and New Haven in 1948 – the year after the D.M.V manual was published. Service ended earlier in other cities – in Thomaston and Torrington (where the trolley ran to the Highland Lake Amusement Park) in 1929; and in Prospect, Naugatuck and Waterbury in 1937. In 1949, more than a dozen Connecticut Company cars in New Haven were driven to the museum before the power was shut off and the overhead electrical lines came down.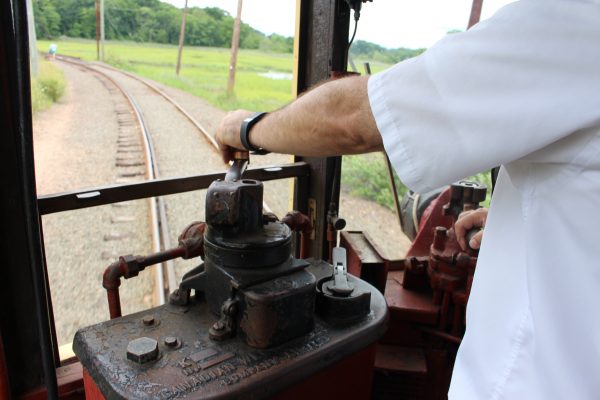 I must admit that standing behind Proto as he operated the controls, I was itching to give driving a trolley car a try. The Shoreline Trolley Museum uses volunteer drivers who must complete a training course over five Saturdays. If only I lived a little bit closer and didn't have the motorcycle bug as well.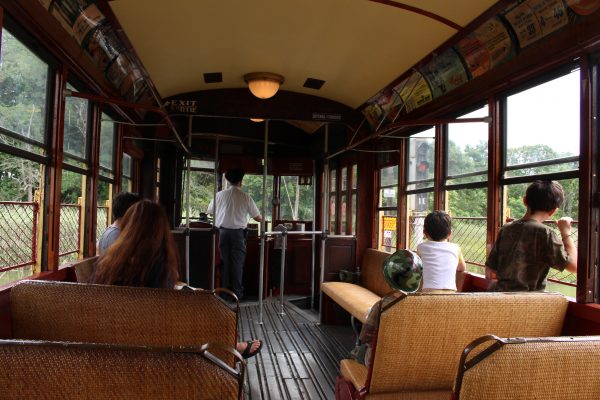 (Originally published in the "Republican-American" on Aug. 28, 2016.)