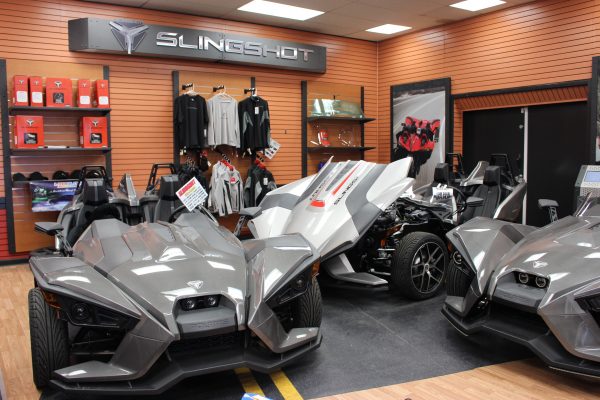 WATERBURY, CT – John Carusello of Waterbury hasn't yet reached the point where he'll have to give up riding a motorcycle. He is starting to feel his age,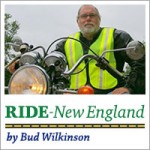 though, so when an alternative appeared in dealer showrooms that allows him to sit in a cockpit (as opposed to straddle a seat) and still feel the wind around him, he bought it as a complement to his custom-painted 2005 Victory Vegas.
Carusello recently had a Polaris Slingshot delivered to his home by Libby's Motoworld in New Haven. "I'm 66. I've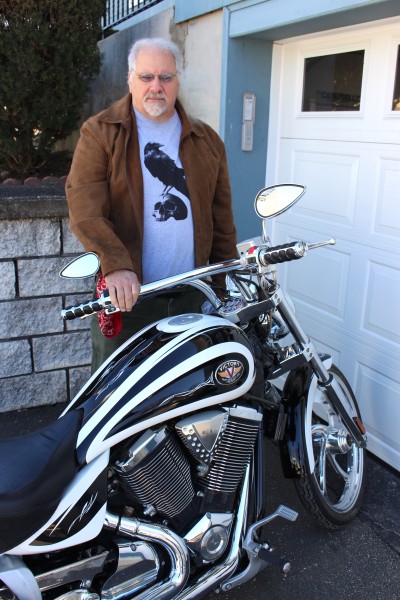 been riding since I was 18," he said one recent afternoon while showing off the sparkling white two-seat, three-wheeled "autocycle" that was parked in his garage. "I have bad knees (and riding) puts a lot of stress on the knees."
It was 11 months ago that the state legislature unanimously approved an "autocycle" bill that created a new category of motor vehicle. Gov. Dannel P. Malloy signed it into law and, as of July 1st, the sale of three-wheeled vehicles such as Polaris' Slingshot model became legal in Connecticut.
Libby's Motoworld didn't get delivery of its first Slingshot until August but managed to put nine into the hands of customers by the end of October and expected to sell 15 in the first quarter of 2016. "It's been well-received. It's unique-looking. It's an eye-catcher. People like to be seen in something unique," said the dealership's Damon Libby.
"It feels more like a motorcycle than a sports car," said Libby. "Being as low as it is, it's like you're surfing the road. You're going to get the wind in your face just like a motorcycle."
Response to the Slingshot has likewise been positive at Shark Cycle in Stafford Springs, which reports selling "eight or nine" so far. "People love it," said owner Bob Charland. "They think the price is great. They're surprised it's not higher. They love everything about it."
The base model of the 2016 Slingshot has an MSRP of $21,499 with the most decked out model going for $26,499. With two wheels in front and one in the rear, the Slingshot has side-by-side bucket seats with a console and shifter between them and a car-like steering wheel.
Messages left at Danbury Powersports, another Slingshot dealer, went unreturned.
John Carusello and his Slingshot
Carusello first noticed the Slingshot last summer. "I checked it out and said, 'That's really cool.' I bought it without a test ride in it," he said.
What he hadn't done when we chatted was driven it. "One of the things I like is to be comfortable. It's not warm enough (to ride)," he said. That was before the recent snow and that was why he convinced Libby's to deliver the Slingshot.
Carusello said he was planning to wait until the thermometer hits 70 degrees before driving the Slingshot. "I can't wait until the weather gets warmer," he said.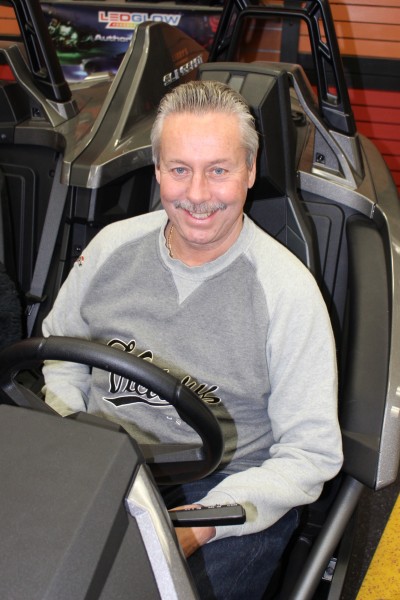 Damon Libby
No doubt dealers are anxious for a warm-up as well, although recent visits to motorcycle dealerships in the state in recent weeks have revealed no shortage of foot traffic. Libby said he was originally projecting Slingshot sales of 35 models in the first year. Given the response, he's revised that number. "We might even hit 50," he said.
Just where the Slingshots are going is a bit of a mystery. A check with the Department of Motor Vehicles revealed only three registered "autocycles" in the state as of March 31, albeit all were Slingshots.