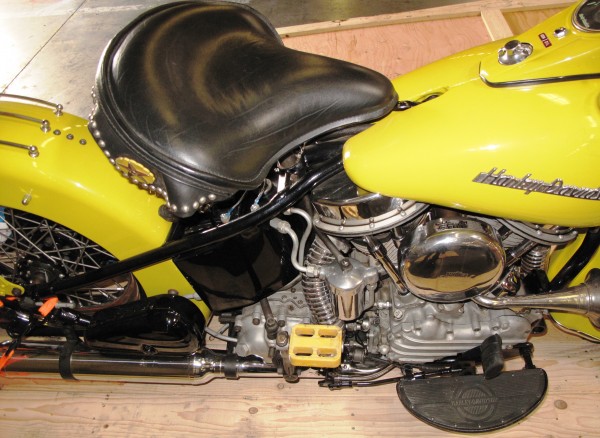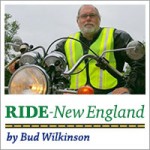 Edgar Howard Johnson Jr. fervently believes in securing his recently-acquired vintage Harley-Davidson, and is adamant that history not repeat itself. The motorcycle is locked in the garage at his home near Charlotte, N.C. "There's no way they'd be able to get it out without me knowing it," he told RIDE-CT / RIDE-NewEngland, referring to any would-be thieves.
Johnson's police officer father probably thought likewise – that the bike was safe from theft – before the 1954 Harley-Davidson Hydra-Glide was stolen on March 4, 1972. "It was in the back yard chained up, a big tire chain with a lock on it. They took it during the middle of the night," said Johnson of the bike that his father
lost and that he just got back after 42 years.
Why write about motorcycle in North Carolina?
First off, it's not often that a stolen bike, particularly such an exquisite antique, gets recovered after being missing for so long.
U.S. Customs and Border Protection, working with the California Highway Patrol and the National Insurance Crime Bureau, intercepted and seized the Harley-Davidson in early September at the Long Beach, Calif. seaport. It was bound for Australia.
Secondly, not mentioned in the brief press release announcing the recovery of the bike that caught my attention, is the fact that it spent years in Connecticut and Rhode Island or that the attempted exporter was from Massachusetts.
However, unlike a cleverly-mapped mystery novel, this Harley tale doesn't have a full resolution. Sure, there's a happy ending in that Johnson now has the motorcycle that his father, who died four years ago, loved so much. Yet there's also frustration because where the bike was for three decades isn't known and there's scant chance that whoever took it will ever be found, charged or convicted.
In fact, with the bike now in Johnson's possession, the investigation has become a "cold case."
CHP's "FEAR" unit (for Foreign Export and Recovery) did manage to trace the bike's whereabouts back as far as 2002. The Massachusetts man who was attempting to export it bought it in the fall of 2012 from a woman in Rhode Island. She had acquired it in 2003 or 2004 and kept it garaged the entire time. The woman had purchased it from a man in Connecticut who is now deceased, hence the inability to track it back further.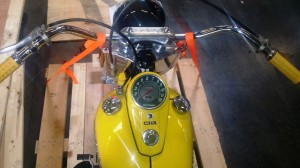 An inquiry regarding the bike's prior "owners" met with a similar stone wall. Lee Ann Harty of U.S. Customs and Border Protection said in an email that the identities of these "previous innocent owners" are "protected by privacy laws and victims rights." She added, "Yes, those recently told owners were understandably stunned and upset" upon learning that the extremely valuable property that they held was stolen. NADA book value on a 1954 Harley-Davidson Hydra-Glide currently tops $30,000.
When recovered, the bike was in excellent shape, although its color had been altered from green to yellow. It features a trumpet-style horn and a medallion on the front fender denoting Harley-Davidson's 50th anniversary.
Based on memory and old pictures, Johnson said the bike that was returned to North Carolina is quite a bit different from the one that left the state. When his father owned it, the Hydra-Glide had more accessories. "It is stripped down. It is just a bare bones bike now. It did have bags on it. It did have a windshield on it," he said.
Johnson said he was "absolutely thrilled to death" when he heard of the bike's recovery. "I never thought I'd see the bike again," he said.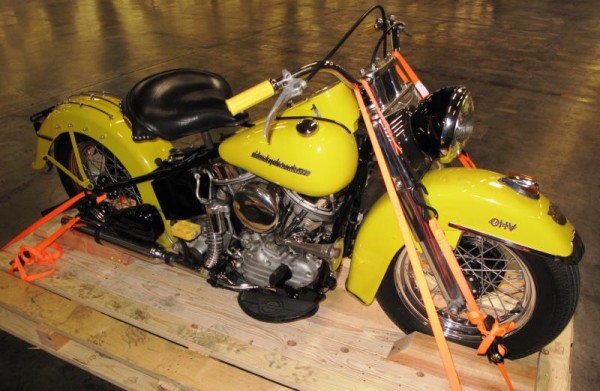 Johnson surmises that his father was the second owner of the Harley-Davidson, but is unsure when it was acquired – maybe the late '50s or early '60s. "He had that bike when he met my mother. I don't think he bought it brand new," said Johnson, who was born in 1965. He also recalled being picked up from school by his father on the bike.
Since receiving the bike recently, Johnson has been looking for parts. His goal is "to make it exactly like when father had it," except maybe for the green paint job. "I'm debating on that. I like the yellow. It does go with that era," he said.
One sad aspect to the story is that Johnson cannot ride the Hydra-Glide. A life-long motorcycle enthusiast, he's been disabled for three years and is unable to hold up a motorcycle. He said he has started the bike two or three times. "It sounds good and it runs good," he said.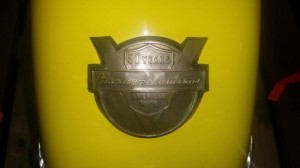 Johnson expressed sympathy for those who unwittingly served as caretakers for the stolen bike. "The same thing could have happened to you or me," he said.
What about finding the original thief or thieves? "It's not a big deal anymore," he said.
One more minor mystery wasn't worth pursuing – the identity of Johnson's hometown. No one can blame him for not wanting to reveal it after what happened when his father owned the motorcycle. Understandably, he's being very protective and very careful that history does not repeat itself.
(Originally published in "The Republican-American" on Oct. 11, 2014.)