HARWINTON, CT – The endless winter can be a time for mischief because the only alternative to riding is window shopping in preparation for riding. Short days, long nights, cold and snow force a person to go online to visit dealer websites and to check out Craigslist for the used market. I've been doing this for a few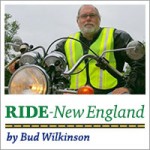 months, spurred by some exciting new 2018 models displayed in early December at the Progressive International Motorcycle Show in New York.
There's a saying in motorcycling that the proper number of bikes that a rider needs to own is whatever is in the garage "plus one." Unfortunately, I've been engaged in "minus one" strategy of late to the point where 2017 ended with just one model – a 2011 Moto Guzzi Norge GT 8V – parked in my detached garage.
That number was reduced to zero late last month, though, when I signed and handed over the title to the Norge. Talk about nonsensical. A motorcycle columnist who doesn't own a motorcycle. What's next? A food critic on a diet? A plumber without a privy?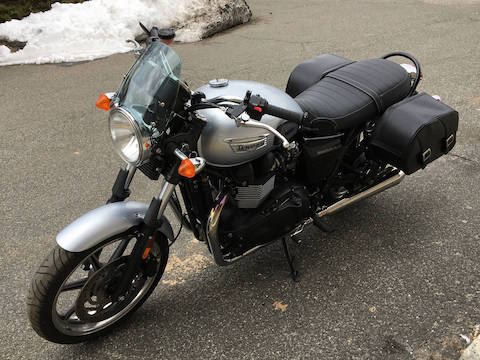 It was in anticipation of parting with the Norge after two years that I began looking. This spring there are several standout new models; small, medium and large, and from inexpensive to too pricey for my wallet. Heck, if you saw the sorry state of the stitching on my wallet, you'd say any bike is too pricey and that I should be buying a replacement billfold instead of a bike.
 So what's getting put in my garage?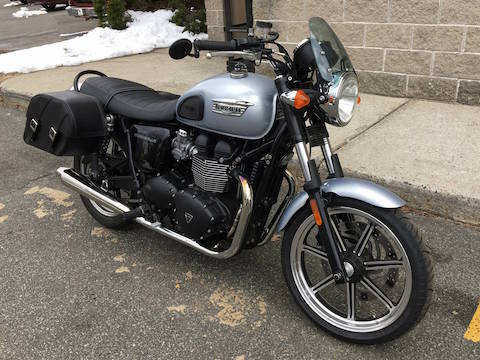 After looking at a new black and green Moto Guzzi V7 III at Hamlin Cycles in Bethel, CT and deciding it was a tad too small for a daily rider, and after considering a used orange and black 2013 Triumph Bonneville at Kent Road Motorsports in Cornwall Bridge, CT and deciding the cost of mods to make it suit my needs would be too costly, I've opted for a used silver 2014 Triumph Bonneville at Mark's Motorsports in Enfield, CT.
It has fewer than 6,000 miles, a set of British Customs silencers, Triumph saddlebags, a fly screen and bar-end mirrors. The dealership gave me a fair trade, but I haven't been able to pick it up yet because of the lousy weather of late. Maybe at week's end week the void in the garage will get plugged.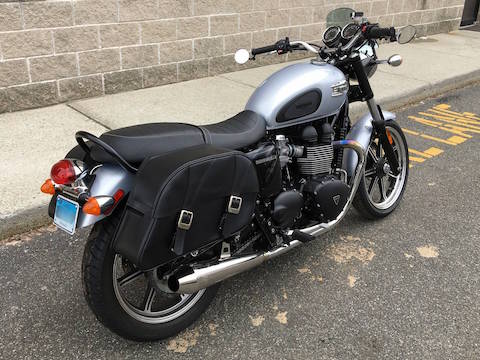 A friend has already given me some larger mirrors to swap out and I've ordered a rear rack to replace the grab bar to make my camera gear more easily accessible when out on the road. The only hitch has been over whether to add a center stand. I want one, but am unsure whether it will fit with the after-market exhausts and I'm hesitant to spent $160 without knowing for sure.
Giving up the Norge was only mildly traumatic. I enjoyed it tremendously but, as a friend said, I never truly bonded with it. Maybe because it was tall and heavy. With my 65th birthday not far off, perhaps the Bonneville will be a better fit.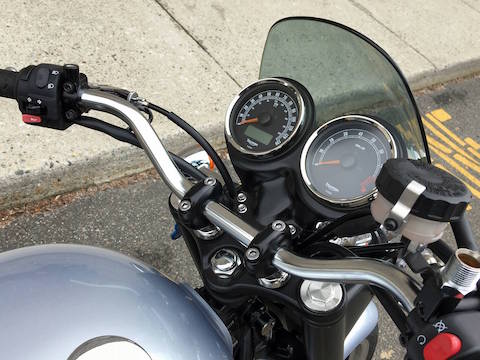 Regardless, motorcycling is addictive. With the Bonneville included, I've owned 14 different bikes in nearly 14 years of riding – four Triumphs, three BMWs, two Moto Guzzis, two Suzukis, one Harley-Davidson, one Honda and one Yamaha. Sounds ridiculous, right? I prefer to view it as research to write a better column, and I didn't count the 50cc Garelli moped that I picked up for $10 and sold a few days later for $125 back in 2012.
Fortunately or unfortunately, there are still so many brands yet to try – Alta, Aprilia, Ducati, Husqvarna, Indian, KTM, MV Agusta, Royal Enfield and Zero (although I have demoed four of the brands on the list). With another riding season beginning, I guess I'm now back in "plus one" mode. 
(A portion of this column originally ran in the "Republican-American" on April 7, 2018)
Photos courtesy of Marks Motorsports