***CLASSIC RIDE-CT***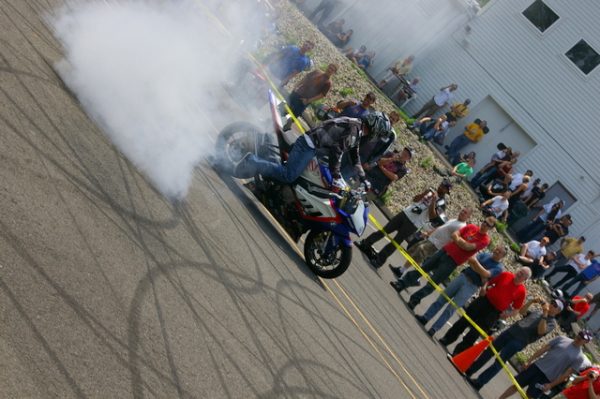 By Bud Wilkinson
Motorcycle daredevil Chris "Teach" McNeil talks much like he rides – in enthusiastic bursts of energy. When he's riding, no stunt is too difficult to attempt. When he's talking, no subject is off limits. His passion for risky free-styling on two wheels is evident in the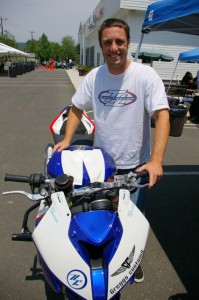 stunt shows he does and confirmed in the number of broken bones he has sustained to become among the best in the business.
"It's been a lot," he replied when asked the exact fracture count. "I can rattle off two dozen pretty fast. I hate getting hurt. It slows me down a little bit."
A high-side crash in Nashville (in 2010) damaged a knee, and put him on crutches for a week, but there he was entertaining spectators at then-Cliff's Cycle Revolution in Brookfield (a month later). BMW had brought a demo fleet to the dealership for test rides. McNeil was on hand to show off the capabilities of the BMW S 1000 RR superbike.
McNeil's shows were a mix of fast starts, fast stops, pirouettes and other superbly executed maneuvers. The air was filled with smooth whining roar of the S 1000 RR's motor and clouds of burning rubber from the bike's rear tire. "I can make it last three minutes is I want to,' said McNeil of the shelf life of a tire. "It'll be pretty much trashed by the end of the day."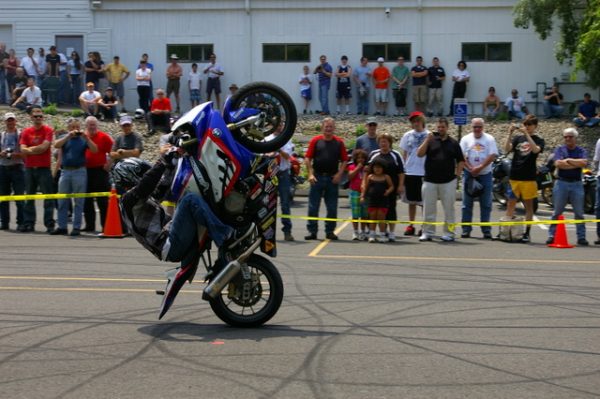 In-between shows on the range behind the dealership, McNeil also chatted about his life as a Latin teacher-turned-showman as well as provided advice and tips for riders wanting to follow in his burnouts. He explained that stunt riding is all about control, whether doing wheelies, stoppies or riding in circles with the front wheel aloft and the rear wheel cocked at an angle while the rider stands on the tail section.
"It's all about control over the motorcycle. If you can control the clutch, the gas and the rear braking, you can do anything," he said, admitting that such restrained operation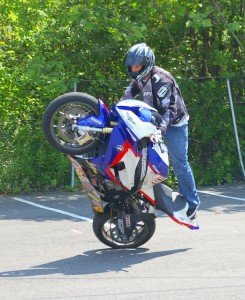 wasn't the case for him when he took up riding at age 20. He was barely in control. His first bike was a Honda CBR600 F2 that was custom painted to resemble Eddie Van Halen's guitar. "I remember going down the road and hitting 100 (miles per hour) real fast. I didn't even know how to counter-steer."
Skill came with practice, as did stunting, although back then stunt riding wasn't a competitive sport as it is today. "Stunt riding came from the streets, from hanging out. Back then, there were no gear companies making things that were remotely cool," said McNeil.
Indeed, riders who did tricks out on the streets risked not only their limbs but arrest. "Stunt riding was a punk sport for a really long time. I never bought into that," said McNeil, who has helped bring legitimacy and respectability to freestyle riding.  He foresees a future when riders won't have to practice on public roads, needlessly endangering themselves and others. "It's like skateboarding. Now there are skate parks everywhere."
While a self-admitted "squid" when he was younger, McNeil now preaches safe riding and learning freestyle techniques in a safe environment. He cautions against learning in the street and advocates wearing protective gear and learning on a cheap motorcycle – all because mistakes will be made.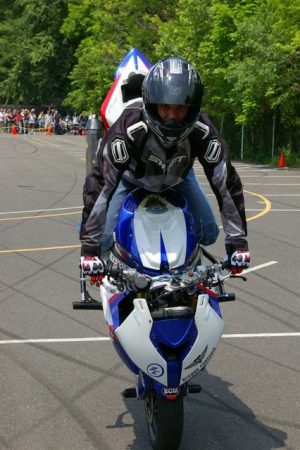 While he didn't say so directly, McNeil's concern for the safety of riders is seemingly rooted in his background as a teacher, which got him the "Teach" nickname.  He took Latin in high school in hopes of becoming a doctor; then got put off by all the science courses in college. He liked Latin, though, and switched to education. "I love kids, I love to teach, summers off," he said. "In public school, you don't get any jerks taking Latin. I'm just a down to earth teacher. It comes easy to me."
McNeil grew up in Maine and graduated from the University of Maine. He eventually ended up teaching Latin for six years at The Derryfield School, a private academy in Manchester, N.H. He divided his time between teaching and stunting, and watched as the sport grew over the past decade. "It worked great because I always had my summers off," he recalled. Eventually the riding demands became too great.
When it got to the point where he was shortchanging both loves and the money for stunting became too substantial, he quit teaching. Money-wise, he said, "A month of teaching is a weekend of riding." Three years ago, BMW hired him fulltime to represent the brand, which was in the process of developing a superbike that became the S 1000 RR.
McNeil's perception of BMW at the time was much the same as other riders in their 20s and 30s. "I thought they were a brand of 'old man bikes,'" he said. It was an accurate perception, and BMW's goal in introducing the new S 1000 RR was to lower its demographics and meet the Japanese superbike makers head on. That's why McNeil was doing as many as 45 events that year to help build word of mouth about the S 1000 RR.
"That's the problem with BMW. It's the image – not what they make," said McNeil, who showed just how fast and nimble the S 1000 RR is during his performances.
Having spent the last three years living in northern California, McNeil was at the time planning to move back to New England, probably Maine or New Hampshire, and maybe even look for another teaching job. "I've made my name. I've made my level," he said. But don't expect him to give up riding – he has at least a dozen bikes – or stunting. "I love the edge. I love the thrill."