The image of an ostrich running at full speed somehow popped into my mind as I was riding by a horse farm in Bethany, CT. With their long legs and long necks,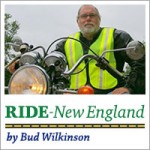 ostriches look comical at full run, and I couldn't help but wonder if the motorcycle that I was testing looked just as gangly given its own profile and beak-like front end.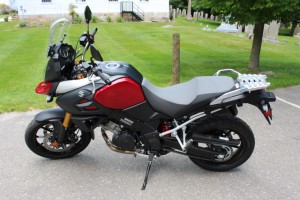 The bike beneath my butt was a new 2014 Suzuki V-Strom 1000 ABS, an "adventure" model that has been resurrected after a multi-year absence and a complete makeover. Being the rider of a smaller and older 2008 Suzuki V-Strom 650, I'd been curious about the more potent V-Strom 1000 since first seeing it at the Progressive International Motorcycle Show in New York last December, and very anxious to ride one.
Unlike cruisers and sport bikes, all-purpose "adventure" models offer high clearance and the ability to travel easily both on paved and dirt roads. They have witnessed increased popularity in recent years and Suzuki is taking dead aim at BMW's R1200GS with the V-Strom 1000. When New Haven Powersports offered me an unchaperoned demo ride recently, I jumped (into the saddle) at the opportunity.
The name V-Strom combines the engine type – "V" as in V-Twin – and the German (and Swedish) word for "stream." How a Japanese bike took on a German name can be mulled at another time. Suffice to say it has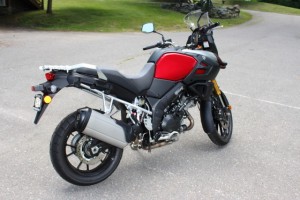 been a successful model for Suzuki.
Adventure bikes are always tall, so my first concern was that the V-Strom 1000 would be too tall for me. It's not that I'm afraid of heights. I once rode a camel at the Bronx Zoo when I was a kid and even played jockey in an elephant race when working as a reporter in Phoenix. (For the record, up close, elephants stink.) When it comes to motorcycles, though, it's helpful for the feet to touch the ground when you come to a stop. Otherwise the bike will fall over.
The seat height for the V-Strom 1000 isn't listed by Suzuki on the model's spec sheet, probably 33-plus inches, but, surprisingly and despite my 30-inch inseam, I was able to connect with the ground without a problem. That fact alone makes this 502-pound bike accessible to many more riders than the adventure models of rivals.
Rolling out of the parking lot and on to Whalley Avenue, I noted the quick and smooth engagement of the clutch and how nicely balanced the V-Strom 1000 is. Perhaps because I own a "Wee-Strom," there was no really getting used to this bike, except maybe for a touchy throttle. It just felt natural.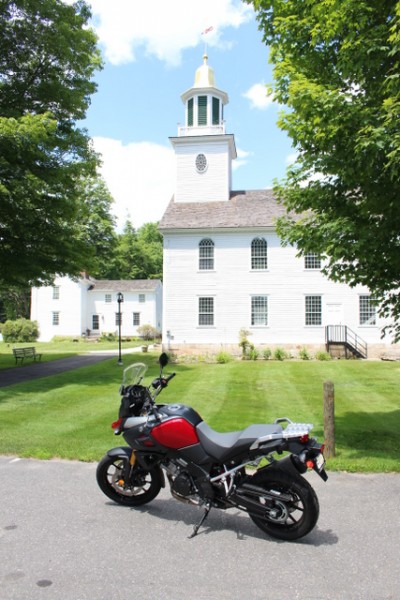 Heading up Route 69 toward Prospect, I was able to rip it through the gears, and note the smooth and consistent power of the 1,037cc engine (up from 996cc in the prior version) and, over the course of the ride, the strong brakes. Where the stable V-Strom 1000 really stood out was in its more sport bike-like handling, agile yet predictable.
A big selling point for the bike is the price – $12,699. That's thousands less than competitors' adventure models. Cough up only $1,300 more and there's the V-Strom 1000 ABS Adventure version with hard saddlebags, engine guards, hand guards, skid plate and a touring windshield. Either way, the V-Strom 1000 is bargain.
My only complaints were the seat – while comfortable and nicely shaped, it looks upon close inspection a little chintzy – and the engine sound. It's whiney, an irritant that a different exhaust could solve. Either that or you could live with it and hope that it eventually becomes white noise that you no longer notice.
Overall, the chain-driven V-Strom 1000 seems fit to fill many needs – a dependable commuter bike, a smart-handler for aggressively tackling back roads, and a great long-distance machine given its 5.3-gallon gas tank. It's a lanky bird, and certainly capable of out-running an ostrich.
Did I ever mention that I once looked out the front door of my house and saw not an ostrich but an emu looking back at me? I'll save that tale for another day.