2013 Moto Guzzi V7 Stone
By Bud Wilkinson
Although I've never owned one, Moto Guzzi's a marque that I'm immensely attracted to over most other name brands for the simple reason it's uncommon. I drink Dogfish Head and Otter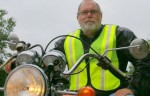 Creek beers and avoid barley pop products with the names Budweiser, Miller or Coors attached for the same reason. Products that are ubiquitous hold little allure.
Six years ago, Moto Guzzi introduced its retro V7 model and it immediately caught my attention. It wasn't until last month, though, that I finally got to ride one, a good thing considering that the 2013 model year saw the transverse-mounted, V-twin engine get a major makeover in a move designed to make the V7 faster and more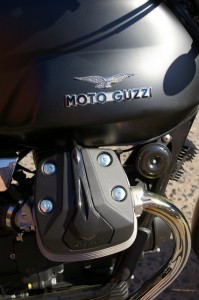 reliable.
The original V7 came out in 1967 and Moto Guzzi built it through the 1972 model year. It was a large bike for the era, but that's no longer true. With only 744cc and 50 horsepower (a 12 percent increase from prior years), the bike isn't a pavement burner, rather a peppy and pleasant ride that has more than sufficient power – once you get it on the road.
My plan upon picking up the base model V7 Stone at New Haven Powersports was to ride it up Route 69 toward Prospect, but getting the bike into first gear to exit the parking lot was difficult. A tech quickly suggested that the transmission on the demo model might need adjusting, but a subsequent Internet search revealed that this is a common complaint with the bike.
Having final managed to locate the take-off gear position, I headed out Whalley Avenue and soon got a hand cramp from holding in the clutch at stoplights. However, the balky shifter and the stiff clutch proved to be my only gripes, and minor ones at that.
The V7 has a short 57-inch wheelbase and weighs in at only 395 pounds, although that number climbs when the 5.8-gallon gas tank is full. Shaft-driven with a five-speed transmission, it is nimble, steady and comfortable.
After riding up Route 69, I turned left on Route 42, backtracked on Route 63 and stopped at Steven's Deli in Bethany for lunch. Within a few minutes, a guy with a Harley-Davidson tattoo on his arm came in and inquired about. He seemed surprised that Moto Guzzi still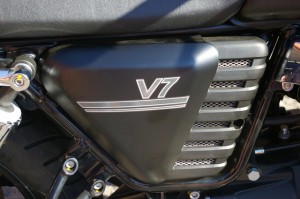 exists. A rider on an old BMW R 100 RT arrived a few minutes later and he admired it as well, even taking time to go outside to sit on it.
The Moto Guzzi name, the V7's throwback shape and the cylinder heads popping out on either side of the frame certainly attracted attention. Riding home, I noted that the easy reach of the handlebar and enjoyed the intoxicating exhaust notes. With a seat height of 30.7 inches and an upright riding position, the V7 is certainly a very friendly ride and the styling is indeed timeless.
What's also fairly friendly is the price. The MSRP for the 2014 V7 Stone, which has cast wheels, is $8,390. That's unchanged from 2013. The two-tone V7 Special with two-tone paint (black and orange, silver and black for 2014) and spoke wheels is $9,190. There's also a third cafe model called the V7 Racer at $10,090. It has a red frame and chrome gas tank.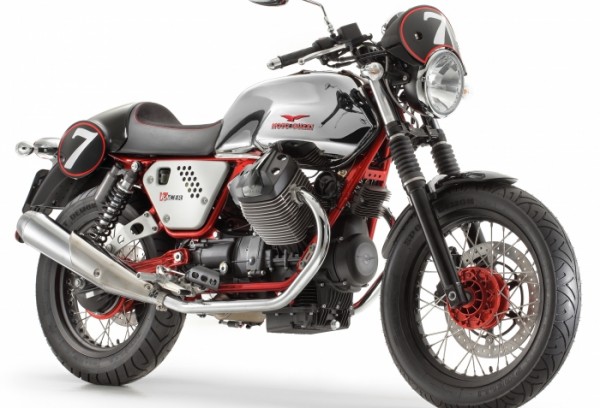 Best of all, the V7 is a Moto Guzzi, made in Italy and basking in character. To call it practical would be a disservice because of its personality. To call it merely satisfying would shortchange the bike's fun factor. Having ridden it for only a couple of hours, I'd love to have a V7 Special (a 2013 model in yellow and black) in my garage so I could spend days riding the back roads on it.