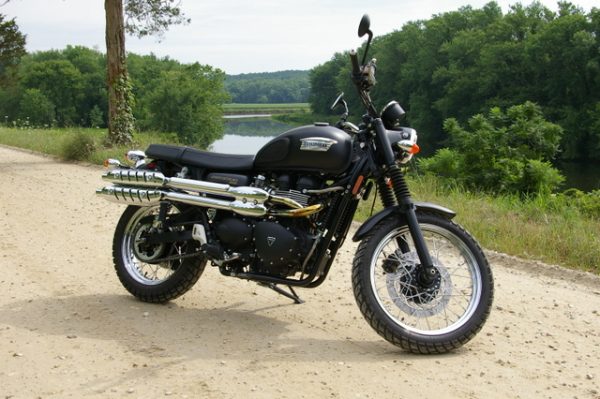 By Bud Wilkinson
Ever pick a road that you've never ridden just to see where it would take you? Part of the fun of riding is exploring. A few Sundays ago, friends Gary Randall, Neil Tolhurst and I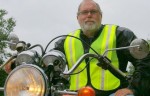 headed south out of Sharon on Route 41 and purposely turned left on to Westwoods Road, which we surmised would eventually take us to Kent.  I was leading and pulled over just before the pavement turned to gravel to ask Gary if he wanted to continue. Gary was riding his 1946 Indian Chief, a bike less suited to dirt than Neil's 1983 Yamaha RZ350 or even my 1974 Honda CB750.
We'd barely put our feet down when a car drove up and stopped beside us. A friendly woman inside informed us that the unpaved road ahead was extremely scenic and that we'd enjoy it, but that it was also narrow in parts and that we should be on the lookout for drivers coming at us and going too fast for the road. We thanked her and opted to proceed. It wasn't long before my cautiousness on the gravel prompted Neil to impatiently whiz by me. While I then picked up the pace, I couldn't help but think that a dual-sport motorcycle might work better for those times when the asphalt suddenly ends.
The very next day I received an email from Dave Rosen of Triumph. "I have a Scrambler at Spitzie's in Albany that needs a guy like you to ride it," he wrote. He was offering the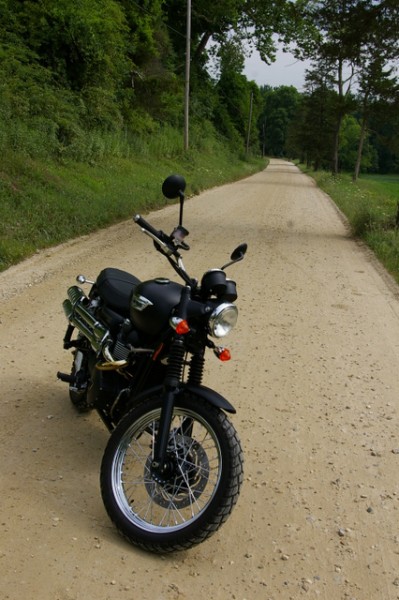 new bike for a week. All I needed to do was gather it from the Triumph dealer in Albany, which I did a few days later, carting the matte black demo home in the bed of my pickup.
The chain-driven Scrambler is part of Triumph's "Classics" collection, a retro bike that recalls the 1960s. It's powered by an 865cc, air-cooled, parallel twin motor and has gaiters on the forks, spoke wheels and high-swept chrome exhaust pipes. While 58 horsepower might sound mild, the Scrambler has sufficient oomph to make back roads fun, and it handles lightly thanks to a wide handlebar, upright riding position and a weight of only 506 pounds. However, anyone with less than a 30-inch inseam might find the 32.5-inch seat height a bit too tall.
The semi-knobby tires suggest it's built for both on- and off-road riding and it is to a degree, although it really is more suited to pavement. I took it down Housatonic River Road off of Route 44 between Canaan and Salisbury to sample gravel and found it rock steady. Its clearance, though, is probably insufficient for any serious off-roading. Riding any demo inevitably produces some lasting memories. The fact that the Scrambler has loads of cool factor was driven home when I was turning off of a side street in Thomaston to head to a gas station. A couple aboard of heavyweight cruiser that was parked in a neighboring lot saw the bike, flashed smiles and made sure I noticed how much they admired its looks. It made my day. And it wasn't the only time that kudos came the bike's way.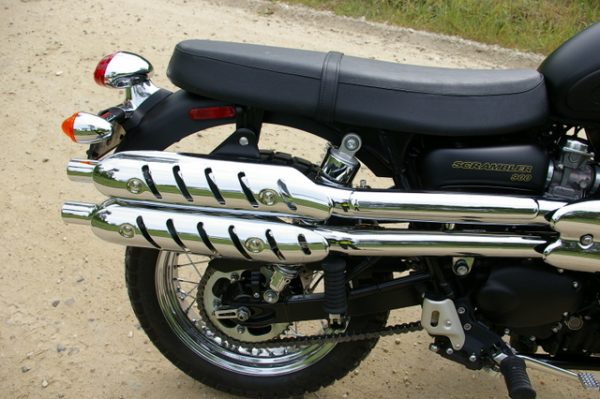 Less fun was riding it on Route 8. The Scrambler simply isn't made for a divided highway. The tires are noisy and there's no wind protection, and getting passed by two automotive boxes – a Mini-Cooper and a Suzuki SX4 hatchback – while out on a ride was embarrassing.
With an MSRP of $8,799, the Scrambler is an affordable bike that has enough spunk for weekend play and enough comfort for weekday use as a commuter. It's a bike that I'd been itching to ride since the model was introduced in 2006. Sometimes expectations exceed the reality. In this case, the Scrambler was everything that I'd imagined it would be.