By Bud Wilkinson
Humans are creatures of habit. We relish routine. While non-riders may believe DNA swabs of some motorcyclists may be necessary to accurately determine the species, many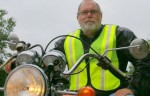 riders are humanly predictable. Given the choice between a known route and a less traveled road, they resolutely opt to remain on pavement with double yellow lines. Familiarity offers comfort and safety.
With the arrival of the fall leaf-peeping season back in 2012, though, there was an excuse for being adventuresome; for breaking the bonds of state roads; and for risking a bit of dirt for a scenic payoff. Did I just say dirt? While some riders (and, yes, even some drivers) assiduously avoid any road that isn't paved, dirt roads lead to remote places of rural beauty.
RIDE-CT came up with three "ride-tested" foliage excursions in Litchfield County – at least partially on dirt, and for riders and drivers alike. They are hidden in plain sight as the roads are off of state highways. They aren't particularly hazardous, but are likely overlooked by most passers-by.  And there is a reward at the end of each:
"Over the Top"
The most direct route to Falls Village from Torrington is to take Route 4 west to Goshen and then Route 63 north. A more scenic way is to follow Route 272 north from West Torrington toward Norfolk. It's a windy, uphill climb. The first few miles are marked by atrocious pavement, but the road eventually smooths out.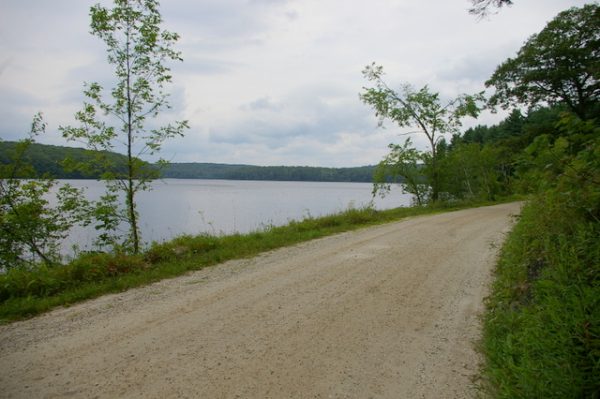 At the 13.0 mile mark, just south of the green in Norfolk, turn left on Mountain Road. That road eventually becomes Wangum Road and connects to Canaan Mountain Road on the other side of the summit. It's a 6.9 mile stretch of which 1.9 miles are dirt, divided into two sections. Atop the mountain is Wangum Lake, a reservoir surrounded by a watershed of thick undeveloped woodlands.
RIDE-CT long avoided trying this route after hearing how treacherous it can be in winter, but gave it a go back in the spring. It has now become a regular riding route. The pristine setting of Lake Wangum, despite being posted in places with "No Parking" signs, makes for relaxing ride as long as one remembers to loosen the grip and let the bike find its natural path on the dirt.
At the bottom of Canaan Mountain Road, take a right on Under Mountain Road, go north for 1.5 miles, take a left on Barnes Road and you'll run into the South Canaan Meeting House on Route 63. Go across Route 63 to the next stop sign and left on Route 7 to Falls Village.
Your reward? A Famous Inn Burger at The Falls Village Inn. It's a hefty Angus burger with pecan wood-smoked bacon and caramelized onions and stuffed with gruyere. It comes with fries for $13, and is worth every cent. A sexagenarian friend who recently tried it declared it to be the best burger that he'd had in his life. I had to agree.
Start Point: West Torrington
End Point: Falls Village
Total distance: 24.8 miles
Distance on dirt: 1.9 miles
—
"Rolling on the River"
Well, rolling alongside the river is more like it. The easiest way to get from Canaan to Kent is to simply head south on picturesque Route 7. A more leisurely route is to head west on Route 44 from North Canaan. At the 3.1 mile mark take a left on Housatonic River Road. While the dirt road exhibits some wash-boarding as it winds alongside the Housatonic River for 2.3 miles, the sweeping meadows and fields, and some elegant colonial homes, make it breathtaking.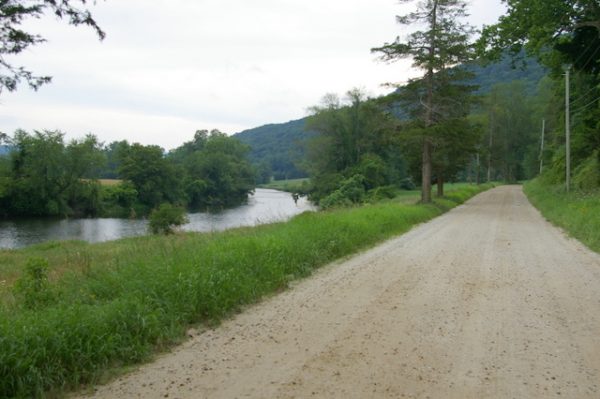 After passing the falls in Falls Village, stay left and close to the river. Dugway Road will take you to Route 112 at Lime Rock Park. Trinity Church is on the corner. Go right for 3.8 miles and then turn left on Route 41 to Sharon. It's 5.2 miles to the intersection of Route 4 and the clock tower. Go straight and head south for a mile. When Route 41 bends west, keep straight on West Woods Road #1. A mile down the road you'll hit a stop sign. Turn left (it's still West Woods Road #1) and eventually you'll hit dirt again.
The next 3.2 miles consist of a narrow, nearly one lane gravel road that's shrouded in trees. Be watchful for oncoming vehicles and for deer. There's a split 2.5 miles after hitting dirt. Stay left and you'll eventually be on Skiff Mountain Road. When you reach Kent School, take a left and another left at the stop light.
The reward? How does a coconut macaroon at J.P. Gifford Market & Catering Co. in downtown Kent sound? They're moist and chewy.
Start Point: Canaan
End Point: Kent
Total Distance: 29.5 miles
Distance on dirt: 5.5
—
"Around your elbow"
The lure of this ride, besides the colorful leaves, is chocolate. Start in Bantam and head south on Route 209. You'll ride by Bantam Lake. At the intersection of Route 109, go right and ride for 3.7 miles. Take a right on Romford Road. The road turns to dirt after Rumsey Hall School as it winds along the Shepaug River.
You'll eventually come out back on Route 202. Take a right and head back toward Bantam for 2.2 miles. Just before the Gooseboro Drive-In, bear left on Old Turnpike Road. Take a second left on to (unmarked) Prospect Mountain Road. It's dirt for 1.6 miles.
From here, it' a sprint to the chocolate. A right on Litwin Road, a left at the stop sign on to Maple Street,  another right on Milton Road and 2.6 miles to Beach Street. Go left heading north for 3.7 miles until the road take a 90-degree left turn. Stay straight for.3 miles on the gravel Town Hill Road until the barn and dairy store at Thorncrest Farm & Creamery appears on the left.
Thorncrest's artisanal chocolates, made with fresh milk, cream and butter, may seem a bit pricey, but, again, they're worth every cent.
Start point: Bantam
End point: Goshen
Total distance: 23.6
Distance on dirt: 3.3 miles
—
None of the dirt portions of these routes are particularly difficult to maneuver no matter the type of motorcycle. And, if the operator goes slowly, none are apt to damage a nice paint job. All provide a little different look at Litchfield County.