Let me see if I have this straight… He doesn't ride a motorcycle. He has no interest in riding a motorcycle. But now a motorcycle manufacturer in India is paying pro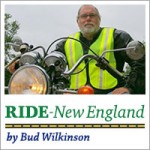 golfer Tiger Woods to be its "brand ambassador" for a reported $6 million to $8 million per year for four years?
Yes, Hero MotoCorp Ltd is planning to take its brand global and has tapped Tiger to get the job done. Really? Am I the only golfer (semi-retired)/rider (active) who finds this ludicrous?
I happened to stumble across this odd promotional hookup over the weekend when surfing through TV channels. I landed on the telecast of the Hero World Golf Challenge, which benefits Tiger's foundation, and saw a commercial for Hero motorcycles. Yes, a commercial for a brand that isn't even sold in the U.S.
This seemed unusual, so I posted my puzzlement on Facebook. Reader Kat Ross soon informed me that Hero is Tiger's newest corporate sponsor, so this morning I did some research.
Hero's Pawan Munjal and Tiger Woods/Pictures by Golf, by Tour Miss
It seems that Tiger met Hero head Pawan Munjal back in February when Woods received a large appearance fees to play an exhibition in India. Munjal then decided that Tiger would be the perfect face for Hero's expansion plans – into Europe in 2015 and the U.S. in 2016.
At a press conference in Orlando, FL last week, Munjal revealed the deal. "It is an endorsement deal with Tiger Woods in which he will not only be partnering but also promoting Hero as a brand across the globe," Munjal said. "It is not just for the U.S. market."
Expect to see a lot of Tiger across all platforms: print, electronic, social media and outdoor. "For me, Tiger personifies energy, perseverance, competitiveness, the will to excel and the will to be the best in whatever he does," said Munjal.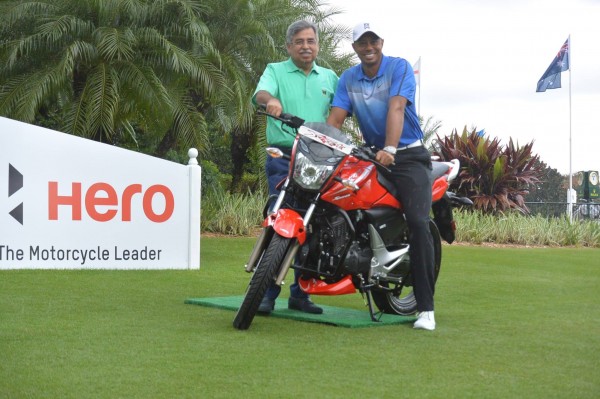 I guess Tiger's past as a serial cheater, which was exposed five years ago, resulted in an expensive divorce and caused his reputation to take a beating, didn't matter. Munjal is said to be an avid golfer and Tiger remains the best known golfer in the world, even if his game and his status in the game have declined appreciably.
But why, except for executive hubris on Munjal's part, would a motorcycle company want Tiger as brand ambassador? The simple reason that he has no connection to motorcycling should immediately exclude him; unless you font "paid actor" on the commercials. Is a non-rider the best person to introduce any new line of bikes? Is anyone really going to think, "Oh, Tiger likes Hero bikes so I should, too?"
Having been a passionate golfer before becoming a passionate rider 10 years ago, I know that both golf and riding require time, skill and money. I'm guessing that not many folks do both, or do both well. Tiger can't even play golf very well these days. He came in last place in the Hero World Golf Challenge over the weekend. Here's predicting he has similar success as a promoter of motorcycles. The only winner is Munjal, who gets to rub elbows with a has-been star.