THOMASTON, CT – As hoped would occur, dirt bike riding trails behind the Thomaston Dam reopened for the 2023 riding season on Sunday (May 7, 2023) after one week's postponement due to rain that causing flooding of the Naugatuck River.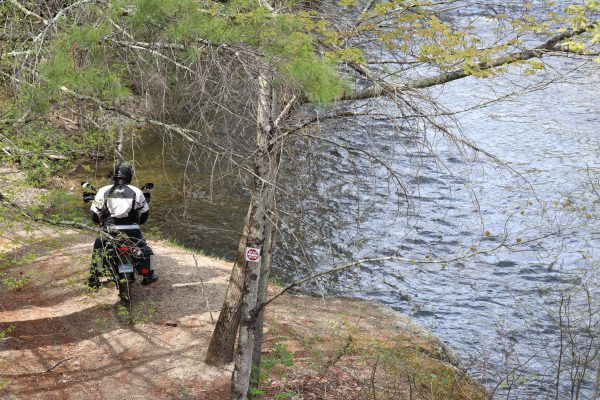 —
Trails At Thomaston Day Expected To Open This Weekend
THOMASTON, CT – The trail riding season at the recreation area behind the Thomaston Dam was scheduled to run from May 1 through Oct. 14, but "significant rain" last weekend caused flooding that prevented the site from opening on Monday.
U.S. Army Corps of Engineers project manager Steve Patchkofsky said today that 2.32 inches of rain have fallen since Friday. That caused the Naugatuck River to overflow. The pool level crested at 22.72 feet. Flooding occurs when the pool level hits 12 feet and forces closure of the trail system.
By this morning, the pool level had receded to 8.96 feet, but standing water was still visible on the trails. How quickly it dries will determine when the 13-mile trial loop will be opened to riders. "We're shooting for a Sunday opening. If the trails dry out fast enough, we may open on Saturday," Patchkofsky said.
The riding area on the west side of Naugatuck River has been used by riders since 1975 and roughly 40,000 riders use the area annually. In 2020, the opening of the off-road riding season was delayed until July 6 due to the COVID-19 pandemic.