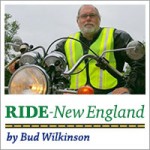 Motorcycle manufacturers love to embellish when describing their offerings, so it's only natural to skim over some of the descriptions used by Triumph regarding its Thunderbird LT model – lines such as "premium class touring cruiser" and "world's largest parallel twin motorcycle engine." More to the point is how does the bike ride?
RIDE-CT / RIDE-NewEngland had the chance to find out a short while back when Triumph provided a 2014 Thunderbird LT loaner for a week and, frankly, it took some getting used to for the simple reason it is big. Weighing it at 836 pounds wet, having a 65.5-inch wheelbase and powered by the aforementioned 1,699cc motor, the Thunderbird LT is one substantive machine, and vastly different from my daily rider, a little Suzuki V-Strom with its 650cc V-twin.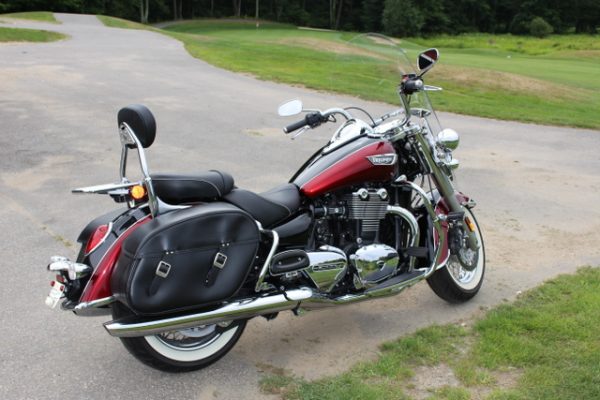 Triumph's Dave Rosen, at whose Connecticut home I picked up the bike, advised that it would feel much, much lighter at speed, but the first 100 yards or so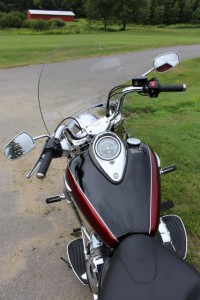 – down his driveway and out on to a state road – had me practically duck-walking. Yes, the Thunderbird LT is well-balanced. It just took some seat time to find this out. What I eventually discovered during the test period was a superb machine with very few shortcomings.
Despite its weight, the Thunderbird LT has loads of instant-on power. Rolling on the throttle in every gear produced a sharp response. The six-speed transmission was smooth as was the belt drive. What quickly became apparent was the easy handling. Once my brain got wrapped around the reality that I wasn't riding my normal snappy lightweight, and was able to aim the accordingly, the Triumph LT proved infectiously nimble.
That the Thunderbird LT was comfortable was a given. It wasn't even necessary to read Triumph's claim that the model offers "advanced ergonomic refinement, including dual-layer foam seat with lumbar support." What I found was a relaxed riding position, nice butt cushion and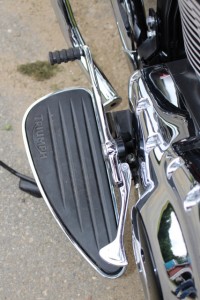 ample floor boards that allow for movement. The Thunderbird LT has Showa forks in front and adjustable Showa shocks in the rear. The seat height is a low 27.5 inches and there's a wide handlebar.
What did throw me a bit were the highway pegs mounted on the engine guards. On my first attempt to use them I discovered my legs were too short to reach. Was this a motorcycle that requires a booster seat? Rosen later lamented that he should have adjusted them for my short stature.
The Thunderbird LT comes in two color schemes. There's lava red and phantom black as well as Caspian blue and crystal white. The test bike exhibited the former scheme, giving it an elegant appearance. There's also a retro nod with wide whitewalls. ABS is included.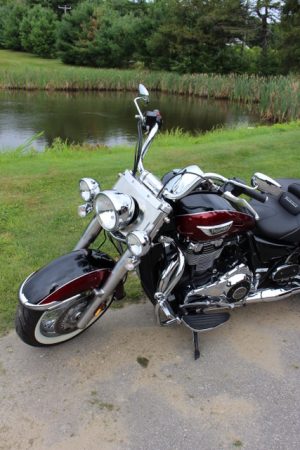 Over the testing period, I took the Thunderbird LT to various places where riders gather and had fun demonstrating its features, such as an easy-off, easy-on windshield.  Just grab it, pull it and lift off. In addition to the windscreen, there are lower wind deflectors designed to keep the legs breeze-free. Clearly, the emphasis with the Thunderbird LT touring, so it comes with saddlebags, passenger back rest and rear rack.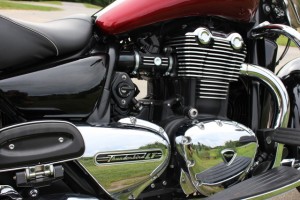 What's missing? Well, there's no tachometer, although the instrumentation does include an LCD trip computer, clock and range to empty display. Also lacking is an attractive exhaust note. To my fading ears, the Thunderbird LT sounds more like a soprano than a proper bass.
Nonetheless, the Thunderbird LT is clearly a superb alternative for riders seeking something different in a cruiser. It certainly got noticed and complimented wherever I took it. The Thunderbird LT has an MSRP of $16,699.