CHESTER, VT – I've bought and sold motorcycles for 45 years, and only once have I purchased one that I never rode for at least a few months. I buy them,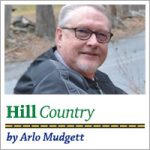 enjoy them, and sell them when I'm looking for a different experience. Over the years, I've owned everything from a BMW to a Czechoslovakian Jawa.
I've enjoyed four Harleys, and to be completely straight, the best thing about them was always the sound. The canyon formed by the buildings on lower Main Street in Brattleboro, VT is the perfect sound chamber for the rumble of a Harley's exhaust. Those concrete underpasses that run under I-91 are pretty enjoyable, too.
Something about that sound has always appealed to the rebellious scofflaw in me. Like a minister's son, the State Policeman's son is also not immune to raising some hell, and I've always had that little streak in me. However, I've railed against the Harley-Davidson pricing strategy and occasional shabby treatment of the faithful. Not the dealers, the actual company. Allow me to offer one of the most glaring examples.
In 2003, The Motor Company turned 100, so, naturally everyone wanted a 100th-anniversary model. I put my order in for a Road King. When I found out that Harley-Davidson was making the vast majority of Anniversary models in just two color schemes, I was incensed. Gunmetal or black and silver were the choices. Only a few were made in other colors, and they were practically impossible to get. This lack of color choice was problematic for me because no matter which color I got, tens of thousands of other folks would have the same exact thing. In the final analysis, I cancelled the order, and it was the right move.
Harley overproduced the 2003 models and really hurt their reputation. Knowing something of the company's history, it wasn't the first time they had made such a greedy move. After that, I did acquire a couple more Harley-Davidsons, but I ended up selling them for various reasons, usually the desire for something different.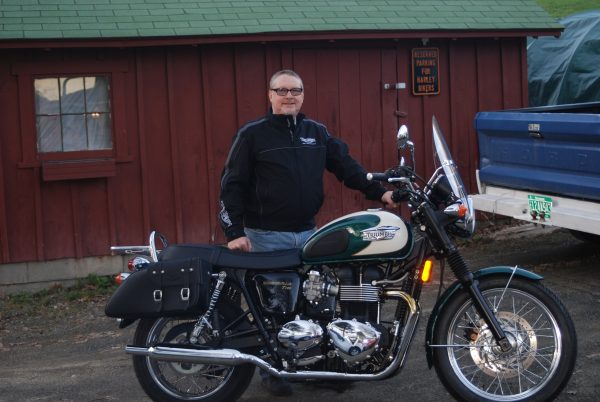 To date, of all the motorcycles I have owned, my Triumph Bonneville suits me the best. The size is perfect, the sound is enjoyable, the handling is very good, and the fit and finish is world class. If the thrill of motorcycling has ever escaped you, it can be restored with one ride on a Bonneville. I've had it for about five years and the only complaint I've had is the seat. I even replaced the stock seat with a Triumph gel seat. It made the bike acceptably comfortable, but not for any long rides.
As much as I love the Bonneville, the sound of a Harley still gets my attention. I don't need the super loud pipes, but something a little past stock sounds perfect to my ears. So, I always look at the various Harley's that are for sale. After having everything from an Italian Harley to a full dress Electra Glide, the one model I always felt made the most sense for me was a rubber mounted Sportster 1200. The power to weight ratio is really good, and the rubber mounted engine reduces the notorious Sportster vibration. My perusal of these models has always been a "maybe someday" kind of thing, but I've never been really serious about getting one.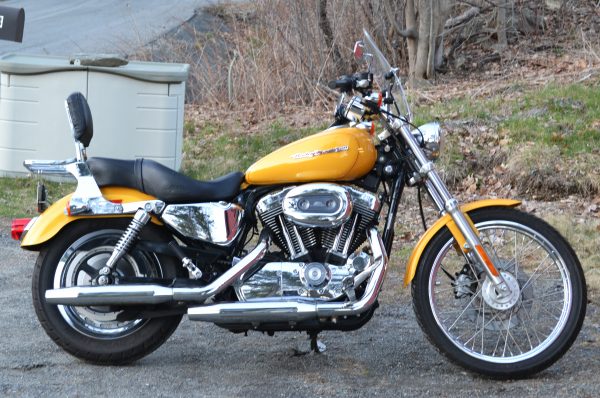 Warm weather a couple of months ago had me checking out Sportster 1200 prices. I just haven't felt like paying the going price for one of these bikes because I already have a great riding Triumph. Eventually, I stumbled over a gold Sportster on eBay with no reserve on it. I kept an eye on the bidding for a couple of days, and it just didn't seem to be going anywhere. My interest was piqued.
Stalled at a very reasonable price, I started wondering if I really had a chance of buying it right. By happenstance I checked on it, noticing that there were only 13 minutes left for bidding. There are a number of factors that can often give you strong indicators of how an auction is going to go, and miraculously they were all in place. With nine seconds to go, I tendered my best bid, which was still about half what I've seen them going for. I ended up winning the bid for 300 dollars less than I was willing to pay, which wasn't all that much.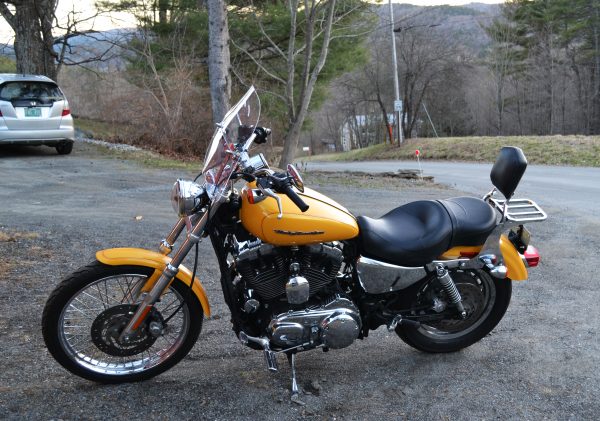 So now I'll be able to enjoy that incomparable sound for about half the cost of a similar Sportster. The one thing I've learned about buying and selling motorcycles is that once you factor in the enjoyment of riding them, you often get to ride them for a few years for pennies on the dollar.
Some motorcycles I've owned actually ended up being free to ride once the sale price was factored in. Others I've been able to own for years with a cost to me of a couple hundred bucks. They can be like rolling savings accounts if you take care of them and sell them at just the right time. I've always done OK with motorcycles, but win or lose, there's not much out there that beats an unexpected Harley.