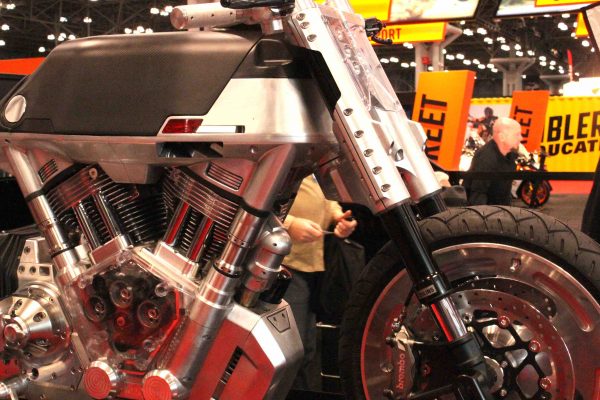 NEW YORK – When a motorcycle looks better suited for display in a museum of modern art than for comfortably ripping along twisty roads, its sales potential has to be questioned. Add a price tag of $30,000 and a riding position that could conceivably have target buyers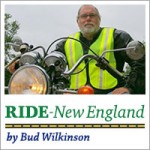 wincing from lower back pain, and you've got the premium Vanguard Roadster.
Three years in development, a street operable prototype of Vanguard's initial model was shown publicly for the first time last month at the Progressive International Motorcycle Show. It drew loads of gawkers, and the attention of RIDE-CT & RIDE-NewEngland for two reasons: The bike's designer hails from Connecticut and the company plans to produce the Vanguard at the Brooklyn Navy Yard.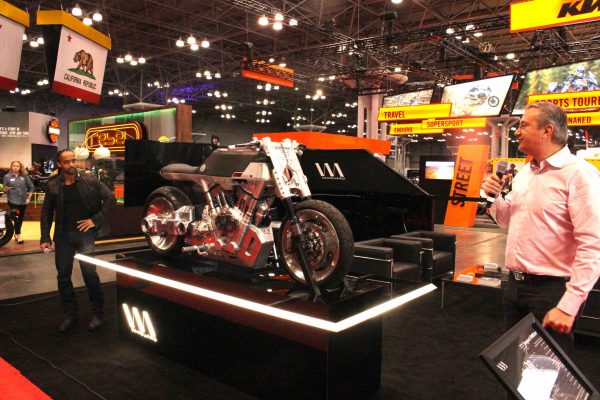 Vanguard is the co-dream of the company's co-founders – Francois-Xavier Terny and Edward Jacobs. Frenchman Terny is a "serial entrepreneur," according to the company's website, who serves as CEO. Hartford native Jacobs, who spent six years designing bikes for Confederate Motorcycles, is Head of Design & Engineering.
A company timeline shows that they raised $1.6 million in initial capitalization by 2015. Plans now are to put the Vanguard into production by mid- to late 2018 and eventually offer three models. The buff prototype certainly realizes the co-founders design goal.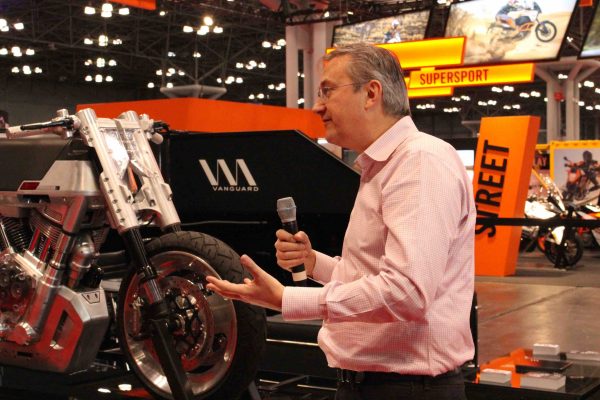 Terny explained that Vanguard wanted to create a motorcycle that wasn't a replica of any other, purposely avoiding the nostalgia bent of so many other brands. The company sought "something that was industrially possible and economically viable," he said. "We've studied the economics of this motorcycle, we know from the supply chain, the sourcing, the vendors that we can produce this motorcycle at a competitive price."
By competitive, he means affordable and desirable to those with deep pockets. The target buyer is "a middle-aged rather wealthy or at ease person who enjoys motorcycles. It's not a first time rider. It's not a very young guy," Terny said, adding that he expects the Vanguard to make an "emotional connection" with buyers.
"One of our investors compared it to a mechanical watch. It's not something that you necessarily display. Most of the time it's under your sleeve, but it's something you really know what it is; you really enjoy and cherish in a way," he said.
The Vanguard is certainly different and high-tech, complete with a digital dashboard and rear-view camera. There are no exposed headers or exhaust pipes and no frame. Powered by a 117 cubic inch/1,917cc S&S engine with six-speed transmission, it has a single-sided swing arm with shaft drive. Brakes are from Brembo and tires from Metzeler.
"I look at it less of a styling exercise and more of a functionalist approach that heavily deals with integration," said Edwards, explaining that integrating function allows for "natural expression to become the aesthetic of the bike. It's about listening to the product and allowing it to have its own voice."
The turn signals represent one noticeable – or, perhaps, not so noticeable – feature. They retract into the 5.5-gallon gas tank/seat component when the bike is turned off. Since the bike wasn't running inside the Jacob K. Javits Convention Center, the signals were flush to the bodywork.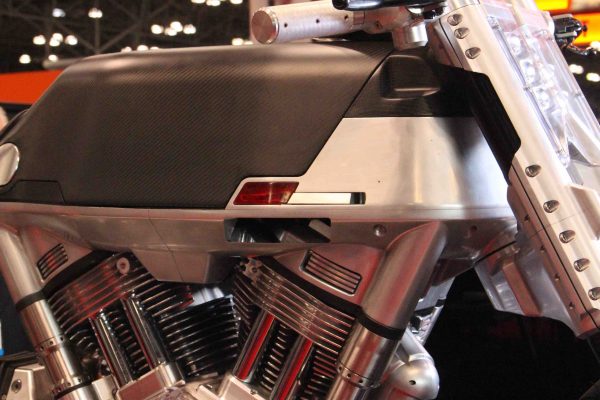 Also missing from view are the headers and exhaust pipes. Burned fuel is vented through the bottom of the engine case with the help of carbon foam, which can be "1,800 degrees on one side, cool to the touch on the other side with only quarter-inch wall thickness," Jacobs said.
The Vanguard prototype came to be through "purposeful innovation, not innovation for innovation sake," said Jacobs.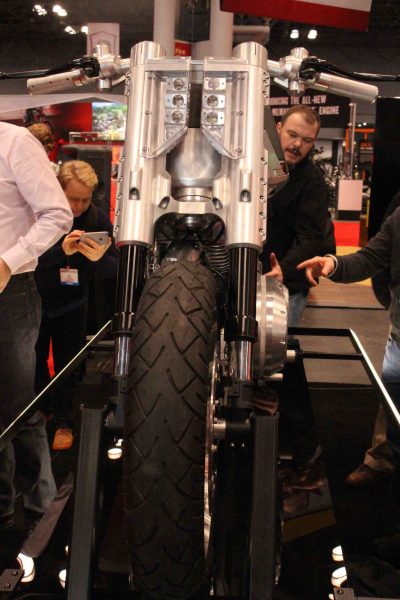 Vanguard is currently working to raise more money – crowdfunding being one avenue – and taking orders in advance of going into production. "There's about 18 months right now ahead of us, starting 2017, to develop, test, industrialize and put in production this motorcycle," said Terny.
The roadster version will be first, followed by cruiser and racer models.
Whether such a different looking motorcycle as the Vanguard can find sufficient buyers to become anything more than a prototype novelty will be determined in the months to come. The prototype certainly created a splash at the IMS and the motorcycle has received gobs of exposure in the trade press in recent weeks.
The unanswered question is, "How does it ride?" Or maybe that won't matter. Maybe well-heeled buyers will simply hand over cash for bragging rights and for something to show off in their homes and garages.