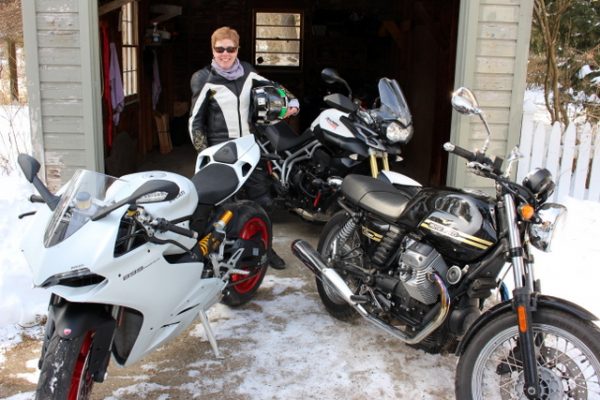 Lee Ann Sullivan with her collection of motorcycles
As a children's author with 23 titles to her credit, Lee Ann Sullivan of Salisbury, CT is accustomed to researching before sitting down at her laptop to write. It was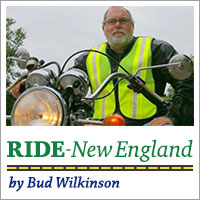 an assignment a decade ago for what would eventually became the 2004 book "Motorcycle" that pried her away from the keyboard and sparked a passion for motorcycle riding.
"I was researching and it really looked fun. I signed up for the (rider education) class," she recalled recently from across her dining room table after first showing RIDE-CT the bike collection in her garage. The assemblage includes a recently-acquired 2014 Ducati 899 Panigale sport bike, a 2011 Triumph Tiger 800 adventure tourer, a 2010 Moto Guzzi V7 standard and a 2010 Vespa S150 scooter. "It's like a woman with shoes. Instead of shoes, I have motorcycles," she said.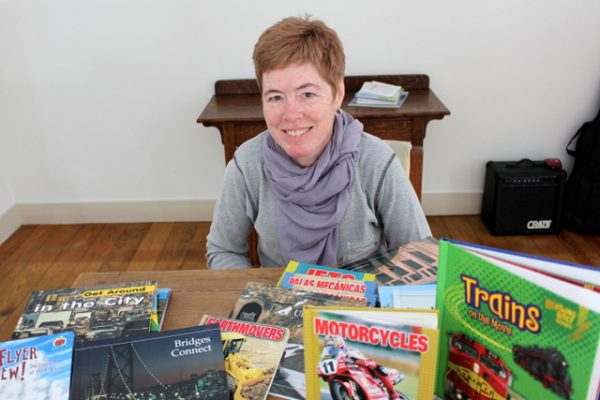 Lee Ann Sullivan and some books that she's written
Sullivan, who writes under her married name (she's now divorced) of Lee Sullivan WHill, has lived a nomadic life, so owning several bikes to handle different roads and terrains makes cosmic sense. Born in Hartford and raised in Wellesley, Mass., she's lived in Washington, D.C., Chicago, Phoenix, San Diego, New York and, off and on, in Connecticut. She's lived in Milford, Orange and in Salisbury twice – from 1992 to 1995 and since September 2012.
Sullivan took to motorcycles with ease having ridden horses for four decades and having ridden bikes as well. "When I took the class, the two instructors couldn't believe how I rode. They said I was the valedictorian," she said. She was living in suburban Chicago at the time. "It was a really great class. Everyone should take a motorcycle safety class because it teaches you how to think," she said.
Her first bike was a Yamaha Virago 250 cruiser. "I bought it used and it had maybe 4,000 miles on it," she said. "I only owned it for three years. I learned very quickly that I like variety, so I bought a vintage Vespa." When she sold the Virago, the odometer topped 30,000 miles. By then she was living in San Diego and she discovered the bike didn't fit the locale. "I rode it on the highway, but found that I was maxing it out," she said.
Sullivan unloaded the Virago when she moved to Connecticut. Her replacement ride was a Yamaha R6 sport bike.  "The R6 was not the best of bikes. It was too fast," she said. When it got stolen, she used the insurance money to buy a white 2009 Moto Guzzi V7. It was while riding the V7 that she crashed. "I was coming up the Henry Hudson Parkway in the Bronx. I hit a really bad joint in the road. The bike shimmied and threw me off of it. I slid down the road on my head. It didn't hurt because I had all my gear," she said.
The Moto Guzzi was totaled and Sullivan sustained a broken left wrist, "but it was minor. I think people get hurt worse walking their dogs," she said. Being unable to operate a clutch, though, forced her to temporarily improvise to stay on two wheels. She bought the Vespa S150 with an automatic transmission. She also bought a replacement V7, this time in black.
Lee Ann Sullivan and her new Ducati 899 Panigale
Her newest bike is the Ducati, which she picked up at the end of the November from MotoFIT in Danbury, CT. "I pre-ordered it. I bought it before it was even out. I've always loved Ducatis and I wanted a sport bike. It's not too huge, pretty light, gorgeous," she said. She's only put about 300 miles on it and is keeping the revs down until it has more miles on it.
When it comes to collecting motorcycles, Sullivan's rationale evokes an image of famed shoe collector Imelda Marcos.  "Why does a person need dress shoes, work boots and sneakers? The dress shoes is the Ducati, the work boots is the Tiger, the sneakers is the Vespa and the Moto Guzzi is something along the lines of casual elegance, business-casual day," she said.
Besides collecting motorcycles, she keeps a photographic record of her bikes on her computer and she can instantly call up shots. There are numerous ones of her vintage Vespa – a red 1985 PX150 that she eventually sold – parked at Joshua Tree National Park in California as well as outside her apartment on Bethune Street in New York, across the street from where actor Philip Seymour Hoffman lived.
Sullivan works full-time as a Preconstruction Manager for O&G Industries in Torrington. She estimates that she's ridden more than 100,000 miles since taking up riding a decade ago. "I go everywhere. I really love Connecticut. The roads are fabulous," she said.
The problem now is that she's running out of room in her garage. If the bug the buy another bike bites, it will be a tight fit. She really needs to expand the compact single-car structure. "I'm not interested in a cruiser, so I don't see the need for another bike right now," she said, adding with a speculative voice that trailed off, "but that's not to say…"
(Originally published in "The Republican-American" on Feb. 15, 2014.)