BRISTOL, CT – New ownership at Yankee Harley-Davidson has been busy making changes since taking over on Dec. 8. General manager and co-owner Mike Keehan reports that needed equipment has been purchased for the service and parts departments and that service technicians will be sent out for training this month and in February.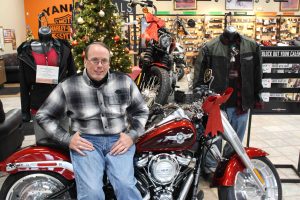 An expansion of the clothing area is in the works and employees are getting a new handbook. The most noticeable change for customers can be seen on the bikes themselves. "We have price tags on every single bike. That's something new for Yankee," said Keehan, who explained that having a price tag and not forcing a shopper to inquire reflects his belief in transparency.
Keehan's goal is to make the shopping experience more pleasurable and "to get bike sales more streamlined. We're not going to be calling people every five minutes. We want to be the good guys."
Yankee Harley-Davidson was purchased by Iron Horse Road Group of CT from Aaron Patrick, who had owned the store since 2009. Iron Horse consists of Keehan and Avon businessmen Jeff Sard and Robert Serio. Patrick continues to own Harley-Davidson of Southampton in Southhampton, MA.
Keehan is a former general manager of Gengras Harley-Davidson in East Hartford and has spent the last 7½ years as operations manager of Brothers Harley-Davidson in Branford. Sard is CEO and president of Sard Corporation, a custom home builder, while Serio owns the high-end audio and video company Perfect Vision and Sound.
– By Bud Wilkinson