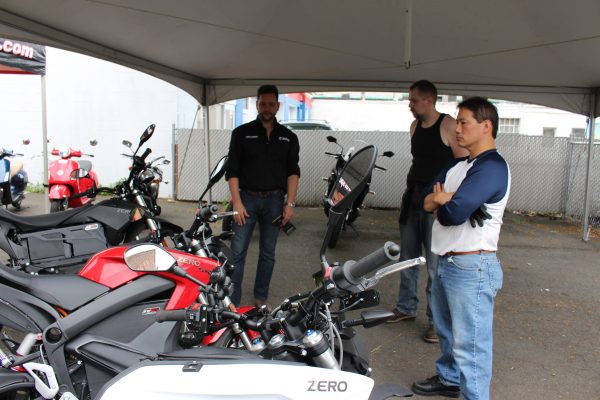 NEW HAVEN, CT – There are things we do when riding that we don't even think about. Pulling in the clutch and downshifting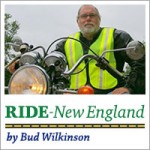 when approaching a stoplight comes to mind. So does upshifting when the engine's sound indicates that it's time to do so. The hands-on nature of motorcycling, and the noises associated with it, are part of what make the recreation appealing.
Take away the clutch and remove the motor noise and the riding experience is vastly different as RIDE-CT & RIDE-NewEngland discovered this morning by testing a white police version – complete with flashing lights and siren – of the battery-powered, belt-driven Zero DS.
Zero Motorcycles, the electric motorcycle builder from California, brought  three new 2015 models to New Haven Powersports today for demo rides, and it was quite an experience.
Also heading out separately before noon on test rides were Ty Bateman of Newington, CT on a black Zero FX and Ron Ing of Stratford, CT on a red Zero SR.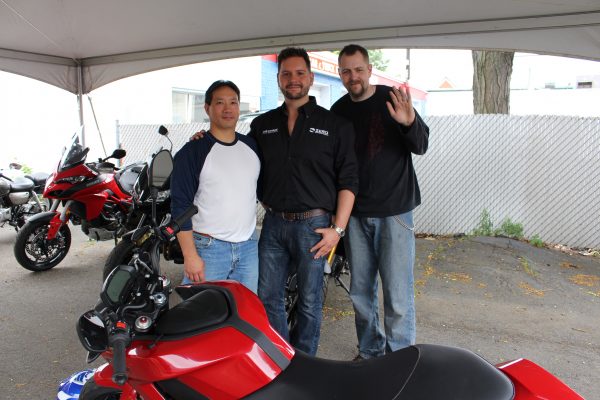 Test riders Ron Ing (left) and Ty Bateman (right) with Zero's Eric Gallion  
The SR is Zero's performance bike. It's capable of accelerating from 0-60 mph in less than four seconds, has a top speed in excess of 100 mph, and has an extended range of 185 miles. Weighing 414 pounds, it's rated at 67 horsepower with max torque of 106 ft-lbs. MSRP for the base model is $15,995.
"It rode very smoothly. No different from any other bike. You really don't know how fast it goes, it's so quick," said Ing, summarizing that the SR "was a great bike."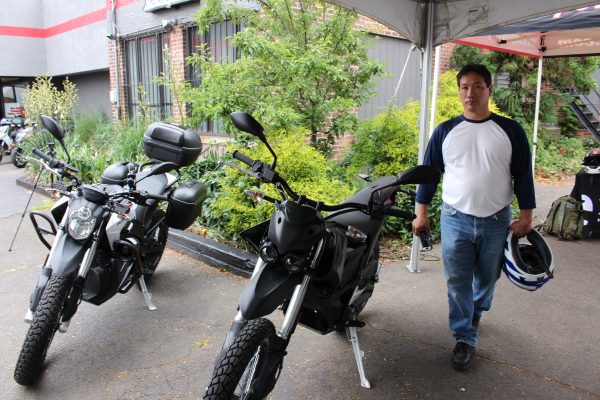 The FX (on the right above) is described by Zero as its "stealthfighter."  It has a range of 70 miles, has only 27 horsepower and max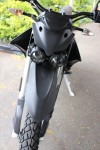 torque of 70 ft-lbs, has a top speed of 85 mph and does 0-60 in 4.3 seconds. It weighs only 247 pounds and has a base MSRP of $8,495.
"Sitting at a traffic light, it's just effortless. You just sit there. It's great," said Bateman, referring to the fact you don't have to worry about operating a clutch or about shifting gears once the light changes. You just twist the throttle and go. "It's really easy. It was a lot of fun – plenty of power," he said.
I chose the Zero DS because of the police set-up. Being a member of the Harwinton Fire Police in my hometown, I figured a little research couldn't hurt. Before departing, Zero Motorcycles' Eric Gallion gave some brief instructions, explaining that the DS had three power modes to choose from: Eco, Custom and Sport. I opted for the less strenuous Eco to start. He also explained the obvious: no clutch.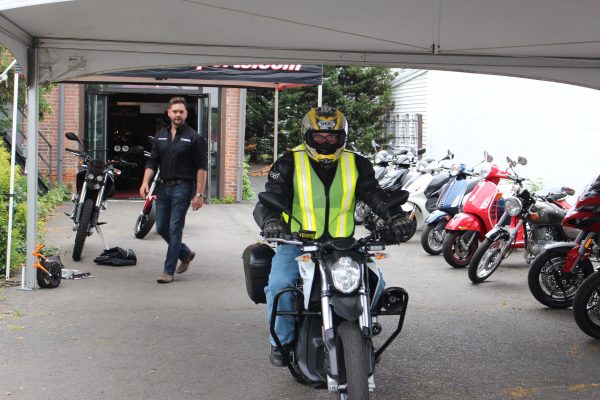 Heading out, what instantly struck me was the smooth pull of the lithium-ion powerplant. With 54 horsepower and max torque of 68 ft-lbs, the DS had more than sufficient get up and go, although it only clocks in at 5.2 seconds 0-60 mph. A switch to "Sport" mode half-way through the ride produced a noticeable uptick in power.
The DS weighs in at 381 pounds and has an extended range of 170 miles. Base MSRP is $11,995.
What took some doing while riding the DS was shackling the normal urges to use the clutch and shift gears. It also took some time to get used to the silence. I never knew that my Shoei helmet produced such wind noise. It has always been muffled beneath the engine noise of my gas-powered models. It felt odd at first NOT hearing engine noise coming from beneath the seat. Ultimately, that fact proved refreshing, comparable to having a cell phone after decades of being tied to a landline with a cord. It's weird initially.
Being naturally skeptical of the bike's battery life no matter what the company specs touted, I found electron consumption (for lack of a better way of putting it) to be fine. A test ride of moderate length only used 12 percent of the juice. The DS had all the oomph that I required. It handled well and the Showa rear shock provided ample support.
My only gripe – one that's common on many bikes – is the mirrors. Despite hand adjusting them several times, I never had a good sense of what was behind me, although I suspect that given a wrench and a few minutes that shortcoming might be solved.
After test riding the DS, I asked Gallion a few questions on camera (and have sandwiched them between a couple of snippets of the Zero SR getting moved to the demo display area):