By Bud Wilkinson of RIDE-CT.com
The start of Laconia Motorcycle Week is only 10 days away. This year marks the 90th anniversary of the event, prompting Laconia Harley-Davidson and New Hampshire Motor Speedway to join forces in a fund-raising effort designed to bring in more than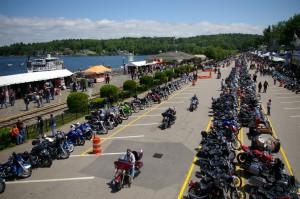 $76,000 for the Boys & Girls Clubs of New Hampshire.
Laconia Motorcycle Week attendees will be able to purchase tickets for a Community Appreciation Parade that will give them the opportunity to ride their bikes around the speedway track and then continue on a police-escorted, 32-mile ride around the Lakes Region. The rider's organizers are hoping to set a Guinness World Record for most money raised for a charity in 24 hours by a motorcycle parade. The current record is $76,036.
Tickets are $35 for rider and $15 additional for a passenger. Riders can register online or in person at Laconia Harley-Davidson. A total of 50 VIP tickets costing $150 are also available and will get the rider a priority position behind the pace car for the speedway track lap.
More to read:
– Motorcycle deaths in Pennsylvania have risen 35 percent since that state repealed its helmet law 2003. Triblive.com has the story here.
– Doing the Four Corners ride (riding to the extreme corners of the continental U.S.) is something some riders yearn to do. The Fort Wayne "Journal Gazette" has a story here about two guys from Indiana who just set out.