By Bud Wilkinson of RIDE-CT.com
After months of rumors, amid reports that owner Alex Gifford was seeking investors to save the store, the closing of Branchville Motors in Ridgefield, CT is now fact.
The Triumph, Moto Guzzi and Vespa/Piaggio dealer is currently in the process of shutting down. The bikes are reportedly gone but apparel is still available and on sale. Gifford has owned the dealership since 1992. He wasn't in the store when RIDE-CT.com called this afternoon to get details. A message was left. More info when it becomes available…
The remaining Triumph dealers in CT are Mark's Motorsports in Enfield, Libby's Motoworld in New Haven and Street Stuff Cycle in Norwich. The lone Moto Guzzi dealer in the state is New Haven Powersports.
—
Speaking of Triumph, a factory demo 2013 Trophy SE in lunar silver now sits in RIDE-
CT's driveway ready for five days of test riding. The 45-mile trip home from Mark's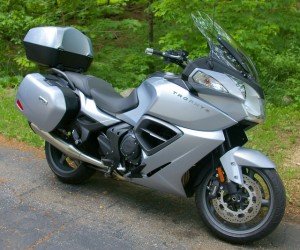 Motorsports this afternoon was pleasantly uneventful as I got used to the bike's mannerisms.
Only played briefly with the Trophy's electronically adjustable windscreen; the lowest position seemed fine even at 70 mph on I-91. Still need to learn how to operate the satellite radio, set the electronic suspension and engage the cruise control.
The seat on the bike came in the "low" position, which was fine for this rider who has a 30-inch inseam. So far, the Trophy seems comfortable, peppy (1,215cc, three-cylinder engine) and responsive. More to come after I've had it for a few days…
—
Keith Bruno of The Shop in Winsted, CT checked in to report he's starting a weekly Bike Night party on Fridays, beginning tomorrow. It will run from roughly 6 to 9 p.m.