PICKERINGTON, OH – The 2017 dates for the AMA Vintage Motorcycle Days at Mid-Ohio Sports Car Course in Lexington, OH were announced this morning by the American Motorcyclist Association. They are July 7-9.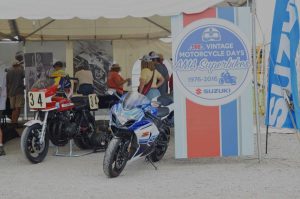 The three-day festival, which raises funds for the AMA Motorcycle Hall of Fame, features vintage motorcycle racing, bike and stunt shows, seminars and a swap meet.
The event has been held at Mid-Ohio Sports Car Course since 1995. The announcement of the 2017 dates follows the execution of a mutli-year agreement to keep the meet at the site.
"We could not be happier to not only announce our 2017 date this early, but to also confirm a multi-year agreement with the premier motorcycle association in the country," said Mid-Ohio Sports Car Course President Craig Rust. "Our partnership with the American Motorcyclist Association and AMA Vintage Motorcycle Days continues to grow and is one of the fan favorites on our schedule each year."