By Bud Wilkinson of RIDE-CT.com
When New York's Department of Environmental Conservation wanted to raise the rent that Americade pays for using state-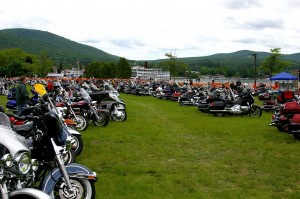 owned land alongside Lake George from $52,000 to more than $90,000, the event's founder threatened to move the annual June rally elsewhere. Coolers heads have prevailed and a deal has finally been work out. The "Times Union" in Albany has the story here. Americade runs June 7-11.
—
RIDE-CT now hears that a letter of intent granting a new Ducati dealership to Danbury could arrive "any second." Danbury lost its Ducati franchise when Max Stratton bought Cliff's Cycle Revolution in Brookfield back in December and opted to sell only BMW motorcycles. 
—  
In Michigan, AAA is fighting an effort by the legislature to repeal the state's helmet law, which has been in effect for nearly four decades. A statewide poll by the Marketing Research Group of Lansing revealed that 81 percent of Michign residents believe the current mandatory law should be maintained. Only 16 percent said riders shoudn't be required to wear a helmet. An Office of Highway Safety Planning analysis determined that repeal of the law would result in 30 additional motorcycle fatalities each year, along with 127 more incapacitating injuries and $129 million in additional costs to citizens. 
Two bills are before the Michigan legislature. House Bill 4008 would allowed riders 21 and over to go helmetless if they have a $20,000 medical policy in place. Sentate Bill 291 would allow riders 21 and older to ride without a lid if they have had an "M" endorsement for more than two years or have passed a motorcycle safety course. 
"We strongly oppose both bills," said Jack Peet, AAA Michigan Traffic Safety Manager. "$20,000 is medical coverage would barely touch the amount of medical costs resulting from these types of motorcycle accidents. These proposals will result in increased motorcycle fatalities and injuries and higher costs for all motorists."